Welcome to my Ultimate FIFA – Ultimate Yeah ! Article.
I feel the need to let you awesome FIFA Guru's know all about our great resource of a site. We've put together some great stuff especially for you, its Your Ultimate FIFA HQ.
News – We all want to know whats happening in the world of FIFA and history shows that we have had our finger on the pulse and although things went a little quiet during FIFA 16, we are back and as the major overhaul on site suggests, we mean business! All the latest news coming out of the EA Sports News Centre will be winging itself here for your consumption, all you can read!
Forums – Forums are old school, most stuff is done via social media these days but that doesn't stop us from providing a premium system that  doubles up as an information gateway for tournaments and competitions but also recruitment for Pro Clubs players and teams and of course user content, youtube, twitch and graphics etc. Not only that we also have a great Facebook style chat bar and chat rooms, which come in quite handy on tournament nights!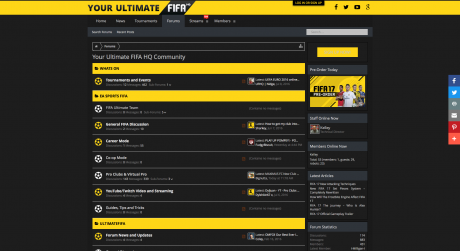 Live Streams – I'm a big fan of this feature, not only can you see all the current live FIFA streams in progress, you can setup your own multiview, depending on your screen size and width you can have as many as 6 on the go at once! To top it off, you can then copy the link and use it again later, or even share with someone else. If you're running a tournament and want to watch multiple games at once, you can for free, gratis, on the house!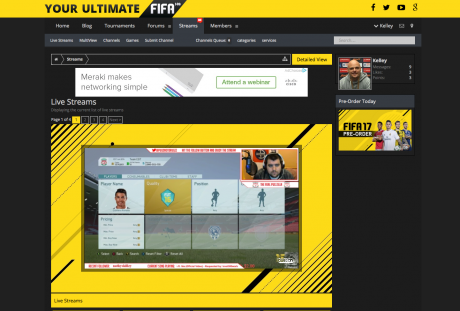 Default Live Stream View (shows one with most viewers first)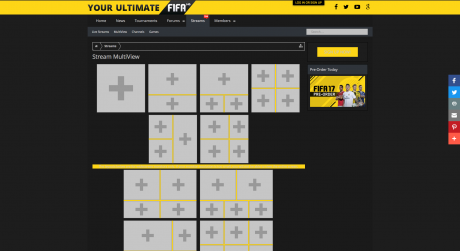 Multiview Layout Selector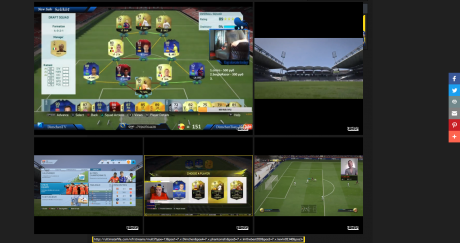 Multiview in action with 5 Live Streams
Mobile Friendly – We all use mobiles now, most of the time when my laptop goes off at 5pm it rarely comes back on again, I use my phone for everything, so i want access to all my FIFA content on it too, no compromise. Not only are the Forums and Website mobile and tablet friendly we've coded both to use Tapatalk in case you want a more advanced experience with Your Ultimate FIFA. You can get alerts directly through the App when new articles are published, if someone mentions you in a forum post or replies to a forum PM, follow topics and get alerts if anyone replies.
Staff – You are in magnificent hands, we have some of the most experienced and dedicated staff members who have been around the FIFA scene since its inception! Playing it, running tournaments, talking directly with EA, testing and reporting back on beta versions of FIFA. Seriously the knowledge and commitment from these guys is unreal, check the About Us page for a full run down and BIO of all of our staff.
Thanks for choosing to stop by and read my Ultimate FIFA – Ultimate Yeah article, i've tried to highlight some of the great stuff here and it doesn't stop there we have lots of other stuff coming up, media features as well as more tournaments, don't be a stranger drop in from time to time and see whats new!