The Nou Camp – It's not in the game!
So Lionel Messi's stint as EA's poster boy has come to an end.  Most of you probably thought that he left because there was no way of topping being on the cover with Jordan Henderson.
But that's not the case!
PES have only gone and announced a premium partnership deal with Barcelona which not only sees the back of Lionel but also sees the FIFA 17 Nou Camp disappear too!
The partnership includes the EXCLUSIVE rights to the Nou Camp which means on FIFA 17 Messi, Neymar, Suarez and pals will have to play in:
The New Camp
Barcelona Stadium
Catalonia Ground
Or Messi Mansion
Or something equally as rubbish…
The PES partnership comes with some other stuff too.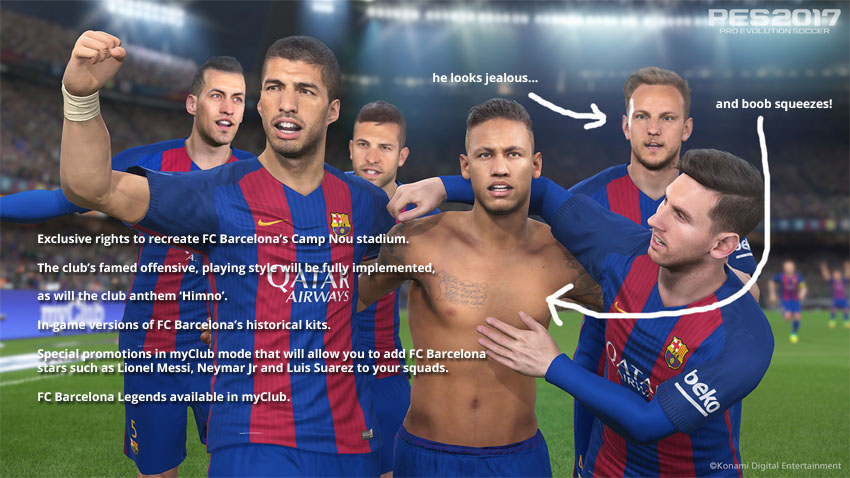 Now for me the Nou Camp not being in FIFA 17 isn't a big deal. As long as the gameplay and graphics are good I'd play at Prenton Park. I mean, it's not like the carpet like pitch has any effect on your player's first touch…
But the omission seems to have kicked up a bit of a stink on social media.





My God! Imagine what they'd be like if FIFA lost all of its major league licencing!
This got me thinking. Is licencing so important?
So we thought we'd put this through an indisputable, rock solid scientific test.
We ran a poll on Twitter…
If #FIFA17 didn't have any licencing (e.g. teams were called Merseyside Blue etc.) would you still buy it?

— ULTIMATEFIFA HQ (@ultimatefifa) July 27, 2016
72% of our massive sample size said they wouldn't buy FIFA 17 if it didn't have real team names and stuff.
I bet this 72% are the same people that when EA ask, "so what changes would you like in the next FIFA" they say, "we need more boots and better haircuts"
No we don't – Fix your gameplay EA, fix the servers, make it so I can pass to a team mate 6 foot away from me without it bouncing up and hitting him in the face or going out for a throw in!
Sod the boots and the fact that El Shawaary's Mohawk is 3 centimetres too short.
You guys need to get your priorities straight. 😉
So I've got 2 questions for you:
1.    Would you still buy FIFA 17 if EA didn't have the licencing?
2.    What would you call the Nou Camp in FIFA 17?
Thanks for watching the vid chaps. Drop a like if you like. I'm going to start uploading regularly in the run up to FIFA 17 and then get back to tutorials and stuff when the game's out so if you want to see more make sure you subscribe to the channel for lots more FIFA 17 stuff.