According to most of the world's press the best footballer in the world right now might be about to deal a big blow to EA SPORTS.
Numerous news outlets including the Daily Mail, Daily Star, Mirror and Metro are reporting that Barcelona forward Lionel Messi WON'T be renewing his contract with EA when it runs out at the end of this year paving the way for a new FIFA 17 cover star
But we're calling BULL****!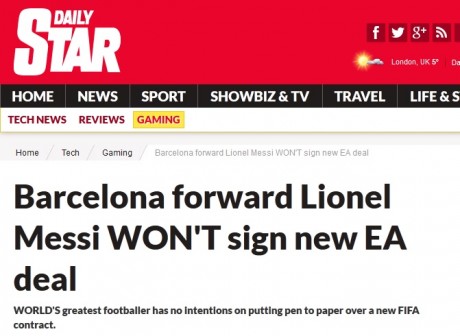 Where does all this hype come from?
The original source for the new FIFA 17 cover star hype is this article from French newspaper L'Equipe.
In a shoddy piece they reported that Messi's contract with EA was coming to an end and very loosely mentioned the possibility that he might not renew it.
The key sentence from the article is:
"Mais arrivé au terme de son engagement avec l'éditeur américain, le quadruple Ballon d'Or ne devrait pas prolonger l'aventure."
Which when translated means:
"But reaching the end of his engagement with the US publisher, the four times Ballon d'Or winner should not prolong the adventure."
Nowhere does it say that Messi won't be renewing his contract. It's doesn't quote anything from Messi or EA themselves and there's not even any suggestion of a source.
The only thing it does say is that Messi's contract is coming to an end.
The article even goes on to say:
Bien qu'on ne soit pas à l'abri d'un retournement de situation.
Which means:
"Although the situation isn't immune to a turn around."
So Why Are All These Newspapers Reporting That Messi WON'T be on the cover of FIFA 17?
Because they're lazy.
This is just another example of the regurgitate bull**** we're getting spoon fed from respected news outlets across the world.
(I use the words "respected" and "news" extremely loosely).
What happens is these newspapers subscribe to agencies which provide them with a constant feed of "news" which they quickly reword, add a fancy title and fire out for the clicks. It's a lazy way to keep content ticking over.
This video from Conan O'Brien sums it up nicely!
So Will Messi be the FIFA 17 Cover Star or What??
The short answer is, "Who knows?"
Yes his contract is up soon but there's been no word out of either camp on whether it's even been discussed.
There is a case for him to be replaced. Maybe he's grown stale. Maybe it would just be cheaper to put someone as the FIFA 17 cover star!
But there's a stronger case to keep hold of him. There's no bigger name in world football, he's just won the Balon D'Or for the fifth time and his closest rivals, Ronaldo and Neymar are both tied up with PES and Konami.
So what do you reckon? Is it all hype? Will Messi still be the FIFA 17 cover star? If not, who can you see as the new face of FIFA? Let us know in the comments.