Xbox owners rejoice! In FIFA 16 the FIWC 2016 on Xbox One. Xbox One players can finally compete in the FIFA Interactive World Cup, a competition previously limited to PlayStation gamers.
Don't worry though, er, PS4ers, you're still in the game.
Console wars are set to heat up as this year Xbox One players will be competing directly against PS4 players in the first cross platform FIWC tournament in history.
32 finalists will qualify for the FIWC 2016 Grand Final from a total of three online seasons running from October until the end of December 2015.
In another change in the tournament format 30 players will qualify through online head to head but this year they will be divided into four regions:
Europe
North America, Central America and the Caribbean
South America
Asia, Africa and Oceania
Each season, 4 regional winners and the runner-up from Europe on each console will progress to the Grand Final. (5 players x 2 consoles x 3 seasons = 30).
The remaining two Grand Final spots will be taken by the winner of the Host Country Qualifier (on Xbox One) and last year's PlayStation FIWC winner Abdulaziz Alshehri from Saudi Arabia who was quoted as saying, "The competition this year is sure to be harder than ever and I look forward to seeing which players make it to the final."
The first season kicks off on 1st October leaving you with little time to learn the ropes of the new game so you'd better hit the Training Ground!
The winner of FIWC 2016 will win $20,000 and an invitation to the FIFA Ballon d'Or.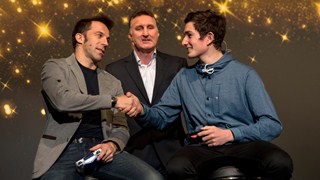 Are you planning to compete in the FIWC 2016 on Xbox One or PS4? Let us know and we'll follow your journey.
Replay of Last Year's FIWC Grand Final
[mom_video type="youtube" id="yMrBnIq3Pn0″ width="600″ height="338″]
We hope you liked the FIWC 2016 on Xbox One article, feel free to share it!