Do your mates suggest you bring Viva Pinata
and a DS to their FIFA nights? Does your little sister laugh at you while she's 4-0 up even with one eye on Doc McStuffins? Do you cry yourself to sleep at night wishing for some sort of magical contextual overlay that'd pop up mid game, show you what to do and stop you feeling like you're playing the FIWC final in a straight jacket? Well I've got fantastic news my rubbish friend! EA are introducing a training system called FIFA 16 Trainer into the latest edition of the game which will do just that.
This year EA want's to make FIFA 16 accessible to everyone, even if you've never played before. And to make that happen an optional live heads-up-display will replace out of game tutorials so now even the laziest of you have no excuse not to get good at the game.
[quote bcolor="#2199b1″]If you are a veteran player, we want to make this season your best ever.[/quote]
They're also implying that this training mode isn't just for noobs. Apparently if you're a veteran player they want to make this your best season ever suggesting there are always ways to improve no matter how good you think you are.
So How Does FIFA 16 Trainer Work?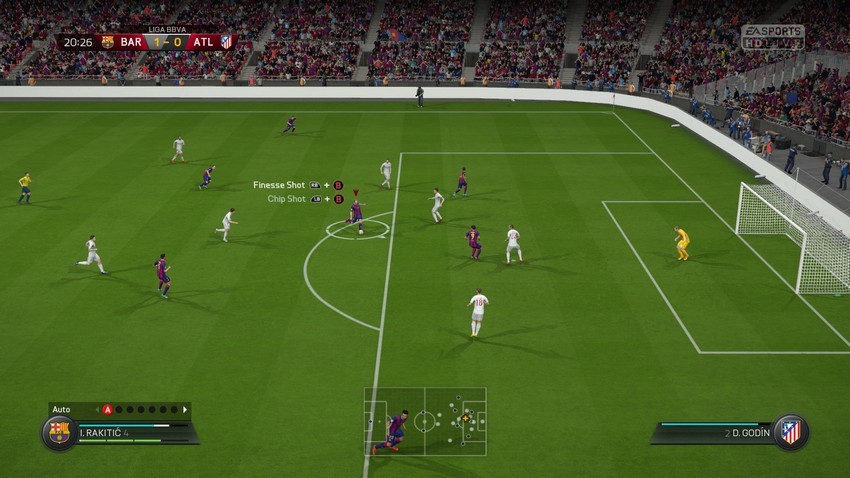 If you click the left thumbstick during open play you'll bring up a contextual overlay showing a number of options available to you and how to do them. The FIFA 16 Trainer system appears to have a number of "levels" and will suggest different things depending on your skill. On the face of things it appears to be a good addition, as long as the suggestions are good ones.
For example, in the image above, based on the angle you're facing and your distance from the goal the training overlay suggests you either finesse shot or chip shot. I'll go with that. The far post is gaping and keepers off his line so they both seem like viable options to me.
However, in the example below you're in acres of space, under no pressure with simple passes forward, to the left and behind… and FIFA suggests a lobbed through pass! For the love of God EA, no!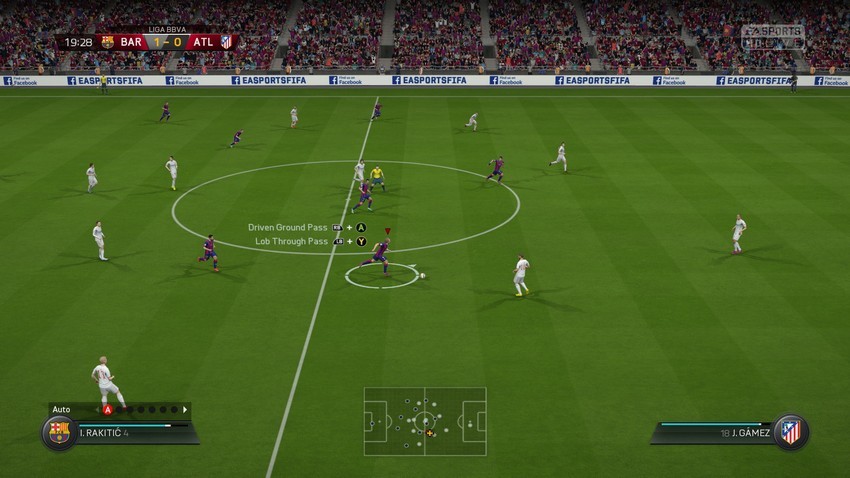 My Initial Thoughts of the FIFA 16 Trainer
The FIFA 16 Trainer is a nice touch. From my experience playing online, most people only scratch the surface of what you can do in FIFA. If the Training System in FIFA 16 actually teaches players something different, fun and useful we might finally get away from people exploiting areas of unbalance in the game to them actually trying to play football.
My reservations come when thinking about how useful (or not) the suggestions are likely to be. Other areas where FIFA thinks it knows best (virtual pro positioning for example) are woefully bad and contextually based suggestions are going to be pretty subjective in a constantly evolving match with so many variables.
Like always I'll reserve judgement until I can actually try it out. The FIFA 16 Trainer will either be an enlightening tool that'll make FIFA 16 a truly better place, or a novelty that you'll try once and never use again. Which one's your money on?