It's coming and it's going to make you cry! Feel every emotion on and off the pitch as EA attempt to make you empathise using new FIFA 15 features that are set to give your virtual footballers the human touch.
Pull up a chair and get comfy as we go through the new features that make up the core pillars of FIFA 15.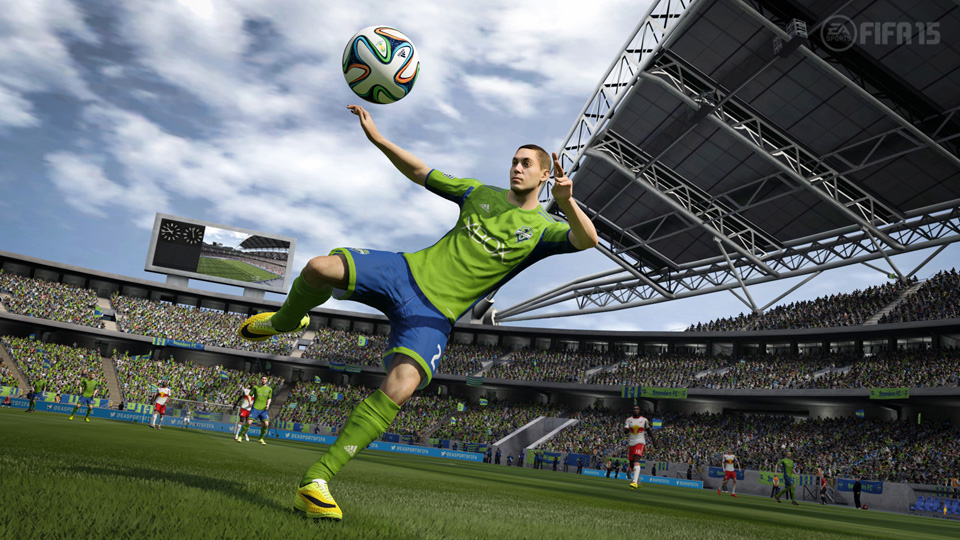 Emotion and Intensity
Emotional Intelligence
There are over 600 new emotional reactions in FIFA 15 and each incident during a match will effect how all 22 players on the pitch feel about the game and each other. Players will have both negative and positive reactions to crunching tackles, wonder goals and taxi moments from themselves and their teammates.
You'll have to read facial expressions and body language to determine the state of mind of your players. But don't worry about misreading their signals, they look like they'll let you know exactly how they feel!
The idea that team chemistry is linked players emotions has really got my cogs turning. Are we seeing a return of player form based on emotion and confidence?
Will Raheem Sterling become insecure if his hair's out of place? If nobody buys Yaya Toure a birthday cake will we see some serious bottom lip sulking? I hope so! Even if not, it'll be really interesting to see how players attitudes towards each other affect their play on the pitch.
"Emotion & Intensity is one of the core pillars of FIFA 15"
It sounds like a small detail but EA are touting Emotion & Intensity as one of the core pillars of this year's release so expect it to make a big impact when the game drops on 26th September.
Dynamic Match Day Presentation
The crowds and stadiums in FIFA 15 will be more human, more alive and more realistic than ever. You'll be able to identify crowds from all around the world with them having custom cheers and chants based on their club or country. EA are really trying to pull out all the stops to get you caught up in the game just as you would do if you were watching in real life. You'll instantly recognise your favourite club's fans and unique atmosphere.
You're team will also be able to perform 10 man goal celebrations!
FIFA 15 Commentators Will Reflect on Fans Reactions
Unrivalled Intelligence
Team Tactics
AI teams have had an intelligence boost again. They'll react to what's going on in the match. If they're winning late on expect them to keep possession and run the ball into the corners, if they're losing they'll throw men forward and take more risks.
Park the Bus, In The Mixer, and Time Wasting – familiar tactics you'll need to overcome.
You'll also be able to change the mentality of your own team to counter your opposition.
All this will make for a much more "human" opponent when playing offline.
Authentic Player Visuals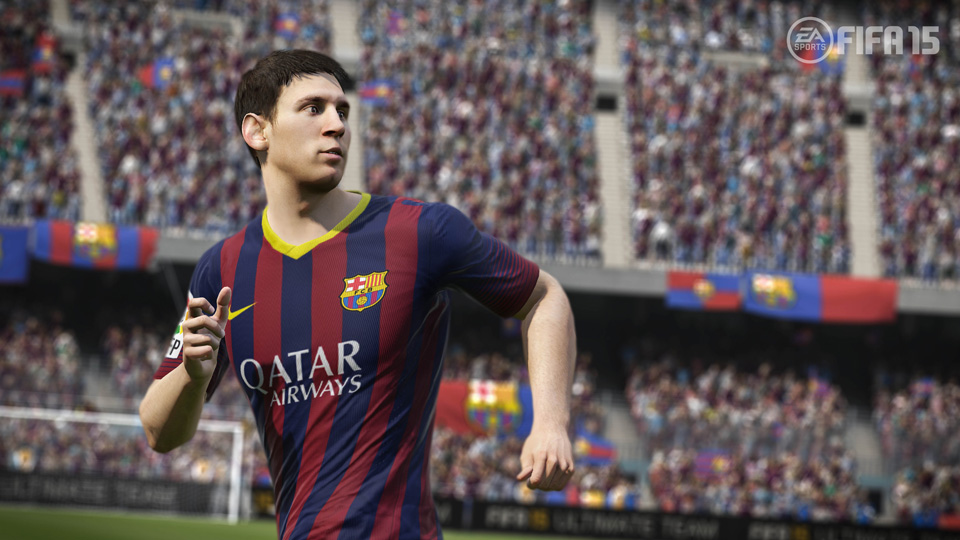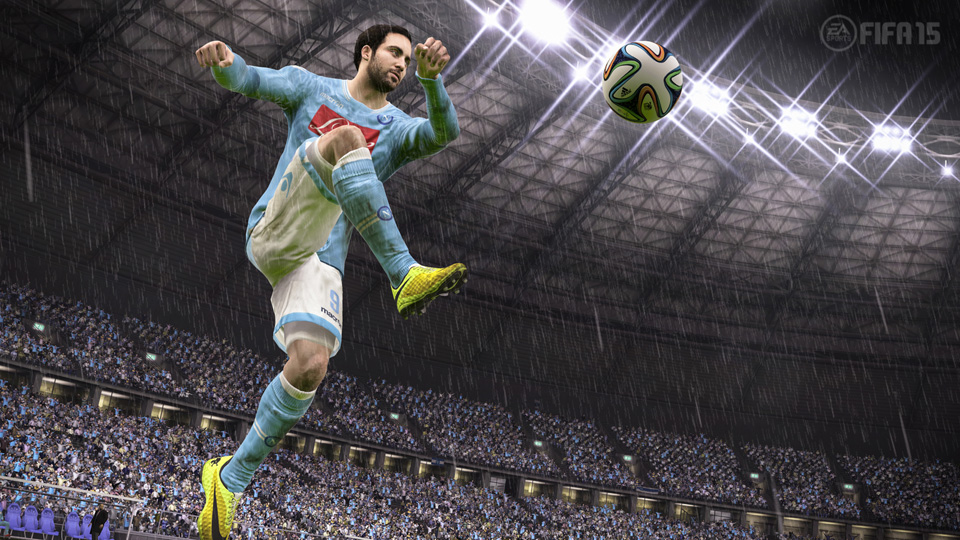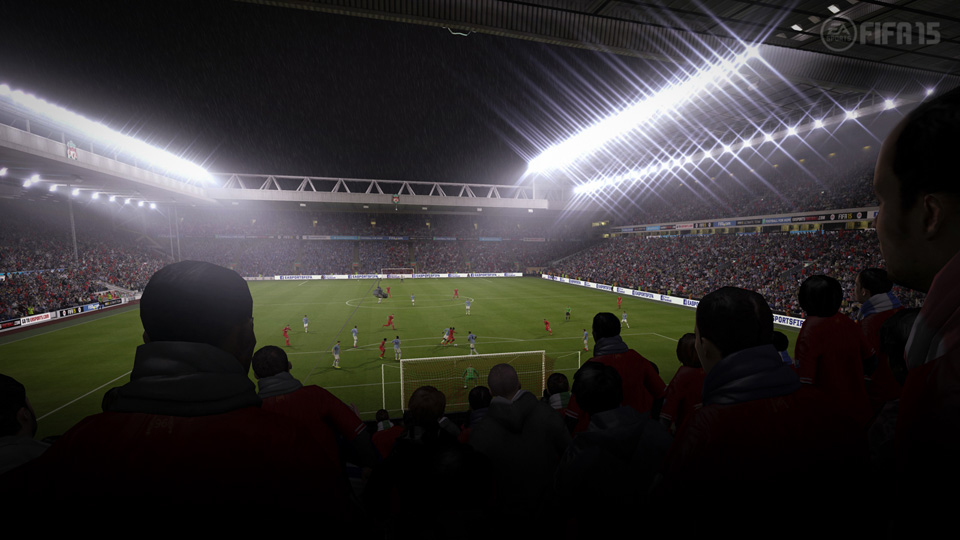 An all-new physically-based rendering lighting system means we'll see a level of detail in players faces that's never been possible before. You'll see hair moving and facial expressions that'll bring the game alive! Kits will sway and get dirty as the game goes on. (So long as you get stuck in ;))
Living Pitch
EA have made the pitch dynamic in FIFA 15. This means that quick turns and slide tackles will cut up the grass and every footprint will leave its mark. Cornerflags move, goal frames will rattle and shake when you hit them with a screamer and advertising boards will flash and change just like in real life.
Man to Man Battles
Get ready for some rough and tumble on and off the ball. Physicality has intensified this year and there is much more scope to use your body to win or keep possession.
This year you'll be able to slide tackle and come away with the ball! (Hooray!!) At last a perfectly time sliding tackle won't result in the ball rebounding straight back to your opposition and leave you lying on the ground left for dead.
You'll finally be rewarded for your positioning and timing.
As far as new FIFA 15 features go, "Improved cloth technology" wasn't high on my wishlist but it allows for much more impressive, visual shirt pulling to go alongside the all new shoulder barging and improved fall physics.
You'll be in complete control during set pieces by being able to control team-mates off the ball and position them in ideal areas to receive the ball. Set pieces already had a nice revamp last year so I'm looking forward to seeing how nicely this will integrate.
How do these new FIFA 15 features make you feel?
Can you see what we did there? Are you looking forward to growing emotionally attached to your players or do you think all this is a bit too soppy? Let us know in the comments!