FIFA announced the 23 contenders for 2014 Ballon d'Or award today with the trophy once again looking like it'll be sat on either Ronaldo or Messi's mantelpieces once again.
The Ballon d'Or is significant to FIFA 15 because the chosen Team of the Year, voted for by 184 coaches, 184 national captains and 173 members of the global media (last year's figures), will be available as rare blue In Forms in FUT 15.
Christiano's looking to win his first back to back Ballon d'Or and take him to within 1 of Lionel Messi's tally. If that happens the CR7 / Messi fanboys will be set for a momentus battle next year as Ronaldo tries to equal Messi's current record. If Messi wins however he'll tot up trophy number 5 and will probably have to buy a bigger fireplace.
[quote font_size="28″ bcolor="#dd3333″]Let's just hope Messi's tailor hasn't been on the Sangria like last year.[/quote]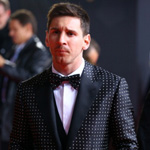 Ronaldo scored 49 goals in 47 games for club and country in 2014+ with Messi averaging less with 43 in 54 although the Argentine had almost double the assists.
The only factor that might knock one of these two legends of the top spot is that the 2014 Ballon d'Or takes into account the World Cup. That puts some of the Germans in the spotlight most notably Manuel Neuer who pulled off some incredible saves to keep Germany in the running especially early on.
That being said, Messi did win Player of the Tournament amid some criticism as many thought he under performed compared to a number of more deserving players. Even Sepp Blatter said he didn't deserve it.
The winner will be chosen on January 12th, 2015.
This Year's Ballon d'Or Shortlisted Players.
Name – Club(s) – Country
Cristiano Ronaldo – Real Madrid – Portugal
Lionel Messi – Barcelona – Argentina
Thomas Muller – Bayern Munich – Germany
Neymar – Barcelona – Brazil
Manuel Neuer – Bayern Munich – Germany
Arjen Robben – Bayern Munich – Netherlands
Paul Pogba – Juventus – France
Gareth Bale – Real Madrid – Wales
James Rodriguez – Monaco, Real Madrid – Colombia
Philipp Lahm – Bayern Munich – Germany
Toni Kroos – Bayern Munich, Real Madrid – Germany
Angel Di Maria – Real Madrid, Manchester United – Argentina
Diego Costa – Atletico Madrid, Chelsea – Spain
Mario Gotze – Bayern Munich – Germany
Zlatan Ibrahimovic – Paris Saint-Germain – Sweden
Eden Hazard – Chelsea – Belgium
Bastien Schweinsteiger – Bayern Munich – Germany
Javier Mascherano – Barcelona – Argentina
Karim Benzema – Real Madrid – France
Yaya Toure – Manchester City – Ivory Coast
Sergio Ramos – Real Madrid – Spain
Andres Iniesta – Barcelona – Spain
Thibaut Courtois – Chelsea – Belgium
Another thing worth noting is the lack of English talent in the shortlist. Do you think any of England's home grown talent did enough to warrant a place? If yes, let me know who in the comments. If not, where are England going wrong?