You now have a chance of winning your share of $100,000 just for playing FIFA 13! Virgin Gaming have released an Xbox Tournaments app that lets you play your favourite games and win money at the same time.
And it's not just exclusive to FIFA 13. Top titles are already available on the app including NHL 13, Madden 13 and NBA 2K13 and Virgin Gaming are already hinting that there might be more updates imminent.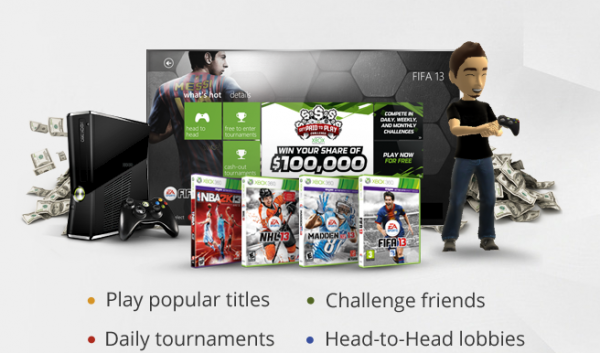 You can play against people on the app or challenge friends by inviting them from your friends list.
To download the app on your Xbox go to Bing on your console and search for Virgin Gaming. The Xbox Tournaments app will be first in your search results. Then just follow the instructions.
First of all you're going to need a Virgin Gaming account which you can get here. Next you need to register your account at the Xbox Tournaments page.
Once you've done all that hop back onto the Xbox Tournaments app that you downloaded onto your console and you're good to go.
RossiHD demonstrates nicely how to set up a match in FIFA 13 and be in with a chance of winning your share of $100,000. Make sure you subscribe to him on YouTube.