Tired of playing the same formations in FUT? Great news! There'll be 9 new formations introduced to Ultimate Team in FIFA 14 enabling you to take your tactical game to the next level.
Not only that, formation card have been removed from your consumables pile which means you'll be able to try out these new formations at will without having to worry about changing your players' formation or buying and selling players.
The new formations also look like they'll open up a great deal more chemistry options letting you link together more of your favourite players than ever before.
New FUT 14 Formations
4-5-1 (2)
Pack the midfield with 3 CMs and forge attacks down each flank with pacey wingers. You should be able to dominate possession with the extra midfielder. May be a bit thin up top with one striker. The lone striker role might suit a strong hold up man like Falcao or Mario Gomez with plenty of aerial presence to get on the end of crosses from out wide.
4-4-2 (2)
The 4-4-2 (2) is a more defensive formation than the traditional 4-4-2 with 2 deep lying CDMs sitting just in front of your back four. Whilst this will be a really tough formation to break down it might leave you wanting on the attack. You're going to have to rely on fast, wide counter attacks using pacey wingers and attackers because you're not going to have much help in the middle of the park going forward. Could this be a new pace abuse formation?
4-1-2-1-2 (2)
This new 4-1-2-1-2 formation uses tucked in CMs instead of the traditional wingers of the previous formation. This will give you a much tighter diamond and will let you control the middle of the park with fast closing down and tight passing. On the downside it'll leave you exposed down the wings so good full backs are a must and build up play with have to be much more central.
4-1-4-1
Very much like the 4-5-1 (2) but with a CDM central midfielder mopping up in front of the back four. This formation looks like it'll be very tough to break down when in the right hands but again will rely on pacey wingers and a strong, lone front man. Those who prefer a slow build up should still be OK though. Just make sure your using CMs with a high atacking work rate to make sure they support the striker.
4-2-3-1 (2)
An interesting variation of one of my personal favourite formations from FIFA 12, the wide CAMs have been converted to LM and RM to create more width letting you make use of some pacey wingers. The two CDMs mean that this formation will still be really difficult to break down and changing the CF to a CAM will mean that you'll be able to play a short passing build up as well as hitting opponents with a fast counter. Looks like a good all rounder.
4-3-3 (2) Hold
The 4-3-3 Hold formation has all the attacking prowess of it's traditional counterpart but uses one of the midfielders as a CDM to sit in front of and protect the defence. As well as helping out defensively the CDM will provide a short pass out from defence allowing you to keep possession and build short pass and move attacks.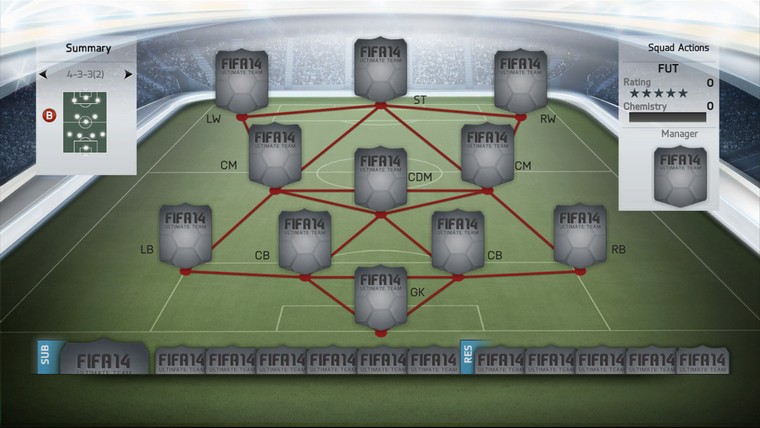 4-3-3 (3) Defend
As the title says, this variation of 4-3-3 locks down the defence with two deep CDMs and a CM that won't get forward too often. Whilst your going to be extremely difficult to break down you're going to have to make sure you've got a top notch forward line as your LW, RW and ST are going to be a lonely threesome up top.
4-3-3 (4)
This is going to be the formation of choice if you want an all out attack formation that's still reasonably balanced when defending. The CMs should provide enough cover defensively for experienced players whilst the CAM will provide another attacking option to an already top heavy formation. Watching the work rates of your players could provide even more balance to an overpowered attack.
4-3-3 (5)
Another defensive variation to 4-3-3 with a CDM mopping up in front of the back four and a CF instead of a striker, ideal for players that like to run at defenders. With no out and out front man to aim for the wingers are going to have to be able to cut inside and look to get at goal or find a cut back rather than swing in the crosses.
With the 3-5-2 formation seeming to be the overpowered formation this year, which of these do you think will be the overpowered formation in FUT 14?