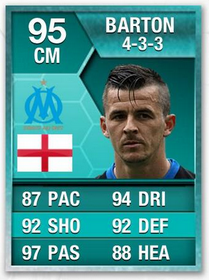 Last night Ultimate Team players got a shock when a when an unusual, light blue card cropped up in their player searches. Joey Barton's personal ramped up Ultimate Team card had been listed for sale for a starting price of 5,583,000 coins.
EA have given a number of professional footballers their own souped up cards in a bid to make friends and gain exposure but Barton's is the first one to make it's way onto the transfer market.
According to Joey Barton his brother listed the card because he was "sh*t".
For all FIFA players thats my brothers account. I only play occasionally. Next time I go on I'll give some of use a game… #fifa13

— Joseph Barton (@Joey7Barton) May 5, 2013
Said my card was sh*t and that everyone thought it was me, so he's sold it. Hahahhaha Bombard him twizzlers…

— Joseph Barton (@Joey7Barton) May 5, 2013
Record Breaking Sale
Bidding was static on the 7 million coin mark for most of the auction but with around 2 minutes left a bidding war started taking the cards price to over 9 million coins! One FUT player wasn't in the mood for any messing though and gazumped everyone with a whopping 15 million coin bid which soon put a stop to the bidding.
Joey Barton's card sold for 15 million coins which is believed to be the highest amount paid for a player in Ultimate Team history.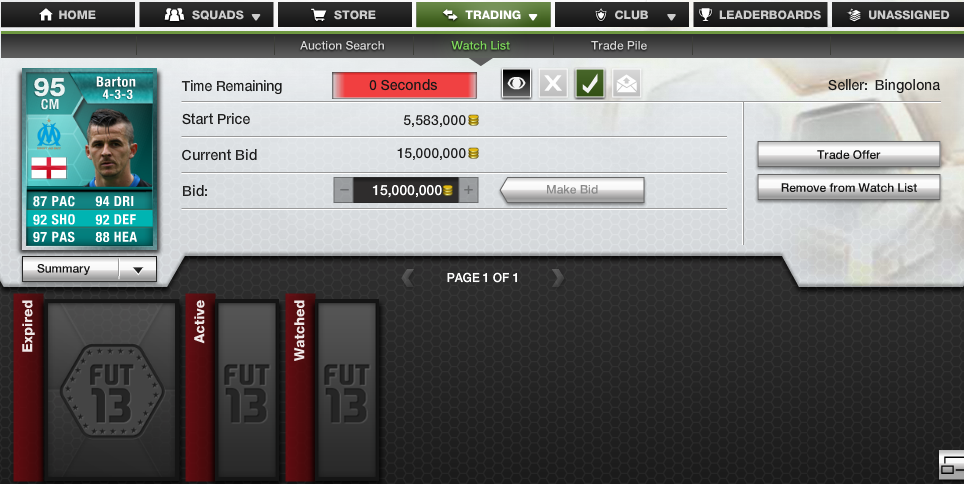 After a long night of trolling and guessing who won the card it's currently thought to be with YouTuber Curtis Morton however it's believed the card's just on loan from the original buyer, a FIFA coin selling website.
Curtis has announced that he's making a video review of the Joey Barton Ultimate Team card and we'll bring it to you as soon as it's released.
What do you think? Is Joey Barton's 95 rated card really worth 15 million coins?