FIFA, the most realistic football simulation game on the planet. The ideal environment for gamers to craft breathtaking attacks. Meticulous blends of unpredictability, intricate passing and sublime skill in a bid to create the perfect, stunning goal worthy of the best teams in this majestic, beautiful game.
[email protected]$% that, LET'S ABUSE PACE!!
This post was inspired by PK's Pace Abstinence Revolution.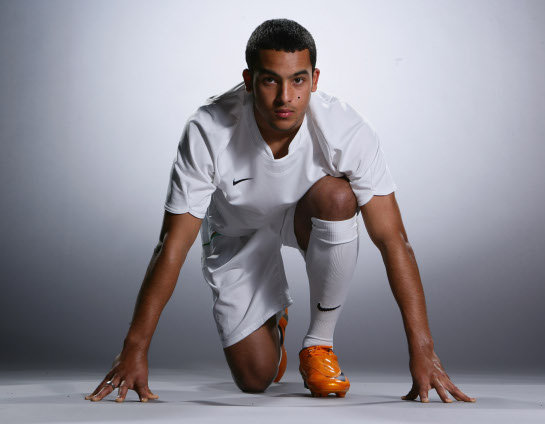 People abusing pace is one of the complaints we hear most at UltimateFIFA. There are countless ways to carve attacks so why do people do it? They do it because it's effective.
People like to win. It's natural. Nobody plays the game just to make up the numbers and abusing pace is one of the most effective tactics in the game. Not only that, it's one of the easiest tactics in the game and the one that takes the least thought and the least skill.
Counter attacks are a deadly way to create chances in FIFA and pacey players are vital to an effective counter.
Personally I like to knock the ball about and be creative. It's much more rewarding. OK, there'll be times when needs must and I'll take advantage of a pacey striker or winger but scoring this way hardly pulls at the satisfaction strings.
Why is pace abuse so over-used?
The problem  is a combination of the current defensive system and a lack of skill / laziness.
When you've got men behind the ball it's too over-powered and low to medium skilled players have a nightmare breaking down packed defences. When a half decent player packs out their defence (with defensive midfielders as well as defenders) and makes good use of contain and secondary press it usually takes something special to create decent chances.
More advanced players will keep possession, frustrate their opponent, pass backwards and draw containing defenders out of position but even this is no easy feat and takes extreme patience and concentration.
Because of this you find that lesser skilled players (or sometimes even good but lazy players) will abuse pace because it's an easier option than trying work intricate attacks. If you can soak up attacks and break quickly you can get in behind defenders without having to work through the usual brick wall of players.
How to defend against annoying pace abusers
Use fast defenders
If you can't beat them join them. Fight fire with fire. Whatever the idiom, it makes sense to use pacey defenders to combat pacey attackers. That's all well and good but in Ultimate Team you usually have to pay a premium for fast defenders, especially fast centre backs.
As a rule, defenders aren't as quick as attackers but if you stay goal side and on the back foot you "shouldn't" be getting caught.
Defend deep
Don't get caught out with a high line. Pace abusers love seeing open space behind defenders to ping a long through ball into. When you lose the ball use secondary press to pressure the ball and drop the defenders you're controlling deep to make sure you stay goal side.
Just be careful the players you're using to secondary press don't get dragged out of position. Pressure in a controlled way.
Check Work Rates
In FIFA 13, players have attacking and defending work rates. You should take this into account when building your team to make sure players are in tune with your style of play.
Make sure you choose defenders with low attacking work rates, especially full backs. They won't offer many options going forward but you'll be a lot less likely to get caught on the counter.
Press B (Xbox) or Circle (PS3)
If you're running side by side or the attacker has a slight edge press B or Circle a few times to pull him back. You might give away a free kick but rather give away the set piece and get back behind the ball than give your opponent and clear run in on goal.
The good thing is that you pretty much never get sent off doing this, even if your player is the last man and you're stopping a scoring chance.
Cheap Pace Abusing Players to watch out for
There are some very fast players that go without saying (Messi, Ronaldo, Robben, Ribery, Neymar etc) but these aren't just players you can pick up on a whim. They cost a lot of coins and will be beyond a lot of players reach. With this list I'm just going to include affordable players that you can pick up pretty cheap and start terrorising defenses immediately.
Have you come up against any pacey players that are a nightmare to play against? Who would you add to the list?
If you've got any tips to combat pace abuse, let us know in the comments.