Custom Audio was introduced in FIFA 11 and has remained a feature in series ever since. It allows you to add your own audio to FIFA to provide another level of depth and realism to an already pretty atmospheric game.
Although not as big a deal has been made about custom audio recently we highly recommend adding chants to take your career mode game to the next level in terms of atmosphere and immersion.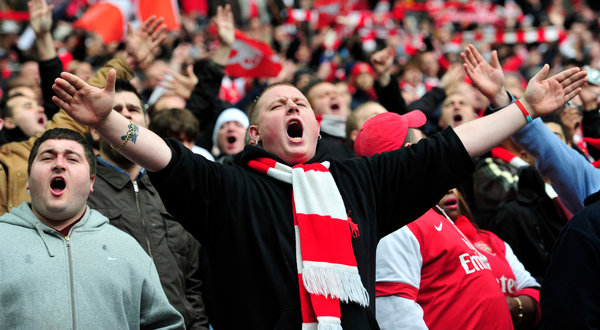 Back when it was first introduced you were able to add specific chants to your favourite team's repertoire which would echo from the stands at three specific times during each game, during the player introductions (when your team takes to the field), at half time and after a goal has been scored.
Things have moved on since then and nowadays as well as fan chants, FIFA lets you upload custom playlists of your favourite music so if Imagine Dragons, Passion Pit and Flo Rida aren't your thing now you can spice up FIFA 13 with a bit of Chesney Hawks or Vangaboys or whatever else takes your fancy.
The variety of game audio situations that you can customise has also moved up a level. Instead of just three automatic instances when your uploads would be heard, now you can manually customise a whole host of areas in FIFA 13 with an individual track or a whole playlist.
The customisable areas in are:
The Arena and in game menus
Menu and Favourite Team Audio
Favourite Team Entry
Favourite Team Goal
Favourite Team Victory
Favourite Team Defeat
Favourite Team Crowd Chant
Favourite Team Winning Chant
Favourite Team Losing Chant
Favourite Team Rival Chants
Favourite Payer Chants
Pro and Pro Club Audio
Pro Goal
Club Stadium Entrance
Club Team Goal
Club Team Victory
Club Team Defeat
Club Crowd Chant
Club Team Winning Chant
Club Team Losing Chant
Other Leagues and Teams Audio
You can go on to set the following audio for any club on the game!
Stadium Entrance
Team Goal
Team Victory
Team Defeat
Crowd Chant
League or Cup Winning Chant
Unpopular Referee Decision Chant
How to add music and chants to FIFA
To add your audio to FIFA 13 you can follow the instructions in the video featured above or just follow these steps.
Put your music or chants onto a CD or USB stick
Import the tracks you want onto the music section of your PS3 or Xbox.
Fire up FIFA 13 and go to Customise FIFA > My Music and Chants > Custom Music and Chants
Choose whether you want to add custom audio to the menus and your team, your pro and pro club or other leagues and teams.
Select the game event you want to add your custom track or playlist > Select track or playlist > add your track or playlist > select single event or all events.
Once you've done that your chants or music will be available in game.
Where to get music and chants for FIFA
You can use any of the music you own but belting bellows of fans from the stands are what truly add depth to the atmosphere of FIFA 13.
Check out Fanchants.com for more free chants than you'll ever need for all teams across the world.
Let us know what your favourite fan chants are in the comments!