Embargo lifts on a new era of FIFA once again as EA Sports ease us into the marketing mayhem gently with their first batch of FIFA 14 Gameplay and Career Mode news.
We're treated to some visuals too and unlike the solitary screenshot that opened up proceedings last year FIFA 14's initial screenshots aren't accompanied by their own video trailer. They are however accompanied by some news about the FIFA 14 features that we can look forward to which suits us much better!
We're seven months into this year's FIFA and still have a fair way to release but already we can start whetting our appetite with some of the additions that we can look forward to come September this year.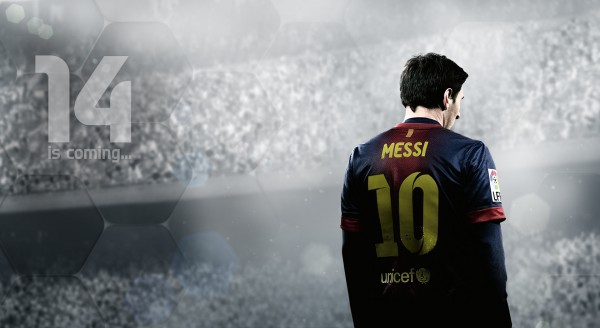 Dribbling
The first bit of news is about dribbling at speed. In FIFA 13 360 ° Dribbling wasn't possible when sprinting. In FIFA 14 however you'll be able to change direction far more easily even when you're sprinting. This will enable the creation of more offensive chances. We envisage that this may go a way to combat lazy defending.
Team-mate Intelligence
Like in the last iteration, the AI's been back to soccer school and will return with a new boost of intelligence. In particular your team-mates' positioning. Your team-mates will line up far more intelligently on the pitch both defensively and offensively. Defensive team-mates will recognise danger, mark tighter and closer and tackle better on the run.
Newly introduced Dynamic Defensive Pressure will cause team-mates to get a lot closer to opponents both on and off the ball.
In attack the AI will come up will smarter ways to break down tight defences and make space.
More details about team-mate intelligence have been released here.
Protect The Ball
Advancing from just shielding the ball in FIFA 14 you'll be able to use strength and positioning to fend off defenders even when running with the ball. By pressing L2 or LT you'll be able to fight for position controlling your pace and jostling for possession both on the run and during set pieces.
Pure Shot
In FIFA 13 we've all been in situations where you want to take a quick shot but your player takes an age to line himself up allowing defenders to get a tackle in or goalkeepers to set themselves. The good news is that In FIFA 14 your player will be able to prepare himself much better when taking a shot. You'll be able to take quicker snap shots catching your opponent off guard, the shooting will feel much more crisp and rewarding and you can even hit shots whilst off balance or under considerable pressure.
We should hopefully see a lot more variations of goals in FIFA 14.
Real Ball Physics
The ball physics has been ramped up to provide you with more authenticity and much more control over passing and shooting. You'll be able to shoot with more venom, put dip on your shots or curl in finesses with much more realism and control than before.
Career Mode
Big news for Career Mode fans. The interface in FIFA 14 has been given a facelift. When we say facelift we mean that it's been completely redesigned to be much clearer and more intuitive.
The design has been based around the Ultimate Team interface and the developers has assured us that the most useful information would be much more accessible.
Global Scouting Network
Building on last year's scouting developments, player recruitment in FIFA 14 has evolved somewhat and the search for talent is now much closer to reality. You will have many more search options available to you, for example, "Wing, Fast, Young" enabling you to track down more specific types of players. The more your scout tracks a player he'll become aware of more information about the player that he can feed back to help you make your decision.
For more FIFA 14 news check out our FIFA 14 videos page that we'll be constantly updating right up to the release of FIFA 14.
Let us know what you think about the first batch of FIFA 14 news to come from EA Sports in the comments. What would you like to see in the next game in the franchise?
FIFA 14 Screenshots