EA SPORTS have announced that the web app for FIFA 14 Ultimate Team will be available from 15th September 2013. Early access means you can get ahead of the game, start making coins and building your squads ready for FIFA 14's release later in the month.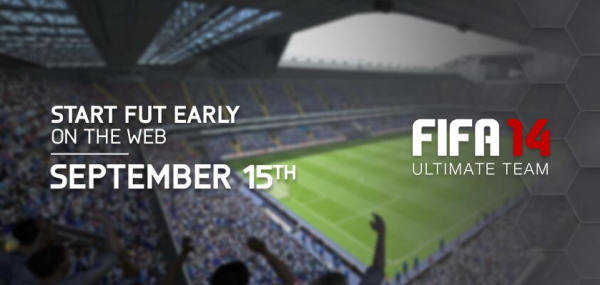 Last years early release wasn't without it's hiccups with patches of downtime and players being unable to log in but a year on we're hoping for a much smoother transition on September 15th.
The web app will be available here.
With the ability to transfer FIFA Points and the interchangeability of players, coins and consumables between Xbox 360/PS3 and Xbox ONE/PS4 it makes sense to get started early whether you're going to be buying FIFA 14 on current generation of consoles or holding out for the next.
The early release date for the FIFA 14 UT Web app follows news of new formations for FUT 14 and legend players coming exclusively to Xbox.
Keep your eyes open for bargains during the web app early access. Last year FUT players got some top players at a fraction of what they're worth as people were selling players without knowing what they're worth or selling at a discount to pick up coins to fuel their coins making strategies.
This year's set to be no different. With more players taken to FUT than ever there's bound to be steals around.
Good luck!