A FIFA release wouldn't be the same without a few issues. This year many EA SPORTS Season Ticket holders (including myself) have been complaining of a FIFA 14 Early Release freezing issue that causes your console to lock up at frequent intervals whilst trying to play the game.
[Edit: A temporary fix that's worked for me is to stop sharing my info to EAS FC. To do this go to CUSTOMISE then ONLINE SETTINGS. Then go to PRIVACY SETTINGS and uncheck "Connect to your club in real life by sharing your account information and EAS FC progress subject to the club's privacy policy." Big thanks to adriani10 in the comments!]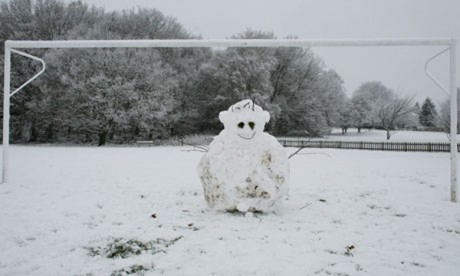 Like many of you I sat down at my Xbox yesterday at quarter to six and watched the EA SPORTS timer count down to reveal the FIFA 14 Early Release download. When it appeared I pressed A and waited patiently as the 7.4Gb file downloaded with the urgency of Harry Redknapp filling in a tax return. Then I waited some more.
Then I got a sandwich. Then I waited some more.
Then there it was. FIFA 14 had arrived!
I cranked it up and the menus looked slick. Much more intuitive than the previous versions. I had a look around the menus for a few minutes trying to get my bearings and then the screen froze.
No worries, it happens every now and again. I rebooted the console and started again. 5 more minutes in and it happens again… and again… and again.
Eventually, in a bid to stop the menu freezing, I started racing into games. I was impressed with the gameplay. The game seems much more controlled and strategic and there was a much better balance between strength and pace. 85 minutes into my first game the screen freezes again. By now I'm rather frustrated.
At the time of writing this I'm yet to finish a game on the FIFA 14 Early Release. Every single one has frozen. Early access for me is unplayable.
I'm sure the retail edition of the game will work fine but for those of us that fork out £16 specifically for FIFA  (on two accounts in my case) it's a bit of a kick in the teeth.
Although there's been no official line out of EA SPORTS yet about why it happens or if there's a fix on the way there is a thread on their forums to report bugs and if it's happening to you I'd advise you to let them know so they can get an idea of the scale.
I'm still staying positive about the improvements I've seen already in FIFA 14 but if the freezing continues for the whole of Early Release I for one will begrudge the money I've spent out to play the game (or not play the game in this case) early.
Is your FIFA 14 Early Release freezing? Have you managed to do anything to fix it?