Why always me? Because you've had a storming season Mario! This week FIFA 13 sees Super Mario Balotelli team up with the best of the Italian League in the Serie A Team of the Season.
FUT players bid farewell to the FIFA 13 Bundesliga TOTW at 5:30pm in one final happy hour as the German League players packed up their towels to make room for the Italian mob.
Our Pick Of The Serie A TOTS
A week after joining Twitter, Balotelli makes the TOTS squad earning himself an 89 rated, shiny blue card. All three strikers look unstoppable but despite Di Natale's unbelievable skills stats and Cavani's towering areal threat Mario's still my pick of the strikers because of his all round pace and brute strength.
TOTS Balotelli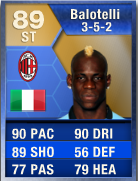 Think of a cross between a Maserati GranTurismo and a tank with great close control and bags of attitude – that sums up how the AC Milan striker plays on Ultimate Team. He win challenges against the odds and he'll emerge with the ball when you think you've lost it. Plus give him a sight of goal and he'll lift the posts out of the ground.
For those with a tighter budget his normal Man City card is worth the coins too and slots into a Barclays Premiership team nicely.
TOTS Lamela
With 5 star skills, Eric Lamela's 77 rated normal card adds flair to any Ultimate Team and can be picked up for a measly 800 coins on Xbox. The downside is that 77 Lamela does lack close control and doesn't pack much of a punch in front of goal.
The 85 rated Team of the Season Roma star's 92 dribbling and 83 shooting should put those weaknesses to bed and the right wingers favoured left foot makes him a real danger when cutting inside from the wing.
TOTS Vidal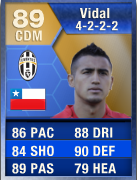 Team of the Season Vidal could possibly be one of the most complete, all round players on FIFA 13 Ultimate Team. I'm seriously struggling to find a weakness with this player. If I'm being picky maybe his Chilean nationality might limit him in hybrid teams and maybe he could stick down that mini mohawk of his.
EA SPORTS have labelled Arturo Vidal as a defensive midfielder but the Juventus dynamo wouldn't look out of place in any position on the pitch.
The Serie A heavyweights will be in packs for one week from 6pm (UK time) Wednesday 29th May to 5:30pm Wednesday 5th June.
The Rest of the FIFA 13 Serie A Team Of The Season
GK: Federico Marchetti, Lazio – 83 (84)>89
CB: Hugo Campagnaro, Napoli – 81 (82)>87
CB: Medhi Benatia, Udinese – 82>87
CB: Andrea Barzagli, Juventus – 84>89
CDM: Arturo Vidal, Juventus – 84 (85)>89
RM: Stephan Lichtsteiner, Juventus – 82>87
CM: Borja Valero, Fiorentina – 80>85
CAM: Marek HamŠik, Napoli – 85 (87)>91
LW: Stephan El Shaarawy, Milan – 81>88
ST: Edinson Cavani, Napoli – 86 (87)>92
ST: Antonio Di Natale, Udinese – 85 (87)>92
FIFA 13 Serie A TOTS Substitutes
GK: Gianluigi Buffon, Juventus – 87>92
CB: Gonzalo Rodríguez, Fiorentina – 76>82
LB: Manuel Pasqual, Fiorentina – 75>82
RM: DuŠan Basta, Udinese – 78>83
LW: Adem Ljajic, Fiorentina – 75 (77)>82
RW: Erik Lamela, Roma – 77 (79)>85
ST: Mario Balotelli, Milan – 84 (85)>89
Who would you most like in your Serie A team?