Today's Ligue One Team is the fifth Ultimate Team of the Season and we've turned into the home straight of EA's 8 week TOTS bonanza. With only three teams left is it time to splash out trying to find a blue in form or will you be holding out for the teams to come?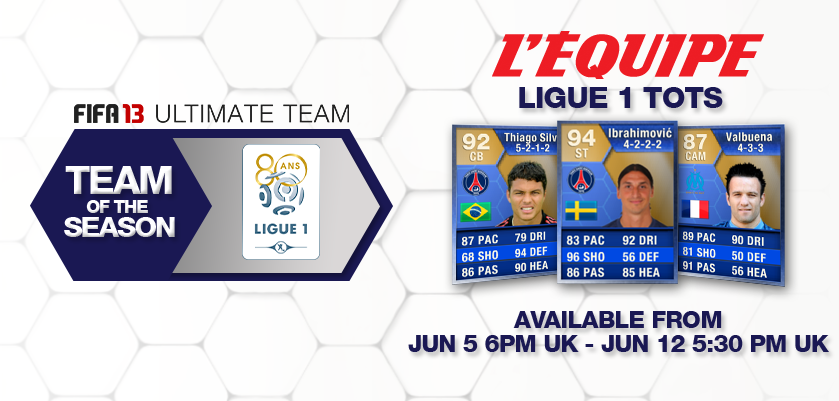 The four previous teams can be found here:
The French league is often overlooked when searching for the best players in FIFA 13 but is home to some really strong FUT players and with PSG getting a cash injection and Monaco set to secure some top signings this summer, Ligue One is set to strengthen even more before FIFA 14.
With the exception of a few players this could be the most affordable blue team yet to hit the FUT market.
The Ligue 1 TOTS will be in packs from 6pm (UK Time) Wednesday 5th June until 5:30pm, Wednesday 12th June.
Our Pick of the FIFA 13 Ligue One Team Of The Season
Two players stand out like a sore thumb in this team, 92 rated centre back, Thiago Silva and 5 star skills, man mountain, 94 rated Zlatan Ibrohimovic. Obviously these two are going to be on everybody's hit list and will fetch an excruciating amount of coins when sold on the FUT market. We'll take these to as given and give you our top picks from the rest of the team.
TOTS Jeremy Menez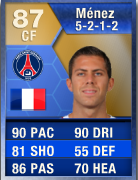 Menez was my go to CF / ST on FUT12. His 5 star skills and link up play with Ribery and Ben Arfa made my attacks lethal. In FIFA 13 however I was really disappointed. He'd been relegated to 4 star skill moves and lacked the cutting edge that he had on the previous version. I'm really hoping TOTS Menes returns him to former glory and if it does, the PSG attacker could be one of the best value players on the FUT market. Even if not he'll be a quality central player that will have great chemistry with some top wide men.
TOTS Mickael Landreau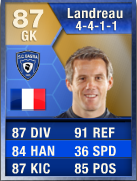 Top notch keepers can keep you in games when you're on the ropes and if you keep a clean sheet in Ultimate Team tournaments, you're not going out! Despite being 34 years old the Bastian number 1 has the best reflexes (91) in the league and coupled with great diving stats mean he's not going to be taken by surprise shots very often. His slightly lower handling stats mean he may parry a few shots so make sure you're on hand with a defender to mop up if he does.
TOTS Fanni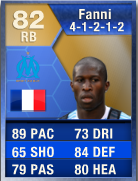 Good right backs are few and far between in Ligue 1. Despite having a name that would be censored in Pro Clubs game chat, Rod Fanni is head and shoulders better than any Ligue 1 RB. Apart from IF Debuchy (80), Fanni (82) is the only RB in FUT13 to break the 80 rating mark. With pace to burn and great defending stats he'll be a nightmare for opposing wingers and he looks like he could be quite solid going forward too. The number one choice full back in any French League side.
The Whole Ligue 1 TOTS
Starting Line Up
GK: Mickaël Landreau, SC Bastia – 82>87
RB: Rod Fanni, Olympique Marseille – 76 (78)>82
CB: Nicolas N'Koulou, Olympique Marseille – 80>85
CB: Thiago Silva, PSG – 87 (89)>92
LB: Benoît Trémoulinas, Bordeaux – 76 (79)>83
CM: Florent Balmont, LOSC Lille – 79>84
CDM: Blaise Matuidi, PSG – 77 (79)>83
CAM: Mathieu Valbuena, Olympique Marseille – 82 (84)>87
LW: Dimitri Payet, LOSC Lille – 80 (81)>86
ST: Jérémie Aliadiere, FC Lorient – 73>74
ST: Zlatan Ibrahimovi?, PSG – 88 (89)>94
Substitutes
GK: Yohann Thuram-Ulien, ES Troyes AC – 68 (71)>74
CB: Aurélien Chedjou, LOSC Lille – 80 (81)>85
CB: Mamadou Sakho, PSG – 80>85
CDM: Didier Digard, Nice – 70>74
CAM: Rémy Cabella, Montpellier SC – 75>81
CF: Jérémy Ménez, PSG – 81 (82)>87
RW: Pierre-Emerick Aubameyang, AS Saint-Etienne – 79 (80)>85
FIFA 13 League One Cup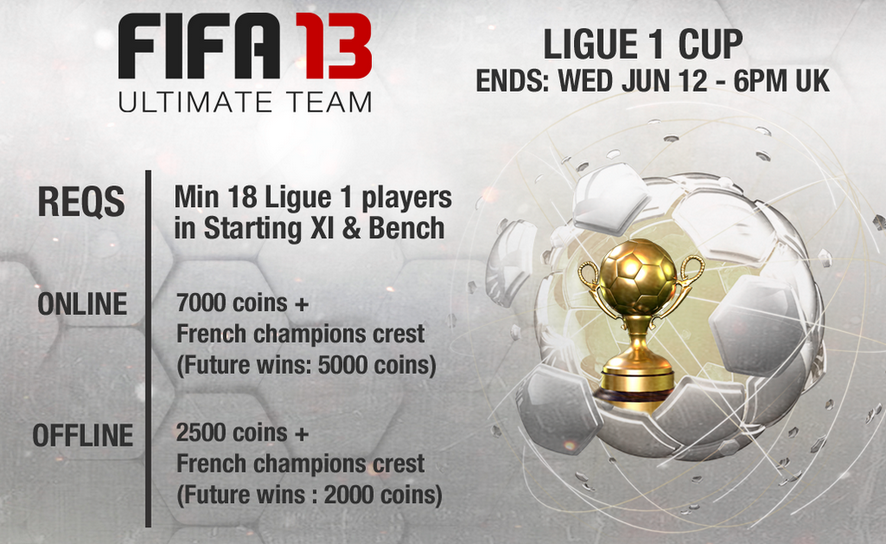 As per usual, EA are hosting a tournament on Ultimate Team to encourage you to try out your French league players. This is available now and winning the cup online with net you a hefty 7,000 UT coins and the French Champions crest whilst winning the tournament offline will bag you 2,500 coins and the crest. Good luck!
Are there any players you think EA have missed that deserved to make this team?