When the FUT market crashes (even more) and the the hoarders finally break into their stock piles of coins and FIFA points you know it's time for Team of The Season.
This year in FIFA 13 the schedule's similar to last year with each TOTS remaining in packs for 1 week at a time before making way for the next one. There'll be 8 in total and we'll bring you them all.
Most Consistent But Never In Form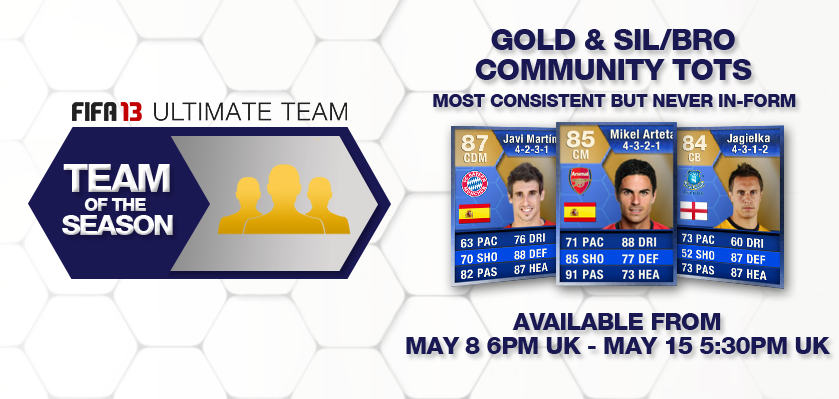 This Team of the Season, voted for by the EA Sports FIFA 13 community, is made up of the players that over the course of the season never quite made the cut as far as Team of the Week goes but have played consistently well for their club throughout the campaign.
Containing a string of steady players, it's certainly not going to be the best Team of the Season that will be released (and certainly a long way off the most expensive) so unless there's someone specific you're after it may be worth keeping hold of those coins for another week.
The Most Consistent But Never In Form TOTS always reminds me of the "Most Improved Player" trophy that your football club gives the lad that never wins anything but turns up every week.
There are actually 2 of these teams, Gold and Silver/Bronze and they'll be in packs from 6pm (UK time) Wednesday 8th May to 5:30pm Wednesday 15th May. The Barclays Premiership TOTS is the next team of the season to be released.
Gold Team Starting Line Up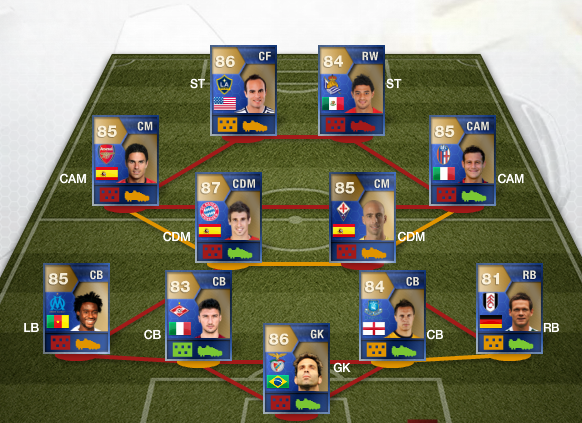 GK: Artur Moraes, SL Benfica – 82>86
RB: Sascha Riether, Fulham – 75>81
CB: Nicolas N'Koulou, Olympique Marsielle – 80>85
CB: Phil Jagielka, Everton – 79>84
CB: Salvatore Bocchetti, Spartak Moscow – 78>83
CDM: Javi Martinez, Bayern Munich – 83>87
CM: Mikel Arteta, Arsenal – 81>85
CM: Borja Valero, Fiorentina – 80>85
CAM: Alessandro Diamanti, Bologna – 80>85
RW: Carlos Vela, Real Sociedad – 79>84
CF: Landon Donovan, LA Galaxy – 82>86
Gold Team Substitutes
GK: Simon Mignolet, Sunderland – 76>82
CB: Niklas Moisander, Ajax – 76>82
CB: Réver, Atlético Mineiro – 79>84
CDM: Maxime Gonalons, Olympique Lyonnais – 77>82
CM: Selçuk ?nan, Galatasaray – 79>84
CAM: Gonzalo Castro, Bayer Leverkusen – 78>83
RW: Jermain Lens, PSV – 78>83
Gold Team Reserves
CB: Eliaquim Mangala, FC Porto – 77>82
CB: Matija Nastasic, Manchester City – 75>81
CDM: Claudio Yacob, West Bromwich Albion – 77>82
ST: Ruben Castro, Real Betis – 76>82
ST: Dejan Damjanovic, FC Seoul – 76>82
Players That Have Changed Position
Diamanti – RF>CAM
Donovan – RM>CF
G. Castro – RM>CAM
R. Castro – CF>ST
You can find all the Gold team stats on the EA Ultimate Team Web App here.
Bronze / Silver Team Starting Line Up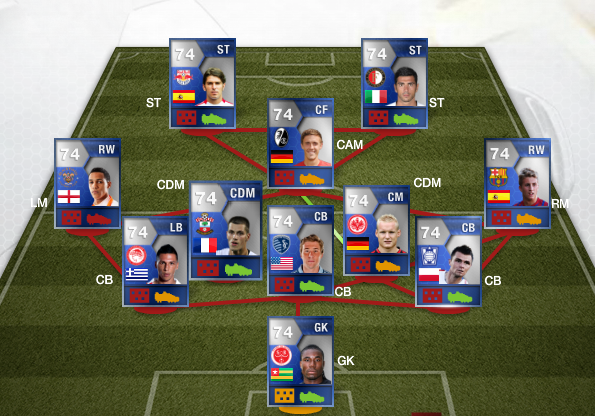 GK: Kossi Agassa, Stade de Reims – 73>74
LB: Jose Holebas, Olympiacos – 69>74
CB: Matt Besler, Sporting KC – 67>74
CB: Hubert Wo??kiewicz, Lech Pozna? – 68>74
RW: Thomas Ince, Blackpool – 72>74
CDM: Morgan Schneiderlin, Southampton – 72>74
CM: Sebastian Rode, Eintracht Frankfurt – 73>74
RW: Deulofeu, FC Barcelona B – 73>74
CF: Max Kruse, SC Freiburg – 73>74
ST: Jonathan Soriano, Red Bull Salzburg – 71>74
ST: Graziano Pellè, Feyenoord – 70>74
Bronze / Silver Team Substitutes
GK: Ante ?ovi?, Western Sydney Wanderers – 64>64
CB: Emanuele Terranova, Sassuolo – 68>74
ST: Jérémie Aliadiere, FC Lorient – 73>74
CAM: Kris Commons, Celtic – 74>74
CM: Koke, Atlético de Madrid – 73>74
LW: Lee Keun Ho, Sangju Sangmu Phoenix (Ulsan Hyundai FC) – 72>74
RW: Pablo Andrés González, Novara – 73>74
Bronze / Silver Team Reserves
LB: Ross Gaynor, Sligo Rovers – 58>64
LM: Jacques Maghoma, Burton Albion – 60>64
CAM: Ezequiel Scarione, FC St. Gallen – 64>64
ST: Patrick Madden, Yeovil Town – 60>64
ST: Leigh Griffiths, Hibernian – 67>74
Players That Have Changed Position
Deulofeu – LW>RW
Commons – LM>CAM
González – ST>RW
You can find the Silver and Bronze team stats on the Ultimate Team web app here.