I hope you've saved some coins. The FIFA 13 La Liga Team of the Season is in packs and if you bag one of the big guns you're going to be in for a windfall on the FUT market!
The La Liga TOTS contains all the best players from this years Liga BBVA season including the 2 highest regarded footballers in the world at the moment, Christiano Ronaldo and Lionel Messi.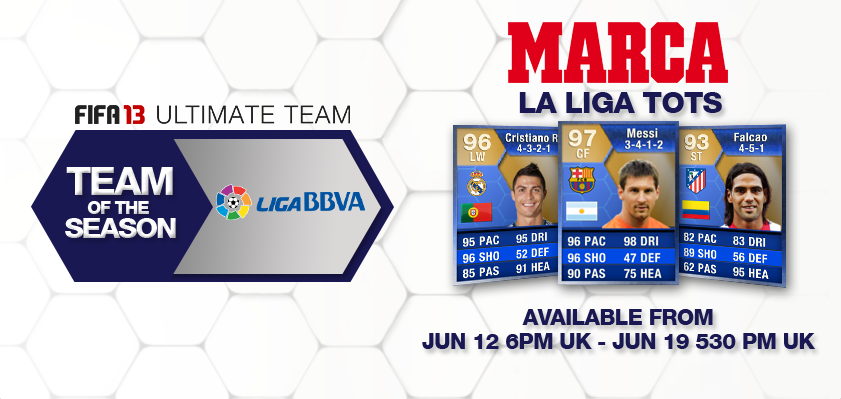 This is by far the strongest TOTS yet with EIGHT players rated over 90! Ronaldo (96) and Messi (97) are going to be on everyone's radar as they rifle through coins and FIFA points buying packs hoping to find a blue in form player but we'll run down our pick from the rest of this stellar line up.
Other Teams of the Season are:
TOTS Falcao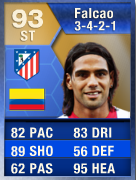 Althletico Madrid's star striker has been phenominal this season scoring some stunning goals and has been linked with a move to a number of high profile clubs this summer. His normal card is rated 89 and despite only costing around 15,000 coins (on Xbox) is really underused probably because he only has 78 pace. He plays like an absolute tank, will score more often than not when given a clear line of sight and has 91 heading making him deadly from crosses and set pieces. And his TOTS card is even better! (unsurprisingly…)
TOTS Alonso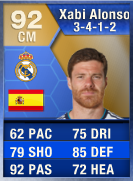 Another hugely underused player because of his slow pace (you pace whores!) when used right Xabi Alonso can be one of the best defensive midfielders in the game. (His normal 87 rated cards can be bought for a measly 3,000 coins!!!) Defensively his positioning's great, he's a strong tackler with good interceptions. Plonk him in front of your defense to break down attacks then spray the ball around with his deadly passing ability to put you on amazing counter attacks. This player doesn't need pace!
TOTS Ramos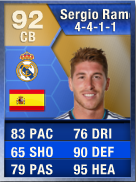 Real Madrid's Sergio Ramos is one of the most complete defenders on the game. When EA changed his player from an RB to a CB his price went through the roof as there aren't many centre backs that can match Ramos for pace, certainly not in La Liga! Ramos is perfect for a three man defence formation as pace let's him fill the gaps that missing full backs leave behind and he wouldn't look out of place in midfield. Good luck getting him in a pack because very few people are going to be able to afford him on the FUT market.
Other players worth a mention are TOTS Valdes (good goalkeepers are few and far between in La Liga) and TOTS Jesus Navas because of his 95 pace on the right wing.
You can interact with the full FIFA 13 La Liga Team of the Season here.
This team of the season is in packs now until 5:30pm (UK) on 19th June.
The full FIFA 13 La Liga Team of the Season line up
The blue ratings are for Team of the Year in form cards.
GK: Thibaut Courtois, Atlético Madrid – 79 (81)>86
RB: Carlos Martinez, Real Sociedad – 70 (72)>74
CB: Piqué, FC Barcelona – 86 (92)>91
CB: Sergio Ramos, Real Madrid – 87 (93)>92
LB: Jordi Alba, FC Barcelona – 81 (83)>87
CM: Xabi Alonso, Real Madrid – 87 (88) (93)>92
CM: Xavi, FC Barcelona – 90 (95)>94
CM: Iniesta, FC Barcelona – 90 (91) (96)>95
LW: Cristiano Ronaldo, Real Madrid – 92 (94) (97)>96
CF: Lionel Messi, FC Barcelona – 94 (96) (98)>97
ST: Falcao, Atlético Madrid – 89 (90) (94)>93
La Liga TOTS Substitutes
GK: Victor Valdés, FC Barcelona – 85>89
LB: Filipe Luís, Atlético Madrid – 79 (80)>85
CB: Raphaël Varane, Real Madrid – 76 (78)>82
CDM: Sergio Busquets, FC Barcelona – 85 (86)>89
RM: Patrick Ebert, Real Valladolid – 74 (74)>81
CM: Beñat, Real Betis – 82 (83)>87
RW: Jesús Navas, Sevilla FC – 85>89