It's the final FIFA 13 Team of the Season. The game developers have huddled up in their FIFA cave, banged their heads together in an Ultimate Team "thought shower" and come up with an all star EASFC TOTS!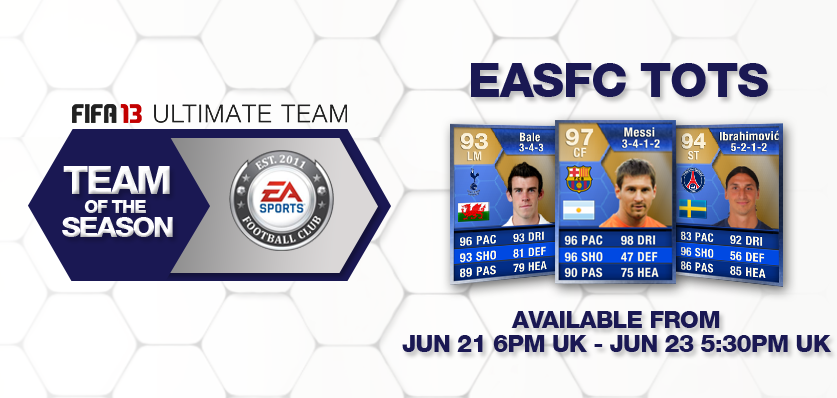 In meetings that we imagine to be like EA's equivalent to the Bilderberg Group (only with less corruption and more cakes) FIFA 13 developers have been deliberating which players deserve a coveted spot in one of the greatest ultimate teams of all time.
The previous team's of the season are:
EASFC TOTS Messi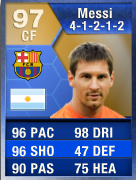 I've lost track of how many in form cards Messi's received (six!) but with his form this season you just can't leave Barcelona's star forward out. With another Ballon D'Or on his mantlepiece and another La Liga title to add to his other five Messi's in danger of being crowned the greatest player of all time. People will always dispute it but the achievements don't lie and at only 25 there'll be plenty more to come.
EASFC TOTS Leighton Baines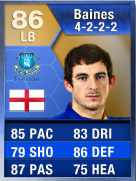 I might be a biased Everton fan but Leighton Baines has been outstanding this season. He's been linked to a couple of top clubs this summer but is still under-rated by many, maybe because he looks like he should be a guitarist in Oasis rather than one of the best attacking left backs in the world. But again the stats don't lie and Baines has created more chances than anyone in Europe's 5 top leagues (including Xavi, Iniesta, Pirlo and Ozil!)
EASFC TOTS Arturo Vidal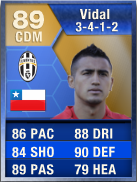 I couldn't not mention Vidal. Mainly because I'm still astounded at what an all round player his in form version is. With these stats you can literally play him anywhere on the pitch (with the exception of goalkeeper) and he'll be better that nearly every other play on Ultimate Team. Obviously chemistry will take a knock if he's out of position. There's no better player on the game for a defensive midfielder role.
You can view and interact with the whole EASFC team of the season on the web app here.
The full EASFC Team of the Season Line Up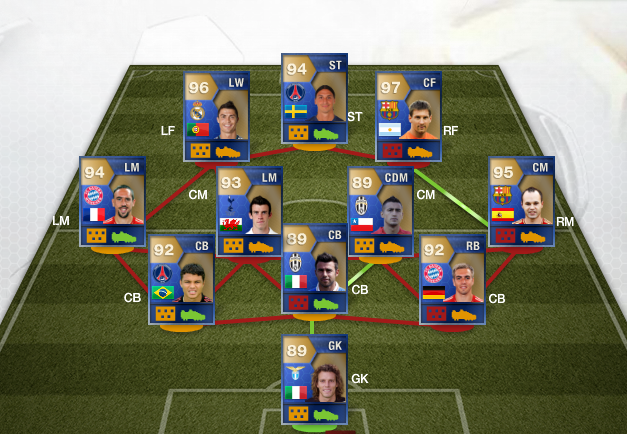 GK: Federico Marchetti, Lazio – 83 (84)>89
RB: Philipp Lahm, Bayern München – 87>92
CB: Andrea Barzagli, Juventus – 84>89
CB: Thiago Silva, PSG – 87 (89)>92
LM: Franck Ribéry, Bayern München – 90 (91)>94
LM: Gareth Bale, Tottenham Hotspur – 85 (88)>93
CDM: Arturo Vidal, Juventus – 84 (85)>89
CM: Iniesta, FC Barcelona – 90 (91) / 96>95
LW: Cristiano Ronaldo, Real Madrid – 92 (94) / 97>96
ST: Zlatan Ibrahimovi?, PSG – 88 (89)>94
CF: Lionel Messi, FC Barcelona – 94 (96) / 98>97
Substitutes
GK: Thibaut Courtois, Atlético Madrid – 79 (81)>86
LB: Leighton Baines, Everton – 80 (81)>86
CAM: Mathieu Valbuena, Marseille – 82 (84)>87
CAM: Juan Mata, Chelsea – 86 (87)>90
ST: Edinson Cavani, Napoli – 86 (88)>92
ST: Robin van Persie, Manchester United – 88 (89)>93
ST: Stefan Kießling, Bayer 04 Leverkusen – 79 (81)>88