These TOTS just keep getting better and this week is the turn of the Bundesliga team of the season. We're going to check out all of the details and let you know our favourite players.
The Bundesliga TOTS follows on from the Most Consistent But Never In Form TOTS and the Barclays Premier League TOTS and cards will be in packs from 6pm UK Time, Wednesday 22nd May until 5:30pm UK Time, Wednesday 29th May.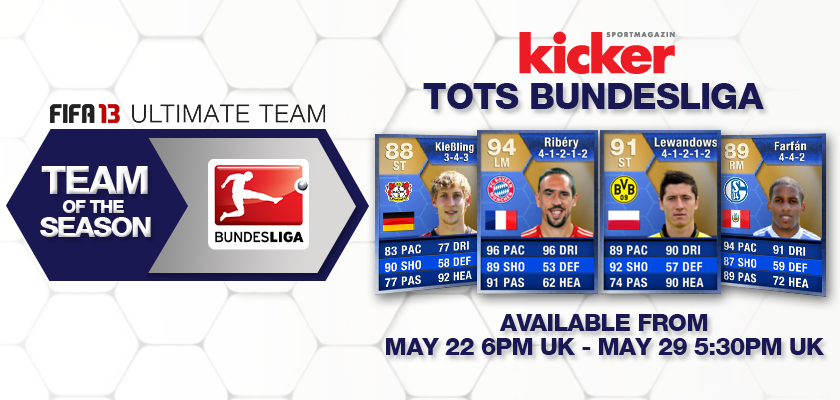 The Bundesliga has proven it's the dominant force in European football this year by nabbing both Champions League final places at this Saturday's final at Wembley, London.
After knocking Barcelona out of the Champions League (quite convincingly in the end) Bayern Munich are seen by many people as the epitome of total football this year with the Catalans unable to get a break against the organised German side.
So it's no doubt that FIFA 13's Bundesliga team of the season includes no less than nine Bayern Munich players out of a total of eighteen TOTS players being released this week.
In contrast Bayern's Champions League opponents, Borussia Dortmond, who finished a massive 25 points behind the Bundesliga winners only managed three TOTS spots (the same number as third place Bayer Leverkusen)
Our pick of the Bundesliga TOTS players is definitely Franck Ribery. Last year we felt he was more effective than both Messi and Ronaldo and this year's no different. The ball sticks to his feet like it's been sewn on and his turn of pace is something else. Ribery is one player that can make things happen all by himself.
Second on our hitlist is goalkeeper Rene Adler. The Hamburger SV goalkeeper's first inform card has served us well as the best Bundesliga keeper by a mile and now with 89 overall is surely one of the best goalkeepers in the whole of FIFA 13 FUT.
Finally, either of the centre backs, Dante or Jerome Boateng, would be a real catch for any Bundesliga team because before these two (apart from Matts Hummells at 85) quality German League defenders were few and far between. Either one of these defenders would bolster your Bundesliga team considerably.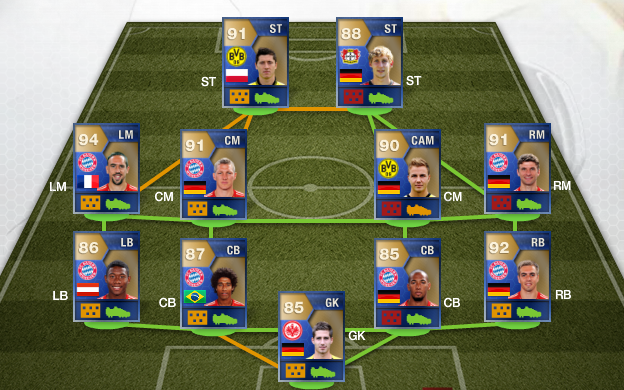 The Bundesliga First Team Is:
GK: Kevin Trapp , Eintracht Frankfurt – 76 (78)>85
RB: Philipp Lahm, Bayern München – 87>92
CB: Jérôme Boateng, Bayern München – 79 (80)>85
CB: Dante, Bayern München – 81 (82)>87
LB: David Alaba, Bayern München – 77 (80)>86
LM: Franck Ribéry, Bayern München – 90 (91)>94
CM: Bastian Schweinsteiger, Bayern München – 86 (87)>91
CAM: Mario Götze, Borussia Dortmund – 84 (86)>90
RM: Thomas Müller, Bayern München – 84 (86)>91
ST: Stefan Kießling, Bayer 04 Leverkusen – 79 (81)>88
ST: Robert Lewandowski, Borussia Dortmund – 83 (87)>91
The Bundesliga TOTS Substitutes Are:
GK: René Adler, Hamburger SV – 84 (85)>89
RB: Carvajal, Bayer 04 Leverkusen – 74>74
CB: Ömer Toprak, Bayer 04 Leverkusen – 74>74
LM: Marco Reus, Borussia Dortmund – 84 (87)>91
RM: Jefferson Farfán, FC Schalke 04 – 84 (85)>89
CAM: Toni Kroos, Bayern München – 84 (86)>89
ST: Mario Mandžuki?, Bayern München – 82 (83)>88
Thomas Müller has changed positions from a CAM to RM.
Is there anyone you think should have made it into this week's Team Of The Week?