One of the most eagerly awaited in form teams, the Barclays Premiership Team of The Season, has landed in FUT packs today. The team includes the best players in the Premiership this season chosen by members of the EA Sports community.
The line up, unsurprisingly very similar to the PFA's own team of the year with a couple of exceptions, includes some of the best known footballers in the league and is bursting with of pace, ability and power.
The Premiership TOTS is in packs from 6pm (UK time) Wednesday 15th May till 5:30pm Wednesday 22nd May and follows on from the most consistent but never inform teams of the week last week. This is the 3rd of 8 teams of the season (there were 2 last week…).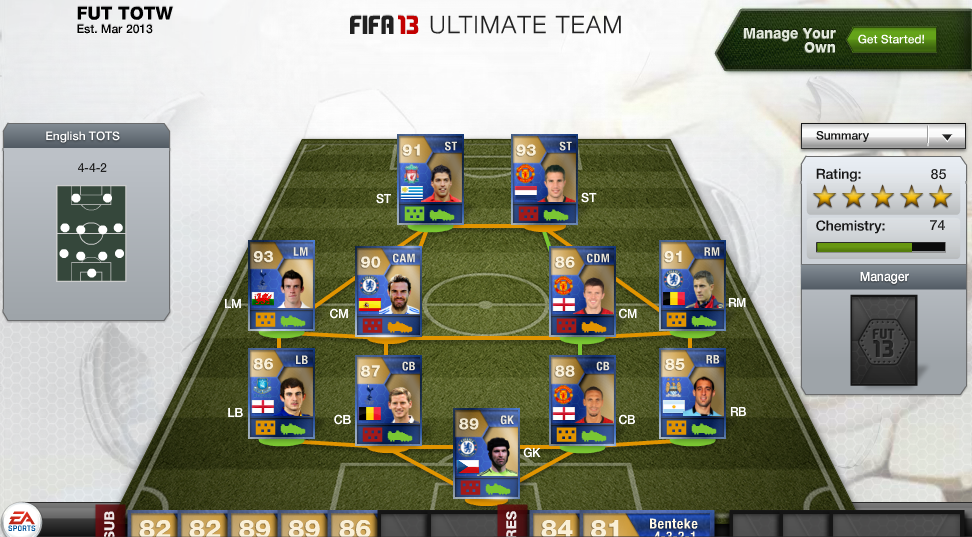 If you're not lucky enough to pull one of these players from a pack you'll probably have to break the bank to be able to afford them on the market. All is not lost though because as more of the Premiership TOTS cards become available the price of previous versions of the players should come right down. There'll also be some nice previous informs on the market for a snip if you're in the right place at the right time.
Even out of all of these world class players there's one card whose state still stand out. FUTHead have confirmed that TOTS Gareth Bale's total stats are an "out of control" 531 making him the top rated mainstream player on Ultimate Team to date beating Christiano Ronaldo's stat count by 10! (He's not as good as this one of a kind 95 rated Bale though!)
You can view the whole team and subs on the EA Sports Ultimate Team Web App.
The Premiership Team Of The Season
GK: Petr Cech, Chelsea – 84 > 89
RB: Pablo Zabaleta, Manchester City – 79 > 85
CB: Jan Vertonghen, Tottenham Hotspur – 81 > 87
CB: Rio Ferdinand, Manchester United – 83 > 88
LB: Leighton Baines, Everton – 80 > 86
CDM: Michael Carrick, Manchester United – 81 >86
RM: Eden Hazard, Chelsea – 87 > 91
LM: Gareth Bale, Tottenham Hotspur – 85 > 93
CAM: Juan Mata, Chelsea – 86 > 90
ST: Luis Suarez, Liverpool – 86 > 91
ST: Robin van Persie, Manchester United – 88 > 93
Premiership TOTS Substitutes
GK: Asmir Begovic, Stoke City – 76 > 82
CB: Ashley Williams, Swansea City – 76 > 82
CDM: Steven Gerrard, Liverpool – 84 > 89
CAM: Marouane Fellaini, Everton – 81 > 86
CAM: Santi Cazorla, Arsenal – 84 > 89
CF: Michu, Swansea City – 77 > 84
ST: Christian Benteke, Aston Villa – 72 > 81
Is there anyone missing that you would have chosen?