EA's Adam Bell opened up to FIFA Insider this week as they probed the FIFA 13 Career Mode producer in great detail about the thoughts and processes that go into creating this highly detailed game mode.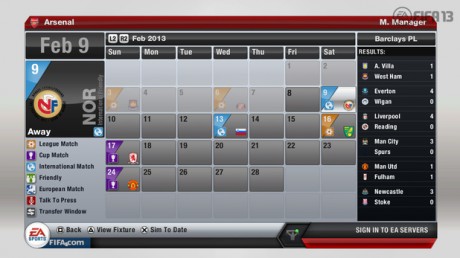 Questions ranged from press interaction, player stories, player growth and transfer development to bringing back features such as Sim Interruption (the ability to take control part way through a simulated game if it wasn't going according to plan).
When asked about Career Mode saves crashing and people not being able to progress though their careers (an issue we've been hearing a lot about) Adam said he felt frustrated:
"Career Mode is very deep now, and the way people can play and customise the mode varies massively. It makes it very challenging to investigate and track down issues. We spend a lot of time trying to understand how these issues are occurring and we were even on the phone with some users to understand their experiences to help us to investigate.  We analyse all the issues and we take special interest in knowing the number of people affected by a particular problem and then we try to develop a fix. We put out a number of patches for FIFA 13."
Dave and Tom commendably grilled Adam on the future of Career Mode in FIFA 14 but unfortunately Adam wasn't forthcoming with too many details (but we're sure he's got a lot up his sleeve).
Head over to FIFA Insider to check out the full, extremely detailed Adam Bell interview.