Ever bought a player that you thought was going to be great based on their overall (OVR) FUT rating but turned out to be a flop on the pitch? We all know that FUT's overall rating can be a bit misleading at times so who are really the best players in FIFA 13 Ultimate Team?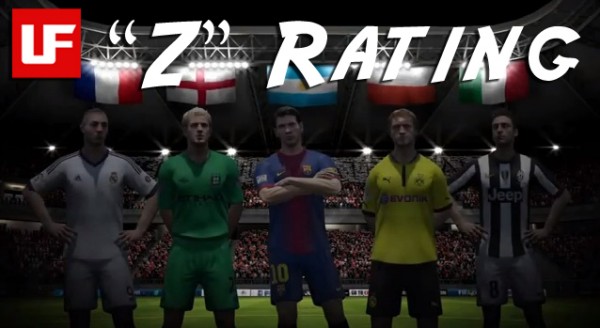 Use the Z Rating below to find out!
You may also like: Exciting New FIFA 14 Ultimate Team Info!
Z Rating System Explained
I found the overall rating system FIFA used was a little misleading sometimes, and that players were "praised" for having a high attribute rating for things that weren't important for their position. This made it difficult to find the true best players in FIFA 13 Ultimate Team.
While online resources exist for searching for players, their stats search is definite; by that I mean your search may include a player with a minimum speed and finishing of 80. If a player has 95 finishing but only a speed of 79, you will miss the player that would presumably be worthy or your consideration based on your search.
I deemed an averaging of the relevant stats gave more constructive results.
Use The Z Rating To Find The Best Players In FIFA 13 Ultimate Team For Each Position
All the general positions are split into different tabs (e.g. a generic Full Back rather than left and right back, but you can filter from there) and I've devised my own rating system.
Each position(s) (CB, FB, CDM, CM, CAM, LRM_WING, CF_ST) has 4 primary attributes I have deemed to be the most important, and 5 secondary attributes that are worthy of consideration, but not as vital as the primary 4.
I have taken are average of the primary 4 and added 20% and averaged the secondary 5 and minus 20%. I have then averaged these 2 scores to give a "Z Score" that goes along side their FIFA rating.
I found this useful for looking for cheaper players that were less desirable due to their lower rating.
You can filter for the specific Nationality, League or Club to meet your FUT needs.
While I understand this is purely based on my perception of the stats and in some way is a personal preference of the way I play; the figures can be quite interesting.
I am happy to listen to feedback and alter the way the stats are constructed if you deem other characteristics more pertinent.
Notes:
The following information is taken from the standard database of the PC version of FIFA 13
FUT positions can be slightly different along with a couple of ratings
Players may appear on these sheets that are not available on FUT, e.g. Quaresma and Drogba
The "Pace" stat is an average of sprint speed and acceleration
Use the "Positions" tabs at the bottom of the sheet
Z Rating Table
Leave Feedback For Z Rating
Have you got any suggestions for the Z Rating's development? What FIFA 13 player stats would you like to see interrogated? Let us know in the comments!
If the Z Score has helped you why not share it with your friends.