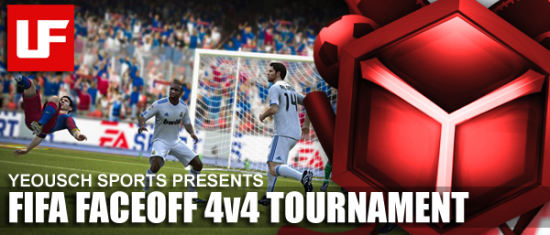 Yeousch Sports are bringing 64 YouTube sensations (well… 63 and me) from around the world together for one the biggest 4v4 FIFA Tournaments of all time.
Expect a shed load of showboating and even more banter as the YouTubers thrash it out for something more important than honour or prestige… Bragging rights!
The tournament hosted by Yeousch Sports will be streamed live on yeousch_live on Twitch TV on Sunday 4th March 2012 at 5pm GMT / 9am PST / 11am CST / 12pm EST.
Don't miss it!  The guys will be on hand to chat too so come and join us, enjoy the show and get involved.
You can check out the star studded line up and schedule of play below the video!
FIFA FaceOff Promotion Video
The Yeousch Sports FIFA FaceOff Line Up
Team 1
HaaazeeeHD
Hjerpseth
DrFluffster
GorskinoHD
Team 2
RossiHD
MattHDGamer
iSkillVids
UltimateFIFATV
Team 3
AirJapesFIFA
JoshFlip1989
MrSamBookaMan
TheFludeh
Team 4
CalFreezy
KSIOlajidebt
OakelFish
Scriptermone
Team 5
R9Rai
FIFARalle
Wiinspear
Teo2906
Team 6
AA9Skillz
Leester100
JackAttack45
iduel2010
Team 7
GudjonDaniel
IrishWelshCelt
Fash10nable
UKCamHD
Team 8
Nepenthez
KillHollywood
ImOriginalKanus
MrNoBots
Team 9
MoodieSwede
SmallBeans
EldridgeHD
Touchyyy
Team 10
KaZooie
BluTacs
MrSpacekeesHD
MrAfroProductions
Team 11
Squidgehh
Sam5000i
MrSportsNWarfare
RaiderGames
Team 12
ConflictApproach
ChrisTrout
DanielSaurus
WelshDragonDsG
Team 13
Wepeeler
MrRossi1990
EzekielGaming
Machadozz
Team 14
GTEazyx
UniqueRiggers
MrQuickFingers
TheAzzeden
Team 15
ChaosxSilencer
iBHIKHA
JamieWilko
DraxlerHD
Team 16
BigSnackks
FM-Chris
Klutch7
Baef
The Yeousch Sports FIFA FaceOff Schedule of Play
Approximate start times for each game in the first round (in GMT):
5:00pm – Game 1 – Team 4 vs Team 6
5:30pm – Game 2 – Team 16 vs Team 9
6:00pm – Game 3 – Team 11 vs Team 8
6:30pm – Game 4 –  Team 7 vs Team 13
7:00pm – Game 5 – Team 10 vs Team 2
7:30pm – Game 6 – Team 3 vs Team 5
8:00pm – Game 7 – Team 12 vs Team 1
8:30pm – Game 8 – Team 15 vs Team 14
*Second round and semi-final games will occur after 30 minutes*
*The final championship game will be best out of 3 games*
*All times are approximate – games will start ASAP*
As you can see, some BIG names involved!  Who's your money on?  (Mine's on Team 2 ;))