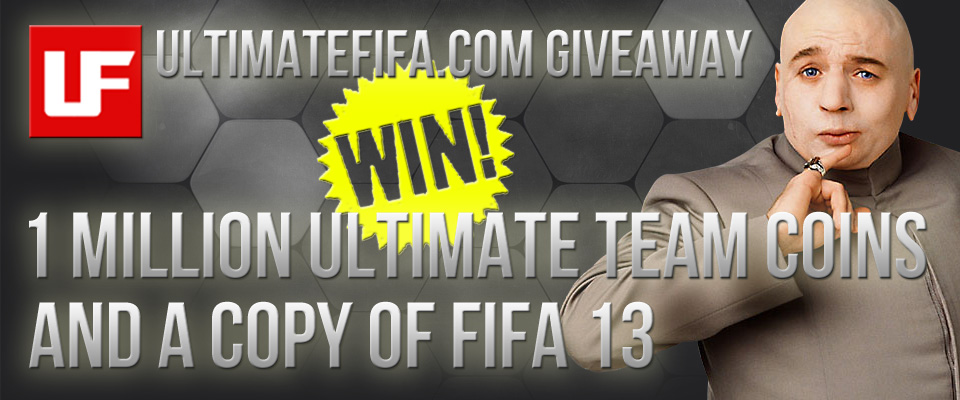 [Please note that this competition has expired – make sure you register to be notified of our future competitions.]
We're giving away 1 Million FIFA 12 Ultimate Team coins (yes 1,000,000!) and a copy of FIFA 13 to a couple of lucky UltimateFIFA subscribers!
"What about EA's 5% commission?" I hear you say… Don't worry, we'll cover that too so the amount of coins you receive will be exactly 1 Million!!! Muhahaha… <- *Evil laugh*
The Ultimate Team coins are only on Xbox 360 I'm afraid but don't worry PS3 and PC dudes. We'll be pre-ordering a copy of FIFA 13 for you should you win.
How to Enter
All you have to do to enter is share this post using one of the share buttons at the bottom and subscribe to us on through one (or more than one) of our channels; E-mail, Twitter or Facebook.
Every subscription is 1 chance to win so if you're subscribed by E-mail, Twitter AND Facebook, that's 3 chances to win!!!
Wait a minute… Is this a shameless drive for even more subscribers? Yes! But what do you care? Not only will you get up to the minute FIFA news, great FIFA tutorials and resources and expert insider tips (that don't get shared on the site) but you'll get great offers and the chance to win some amazing prizes!
When Do We Win?
The competition will close at 8pm BST on Saturday 30th June and the winners will be chosen LIVE by Bateson87HD on Twitch.tv soon after (we'll post the time of the livestream up on UltimateFIFA).
EDIT: The Winners will be picked by BatesonHD at 8pm (BST) on Monday 2nd June. Good luck and thanks to everyone that entered!
Rules
We reserve the right to change stuff and our decision is final!
The Share Buttons
Share this post using the buttons below!