Oh, to be a Rangers fan.
Your club's been pulled from the depths of the financial abyss (just), you're losing players left, right and centre, you've got to start again in the Scottish Third Division and now you might not be able to use your beloved Rangers in FIFA 13 either…
[EDIT: Great news for Rangers fans. EA have confirmed that Rangers will indeed be in FIFA 13! They will appear with the Rest Of The World Teams).]
I'm an Everton fan and even I feel sorry for you. (That's when you know it's bad!)
All is not lost though. A licencing deal with Rangers could still be on the cards.
"As far as Glasgow Rangers are concerned, we have not made a decision at this time on whether we will pursue a separate licensing agreement to include them in Fifa 13."
Lone Rangers
But would a lone Rangers stuck out in the Rest Of The World teams be enough though?
You'd be able to use them in Exhibition Matches, Head to Head Seasons and use their players in Ultimate Team but there'd be a gaping hole in the FIFA 13 Career Mode of so many Rangers fans.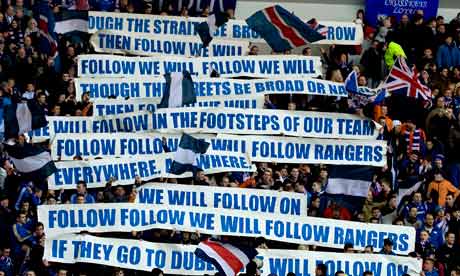 Rangers In FIFA 13 Career Mode?
For Rangers to be in Career mode EA would have to strike a deal with the Scottish FA to licence Scottish Divisions One, Two and Three along side the Premiership.
Would this prove too costly? Would there be enough value in the deal for EA to even consider it?
From a personal point of view, at the moment the Scottish League in career mode doesn't interest me. Not because it's not a great league but because of the lack of promotion / demotion prospects.
It has no longevity.
There's nothing better than starting as underdogs in the English Division 2 and building a team from scratch to challenge at the top of the Premiership.
I'm sure Scottish FIFA fans would love to do the same in the Scottish League!
And for a Rangers fan the thought of bringing newco Rangers back to former glory in FIFA 13 would surely be really exciting prospect.
Will Rangers be in FIFA 13 in time for release? Should EA licence all Scottish divisions? Let us know what you think?
Founder of UltimateFIFA.com, Evertonian *groan*, entrepreneur. I'm a Chartered Member of the Chartered Institute for Securities and Investment which I put to good use in the Ultimate Team market. ;)