Last week we reported that new coloured Ultimate Team Cards were on the way and tonight EASPORTS confirmed via Twitter that there are now new orange Ultimate Team MOTM Cards.
The first of the man of the match cards to be released into FIFA 12 Ultimate Team was Kaka and was available in packs during happy hour today.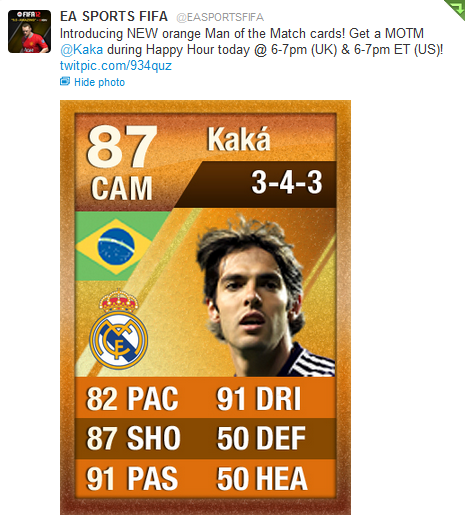 The Ultimate Team MOTM cards will be a new type of in rare form card offering increased ratings.
If you're lucky enough to get hold of one you'll be faced with a tough decision to keep hold of the MOTM card or sell it on the market because we reckon these bad boys are going to worth serious Ultimate Team coins.
Get used to the new orange Man of the Match Cards because there'll be new ones on the way.
This just leaves the question, if our previous post is correct, what will the other coloured cards be?
Thanks to TheGamerCan for the KAKA Ultimate Team orange cards video.