What does it take to be a FIFA Street player? Last week we caught up with street soccer star and FIFA Street playable character, Daniel Cappellaro to find out more about the street soccer scene and what it feels like to be in FIFA Street.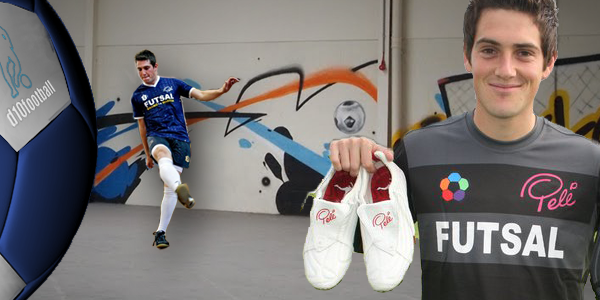 Daniel (aka D10) is currently sponsored by PELE Sports and competes in "PANNA" football events for Australian based freestyle and street football company "Trickstar".
He plies his 11-a-side trade for Australian side Western Knights and is a state futsal representative for Western Australia.
In 2009 D10 was featured on the Fox8 television program "Football Superstar" displaying skills and moves to the contestants of the show and last year he was asked to perform skill moves for Australian magazine Football+.
We collared him for an interview on his return from Argentina where he was invited to train with the "Caseros" and play for the Buenos Aires based club in a national Futsal tournament.
[Edit: You can now also read our interview with FIFA Street player Macca.]
Street Talking
UF: You play semi-pro 11 a side football in Australia but how did you first get into Street Soccer?
D10: I would say my first encounter with Street Football was a advert featuring Ronaldinho. He was doing a few tricks, mostly juggling ones and this inspired me to go outside and practice these moves.
UF: There are some pretty big differences between playing 11 a side and the various styles of Street Soccer. How do you manage the transition?
D10: The games are obviously very different, as you have stated. However, the fundamental skills of ball control, dribbling, crossing and shooting all apply to Street Soccer. The only difference being, you get more opportunity to use all of these skills in a Street Soccer match, due to the low numbers of players on each side. I see Street Soccer as a wonderful training tool for the 11-a-side game.
UF: Can you tell us a bit more about the PANNA matches and the events that you compete in?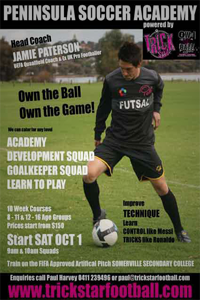 D10: PANNA Football is 1v1 inside a cage, no bigger than 10×5 meters. The aim of the game is to beat your opponent by scoring more goals or ultimately playing the ball through your opponents legs, otherwise known as a PANNA. The game is very technical and a variety of skills and tricks are used.
UF: It looks like amazing fun and I'm sure the banter can be as creative as the skills on show… Is there a sense of community on the scene and do you have any rivals that you like to wind up?
D10: Haha! There is some great banter between the street soccer community, however there is no real harsh rivalries… yet!
UF: You also play Futsal for the Western Australia State Futsal team. How does that compare to Panna?
D10: Futsal is a very different game to Panna Football, you have team mates for a start! Although, similarities can be drawn between the games as you do find yourself in a lot of 1v1 situations during a match of Futsal.
UF: When did you first find out you were going to be in FIFA Street? That must have been quite a buzz!
D10: I found out towards the later months of 2011, it was so hard keeping it a secret! I was just way too excited!
UF: Have you had a chance to play FIFA Street yet?
D10: I have not played the full version of FIFA Street yet, though I have played a few games on the demo and if first impressions are anything to go by, this game is going to be awesome.
UF: What did you think? How does it compare to real life Street Soccer?
D10: The video game is a very true reflection of Street Soccer. The moves and tricks are very authentic.
UF: Had you been a fan of the FIFA series beforehand? How did you find the transition into FIFA Street.
D10: I have always been a fan of FIFA, my first experience with the game was FIFA 95 on the Super Nintendo. I'm also an avid fan of the Ultimate Team game mode. I find there is very little difference with the controls in FIFA Street and FIFA 12, the game play and appearance are also very similar.
UF: Have you learned any skill moves yet? Which are your favourites?
D10: My favourite skill moves are the Flip-Flap and Roulette, fantastic moves.
UF: If you had to pick 4 team mates for a FIFA Street 5-a-side game who would you pick?
D10: In light of returning from Argentina, I would have to say Messi up front. Then I would have to pick Neymar and Ronaldinho for their ability with the ball and finally Casillas in goals.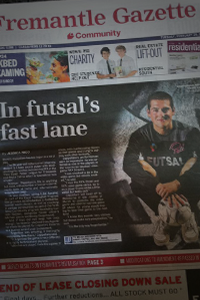 UF: Have you got any advice for people who'd like to get into Street Football?
D10: If you have an interest in football tricks and moves, get on to YouTube, start searching and then start practicing!
UF: What tips would you give to someone looking to improve their skills?
D10: Practice as often as you can. If you are finding a trick harder to learn than most, see if you can find a video of another footballer doing the trick, and see if you can pick up some tips from that video.
UF: What's the plans for the future for D10?
D10: I'm on my way to Sydney and Melbourne this week to promote the release of FIFA Street in Australia. I will continue playing outdoor football, Futsal and street soccer for as long as I can, if that leads to a professional opportunity in either of those games. I would be over the moon.
We'd like to say a big thanks to Daniel for taking the time to talk to us and we wish you all the best in Sydney and Melbourne (extremely jealous!) and good luck in bagging that professional contract!
D10 on Twitter
If you want to talk FIFA Street or street soccer with Daniel or if you just want to hang out with him coz he's a cool guy you can find him on Twitter @d10football.
In the mean time check out D10 in Futsal action!
Daniel Cappellaro Futsal Highlights