Gamerscore junkies will be please to know that you'll be able to get 10 brand new Achievements with the EURO 2012 DLC.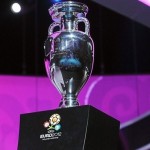 We'll bring you how many gamerscore points they're worth as soon as we can.
The EURO 2012 DLC will be available to download from April 24th and will cost £15.99 (1,800 MS Points or 2,500 FIFA Points on PC)
You can see the trailer here.
New Gold Achievements
Make It Possible
Succeed in a Challenge
One Down
Defeat all teams from a group in Expedition
On All Fronts
Defeat one team from each group in Expedition
National Pride
Win an Expedition match with all starting 11 from the same nation
We Are The Champions
Win UEFA EURO 2012
Creating History Together
Win UEFA EURO 2012 with more than 1 user playing for the same team in all 6 matches
Glory Moment
Win Online UEFA EURO 2012
New Silver Achievements
My Euro
Win a match in each UEFA EURO 2012 game mode
Expeditionary Nature
Defeat all 53 Nations in Expedition
Collector
Collect all mosaic pieces in Expedition
Thanks to FIFASoccerBlog for the info.