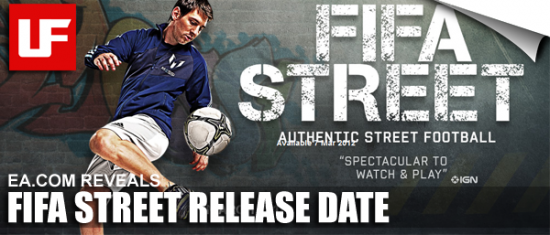 EA.com have revealed that the official release date for FIFA Street will be Tuesday, 13th March 2012 for North America and 16 March 2012 for the UK (Europe) and South Africa.
Tuesday, 13th March 2012 [North America]

Friday, 16th March 2012 [UK (Europe) and South Africa]
FIFA Street has electrified our screens with amazing screenshots and fantastic trailers and finally we know what date we can get our hands on it!
Although the release date announcement would usually set a mental note for us to have 40 quid in our back pockets, this release it's going to be really difficult to resist the Lionel Messi Pre Order bonus which promises exclusive in-game access to an adidas™ all-star team featuring Messi and 12 of the greatest footballers in the world and also exclusive access to the Lionel Messi Barcelona venue.
Springboarding itself from FIFA 12 mechanics, FIFA Street is promising to be the most authentic street football title ever released and the announcement of FIFA Street: Street Network makes us want to get our hands on it even more!
So, will you jump on board the showboat or are you going to hang on for FIFA 13?
EDIT: The release date was originally leaked from the above image on EA.com as the 7th March. The image was quickly changed.  Has FIFA Street been put back a week?  Was this a mistake by EA or a clever marketing ploy…?  After all, leaked information spreads a lot quicker than official information… 😉
Click here to Pre-Order FIFA Street
.