After interviewing Daniel Cappellaro recently we rainbow flicked our way back from Oz to catch up with Basildon's own FIFA Street player, Tekspeler's Macca.
When Macca's not tearing up FIFA Street he's a technical skills football coach teaching the Tekspeler method which combines various Streetsoccer, freestyle and Panna techniques from around the globe.
You can join Macca's StreetSkool at http://www.proamsoccercoaching.com.

Street Talking
UF: How did you first get into Street Soccer?
Macca: I first got into street soccer when I started working for my dad coaching technical football skills. While surfing the internet for different skill moves I came across a panna groundmove video and noticed that all of the ball mastery techniques and skills I was coaching were being put together to create this unique art form and from that day on I was hooked!!!
UF: Do you think that English football's being left behind in terms of flair and technical ability?
Macca: Yes in a huge way!! It winds me up when I see coaches making young players run around a field without a ball at their feet and doing cardio work and passing and receiving and phase of play drills at very young ages instead of focusing on ball mastery and technical skill work and actually providing key technical points within their sessions.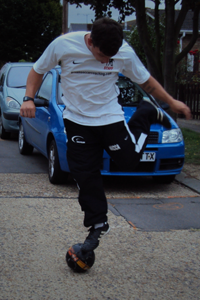 UF: What could the FA and English clubs do to improve things?
Macca: I think they could do more to introduce a structured curriculum and system of technical skills coaching, that helps to develop the abilities of individual players. While at academy or professional club level, they need to invest is employing positional and technical skill coaches within their systems.
For example if you was to go abroad and look at some of the clubs academies, they have specialist coaches for every position i.e. goalkeeper coach for goalkeepers, a defensive coach for defenders, an attacking coach for strikers/midfielders and technical skill coaches that work with the whole team rather than just having a goalkeeper coach and a team coach.
UF: You're a football coach yourself. What types of things do you teach?
Macca: I teach individual technical skills that help to develop balance, counterbalance, co-ordination, flexibility, agility, first touch, self-esteem, and the most important thing, the ability to get out of trouble in a 1v1 situations by beating your opponent and choosing the correct option.
UF: When did you find out you were going to be a playable character in FIFA Street? That must have been amazing!
Macca: I found out towards the end of 2011. I received an email from an EA sports representative asking if they could use my name and likeness in the game and of course I was more than happy for this to happen.
UF: Have you had a chance to play FIFA Street much yet?
Macca: I have only been able to play the demo at the moment but from what I can see from it, it's very realistic to street football, with the street ball control, and the panna's being a fantastic feature of the game.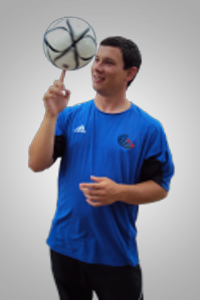 UF: Had you been a fan of the FIFA series beforehand? How did you find the transition into FIFA Street?
Macca: Yes I have always been a fan of the FIFA series ever since I received a Sega mega drive from my parents one Christmas and had FIFA 95. A while later when FIFA 97 was released with its indoor mode I could'n t stop playing it. This was such a great game (other than being able to take kick off, shoot and score straight away) haha.
Nowadays I don't seem to be any good at them because all I like to do is get the ball and perform some outrageous tricks and skill moves rather than playing the long through ball from defence and scoring as soon as possible (the good old English way). So as for FIFA street concentrating mostly on skill moves and tricks to win games … there's hope for me yet!!!
UF: Which are your favourite skill moves (in game and real life)?
Macca: My favourite skill moves in the game would have to be all of the ginga moves especially the ginga roulette (what street players would know as a double twist) and when performing the ginga moves one after the other, it looks like you are performing panna groundmoves and the double heel pop. In real life it would have to be the akka 3000 or the anklebreaker
UF: How do you think Street Soccer compares to real Freestyle Football?
Macca: I think that freestyle football is about linking different skills and moves together to create a dynamic visual performance whereas streetsoccer is more about tempting your opponent in by using 1 or 2 of the skills and either getting past the player or getting the ultimate humiliation in street football, "THE PANNA"!!
UF: If you had to pick 4 team mates for a FIFA Street 5-a-side game who would you pick?
Macca: If I had to pick 4 team mates, the first one I would have to pick is Matthew "Gurnett" Gernaat who happened to be the first panna groundmove video I ever watched on youtube. I then happened to get talking to him through facebook and now, after peforming with him at various events, we have become very good friends. Secondly, I would have to say Soufiane Bencok because his groundmoves are outrageous! The third player would be Edward Van Gils because this man has so much flair when he's playing street football its incredible. Lastly Randal do Rosario from street crew soccershowdown because his anklebreakers (fake backs in FIFA street) are so smooth and mega to watch.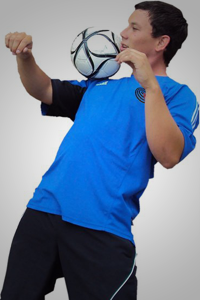 UF: Have you got any advice for people who'd like to get into Street Football?
Macca: Yes, my advice would be to always believe in what you are doing and not let anybody try to put you off by saying "that isn't real football" and stuff. Always practice at any spare moment you get (hard work pays). Always try and take a ball everywhere with you. Watch as many tutorial videos as you can and don't be afraid of copying other peoples styles/tricks (eventually you will find your own style and you'll soon be experimenting and making up your own tricks)
UF: What tips would you give to someone looking to improve their skills?
Macca: Try to learn each skill by breaking it down into bite sized pieces and practice each skill slowly at first, speed will come as you start to feel more comfortable with the moves also try to perform each move or trick with both feet as well.
UF: What's the plans for the future for Macca and Tekspeler?
Macca: For myself I am looking to keep improving with my streetsoccer skills and trying to encourage more and more young children to participate in the game of panna and street soccer. But a major part of my focus is to develop the Tekspeler brand as being a major contributor to coaching technical skills for players of all ages and abilities.
More from Macca
We'd like to say a huge thanks for Macca for taking the time to answer our questions.  If you'd like to talk more about FIFA Street or street soccer you can hang out with Macca on Twitter, @macca_tekspeler.
If you want to learn more about the Tekspeler method check out www.tekspeler.com and if you're interested in joining Macca's StreetSkool you can find more at www.proamsoccercoaching.com.
Macca's Freestyle Videos
If that's not enough to convince you to Macca's Skills Skool then check out these videos of the freestyler in action and tutorials that show you how to perfom the moves themselves.
UK Panna Ball Mastery Tutorial
UK Panna Ball Mastery Tutorial 2
Tekspeler's Macca… Akka Skills
UK Panna – Tekspeler's Macca
Panna Ground Moves