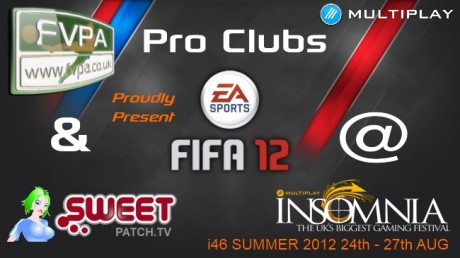 Rival Pro Clubs meeting up face to face to battle for glory in the most ambitious FIFA Pro Clubs Tournament of all time at the UK's biggest gaming festival.
Sound dramatic?  It will be!
Our partners FVPA (FIFA Virtual Pro Association) and SweetpatchTV have announced they're co-hosting their first ever offline FIFA Pro Clubs event.
The Pro Clubs event will be hosted at i46 – Multiplay Insomnia in Telford on Sunday 26th August and they're on the lookout for managers and players who wish to attend (or are already going) to get in touch asap.
The offline tournament is a pilot for future offline Pro Clubs events and is scheduled for Xbox only at the moment.
PS3 and PC players and teams can still enter but they'll have to play on the Xbox.
Details like using your own Virtual Pro, iSeries Tickets and equipment needed (if any) will be released in a future update.

You can view FVPA's announcement here and SweetpatchTV's announcement here.
How do you see an offline Pro Clubs tournament panning out?  Have you got any suggestions for future tournaments?
Will you be attending? Let us know, we might see you there!