With the FIFA Euro 2012 DLC just around the corner we thought you might like an easy reference to the teams that will be included in FIFA Euro 2012.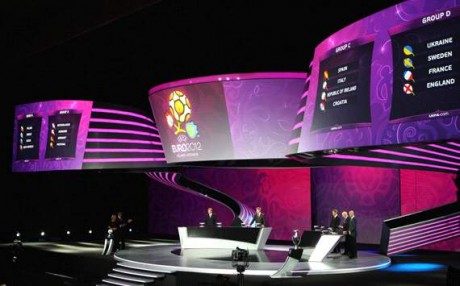 EA SPORTS' Euro 2012 expansion pack will include all 53 UEFA member nations and a full list of the FIFA Euro 2012 teams that you will be able to guide to victory follows.  You will be able to use these teams in all 8 FIFA Euro 2012 Stadiums.
Will you jump straight in and play with your home nation or is there anyone else you fancy steering to Europe's biggest prize?
16 FIFA Euro 2012 Finalists
Group A
Poland (co-hosts)
Greece
Russia
Czech Republic
Group B
Netherlands
Denmark
Germany
Portugal
Group C
Spain
Italy
Republic of Ireland
Croatia
Group D
Ukraine (co-hosts)
Sweden
France
England
Remaining FIFA Euro 2012 National Teams
Albania
Andorra
Armenia
Austria
Azerbaijan
Belarus
Belgium
Bosnia and Herzegovina
Bulgaria
Cyprus
Estonia
Faroe Islands
Finland
Macedonia
Georgia
Hungary
Iceland
Israel
Kazakhstan
Latvia
Liechtenstein
Lithuania
Luxembourg
Malta
Moldova
Montenegro
Northern Ireland
Norway
Romania
San Marino
Scotland
Serbia
Slovakia
Slovenia
Switzerland
Turkey
Wales