So here we are again; a new year and a new FIFA. After the success of last year's Ultimate Team (FUT), does FIFA 13 improve on an already stellar performer of their online catalogue of features?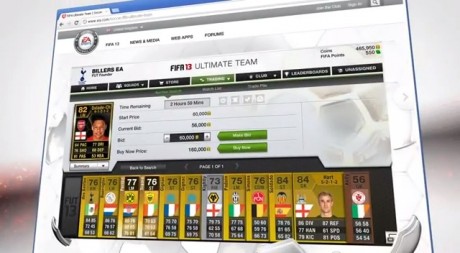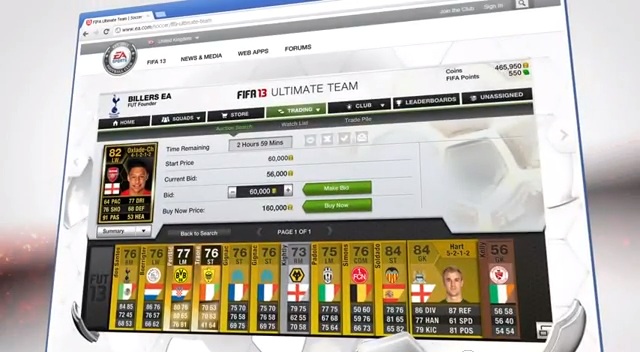 The Ongoing success of FUT
Ironically FUT received a lot of attention through negative press last season; not due to its merits (or lack of), but because of the exposure to EA's security issues.
Some users were buying "coins" (FUTs currency) on Ebay that had presumably been acquired by the seller by underhand means.
These users who bought the coins were then being targeted by hackers and many users lost coins, players and Microsoft points.
Another negative aspect of these illegitimately acquired coins flooding the market was that the price for players shot up, and as a result "normal" users were struggling to compete with limited funds being available through legitimate income revenues, like winning games!
Despite this, the enthusiasm for FUT in the community grew and many fan based websites sprung up, with tactics for improving chemistry, trading techniques, player tips and more robust searches, available in abundance.
This meant FUT 13 was highly anticipated, but did FIFA deliver on not only improving security, but listening to fan feedback and filling in the gaps from last year?
FUT User Interface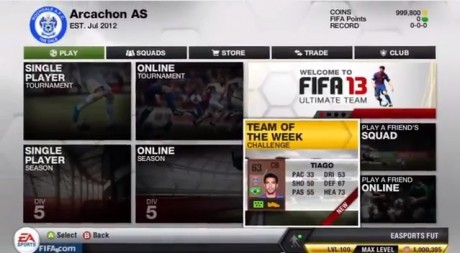 Overall the fundamentals haven't changed, and any casual participant wouldn't notice any real differences.
That being said, casual participants in FUT are few and far between!
Like most things in life the more you put into FUT the more you get out of it; and plenty of users are willing to commit many hours perfecting their squads.
This is mainly due to EA's master stroke; the inclusion of chemistry (which has always been present in FUT).
While I think the chemistry mechanic is sound and didn't need altering, what I would have liked this year was more transparency of how team chemistry is constructed.
Yes you can see each player's chemistry contribution and the red flags indicate if they are in the wrong position or formation, but a clearer user interface would have been a good addition, along with suggested player searches, to improve your specific squads chemistry.
For those, like me, who are active traders, the ability to now place your items immediately on the market is a worthy addition. It may not sound like a lot, but not having to send your items to the trade pile first saves time and hassle and makes for a more rounded experience.
The squad builder is also a nice touch, and allows you to auto add players of a particular class, league, team or nationality to a newly created squad.
I found this useful for building a specialist squad for cups such as the nations trophy, where you need 7 players from the same country.
FUT Features
One major selling point this year is the removal of bid tokens from the Ultimate Team Web App.
Last year this frustrated a lot of users who wanted to trade when they were not on their console, at work and school (presumably at lunchtime and other designated break periods).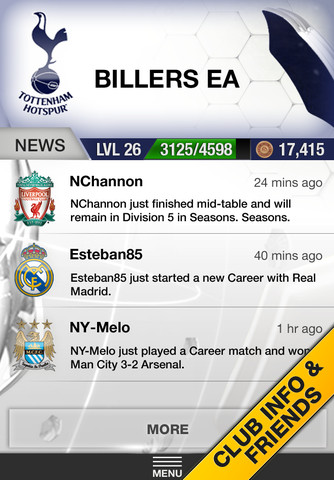 The addition of an Ultimate Team iPhone app is also a welcome addition, I hope the android app isn't too far off either.
All these things allow users to participate more and feel a real time connectivity to FUT and a result spend the majority of their time on the console actually playing games.
The only adverse effect I can see to a more active market place is that the trade prices for assets will gradually increase as more coins are earned by players and make it less accessible for newcomers.
If you are reading this to assess whether you should try out FUT, the answer is simple, don't hesitate!
Some of the Ultimate Team guides available may seem quite daunting for a first timer user, but I'd advise reading them just to avoid pitfalls, e.g. check the current market value of your players before selling them.
Ultimate Team Game Modes
EA have also added more game options this year, the standard classed cups are still available along with Ultimate Team Seasons.
These are similar to last season's online leagues and give players a potentially massive coin reward for winning the top title.
While I haven't explored all of these in much depth, it's fair to say you won't be at a loss for diverse game type options.
It would have been nice if they'd modified the coins bonus for some competitions (especially offline).
The risk vs reward just doesn't add up sometimes and you can find yourself playing the less challenging AI trophies as the coin bonus for moving up to World Class or alike doesn't seem justifiable.
That being said, there is still a nice progression ladder and you do feel like improving your squad and abilities allows you to compete at a higher standard.
FUT Search Features
The search features have remained pretty much the same which will frustrate some users.
Finding the right player for your squad can still prove tricky and involves sifting through page after page of players, but some would argue that this is what FUT is all about.
It is evident the hardcore community as a whole would see the benefits of an advanced players search (such as the player search when in career mode) by the number of FUT fan websites that offer such search features.
Personally I quite enjoy finding the underrated gem, and making this difficult to find feels like more of an achievement.
Ultimate Team Security
The introduction of FIFA points will go some way to improving the security flaws of last year (there are articles available explaining FIFA points so I won't delve into the details here).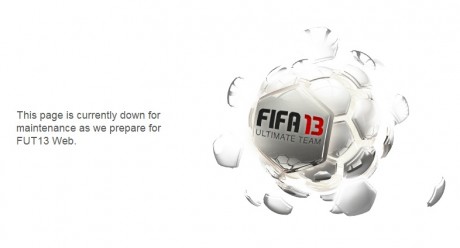 I have however noticed that many coins are available on Ebay already; whether or not they have been acquired by legitimate means or not remains to be seen.
The same problems as last year could still occur; you buy coins on Ebay, you are highlighted as a viable hacking target, your Xbox Live (or PS3) account is hacked all your FUT items disappear.
Microsoft are constantly claiming to be improving Xbox Live security, but users who have a weak password on their Windows Live account are still vulnerable to hackers.
Closing Words
For those who enjoyed FUT last year, there's no reason you won't again.
While some users were hoping for a more radical change, EA have played it safe and stuck with a tried and tested formula, while adding a couple of nice features.
In my opinion this is not a bad thing and a smart move by EA. They already had a huge FUT fan base and by changing the formula too much could have driven people off the format.
The majority of FIFA 12 owners will have bought FIFA 13, not based upon features and improvements but just because that's what FIFA fans do.
Having, fundamentally, the same FUT interface but using the upgraded gameplay and players of FIFA 13 will leave most users more than satisfied.
Another thing to note is this may not be the finished FUT 13 product, EA responded to feedback last year and implemented new FUT features in an update (such as the ability to play friends online in "unranked" matches) so the same may happen again.
All in all there is still a lot of room for improvement, but that doesn't detract from FUT being worthy of your time this year.
Share your FIFA 13 Ultimate Team experiences. Server issues aside, let us know what you think of this years flagship game mode.