Whether you're an Ultimate Team veteran or playing it for the first time on FIFA 13, this FIFA 13 Ultimate Team Coins Guide will give you all the tips you need to trade and make coins successfully.
We gave away 1 million Ultimate Team coins not long ago and we'll share our tips along with tips to make Ultimate Team Coins from some of the most experienced players out there.
We'll start with the tips you need to get you started on your FIFA 13 FUT journey and move on to more advanced techniques next time.
You can be sure though that if there's a way to make coins in FIFA 13 Ultimate Teamwe'll have it covered in this guide.
Let's get started…
Ultimate Team Coins Starter Guide (Pre Game Launch)
EA launched the FIFA 13 Ultimate Team web app which is available to all returning Ultimate Team players.
Returning players also get rewarded with a number of packs "based on your Ultimate Team activity" to get you started.
Not only that but each day you log into the Ultimate Team web app up until the end of September you'll be rewarded with a daily gift which can include FIFA 13 Ultimate Team coins, mini packs and more.
The Early Bird Catches The Worm
The benefits of being on the web app prior to FIFA 13's release is that you have the opportunity to put yourself in a great position to make a tidy sum of Ultimate Team coins once everyone else jumps on the band wagon after the release of the full game.
JackAttack45 shows us how to capitalise on your coins with the FIFA 13 Ultimate Team Starter Guide video.
If you have multiple accounts make sure you log into all of them. You'll get returning bonuses for each account and it all helps at the start of FIFA 13 Ultimate Team.
There are no bid tokens this year so there'll be no penalty for trading on the web app. (This will also mean that schools and workplaces across the country will grind to a halt as there'll be nothing to stop people trading!)
Invest early to give yourself a head start.
Players to look out for that might raise in value after the game's out:
Brasilvers (Brazilian Silver Players).
Any player with 5 star skills especially new 5 star skillers.

Good silver players – look for good stats like pace, 4-5 star skills.
Silver players in the English Premier League.
Popular Gold players in popular leagues like the English Premier League, Serie A and BBVA.

Centre backs with pace (Usually 70+ pace).
Pacey wingers with 4 Star+ skills.
If you pull any top players out of Ultimate Team packs make sure you keep hold of them until a week or two after the FIFA 13's release as the prices of them will rocket with the influx of Ultimate Team coins into the market.
FIFA 13 Ultimate Team Coins For Beginners
Last year we featured some of the best Ultimate Team Coins tips around from Unique Riggers and they proved so successful we thought we'd do it again. Make sure you subscribe to him on YouTube for more great FIFA videos.
Buy Gold Players Cheap
Search for gold players and set the Buy Now Maximum Price to 300 coins and click search. Snap up anyone who's overall rating is above 76. Discard them for a small profit of 50+ coins or try to sell them on for a profit.
Doing this is a good way to build your coins up when you haven't got many to start with. (Buy and discard 10 players and you've made 500+ coins… They all count).
Reselling The Cheapest Player On Market
Reselling the cheapest player on the market involves identifying the cheapest player on the market and making sure there's enough margin between him and the next cheapest player on the market to allow you to buy the player and relist him for more coins than you bought him for even though he's still the cheapest player on the market.
Get that???
Say 5 Phil Neville's are selling for 4,000 coins but you spot a Phil Neville for 3,000 coins. Snaffle up the 3,000 coin Phil Neville and relist him for 3,800.
You've whomped the price up by 800 coins yet he's still the cheapest on the market and sure to get snapped up by someone looking to bolster their squad with the world's most skilful and versatile CDM.
Remember though, EA take 5% from each sale so make sure there's enough margin so that you still make a profit.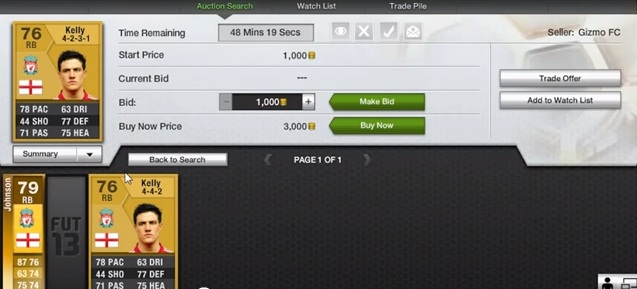 The Famous 59th Minute Technique
Back in the early days of FIFA Ultimate Team there were a lot more bargains to be had in the 59th minute basically because not as many people knew about it.
Despite being a more competitive marketplace these days it's still the best place look if you want to pick up a real bargain. The trick is once you've put your search terms into Ultimate Team keep flicking through the search pages until you get to the 59th minute.
Then go backwards and forwards around the 59th minute / hour mark keeping your eye out for bargains.
Because people will list things for an hour long auction you'll be the first to see it once it goes up for sale.
A tip is to search for players or items that you know are valuable but their value might not be immediately obvious to less experienced players.
Bargains happen because some people aren't familiar with the value of things and list them without doing their research and others just make mistakes.
Unique Riggers claims to have seen an inform Lionel Messi sell for 15,000 coins buy now in the 59th minute!
Did the seller miss off a zero or two? Mistakes do happen and someone's got to capitalise on them.
Loser's weepers and all that.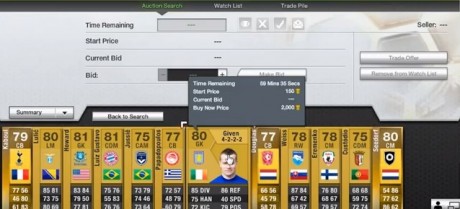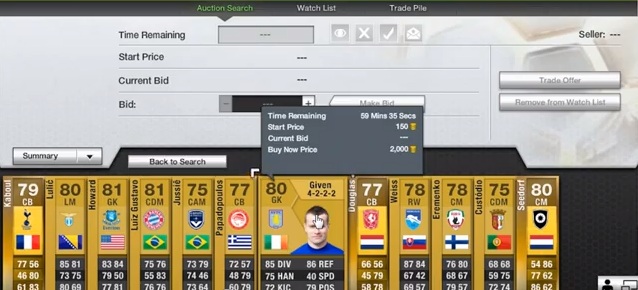 Players With Good Formations
Ultimate Team Chemistry plays an important role in a lot of people's decisions on which players to buy.
Formation cards can be expensive and that's why people spend more on players whose preferred formation already matches their team's chosen formation.
If the previous version of Ultimate Team is anything to go by then 4-1-2-1-2 is going to be the most popular formation on the game (although we were seeing a lot more experimenting at the end of FIFA 12).
Search for Gold players and again set the Buy Now Maximum to 300. Bid on any players that you find with the 4-1-2-1-2 formation.
Relist the ones that you win for 350 to 400 coins starting price and if they sell you've got yourself a profit. The contingency is that if they don't sell you can still discard them and get your coins back.
Good Luck Making Your FIFA 13 Ultimate Team Coins
Now you've got the tools to get started get out there and get trading.
Remember, traders are rewarded for work hard. Earning large amounts of FIFA 13 Ultimate Team Coins takes patience and perseverance.
Occasionally you'll pick up a bargain that makes you a fortune but more often than not coins are earned through large amounts of trades.
If you find a technique that works for you, repeat and repeat it until it stops working then move onto something else.
We'll cover some more advanced coin making techniques in Part 2.
Let us know what works for you.