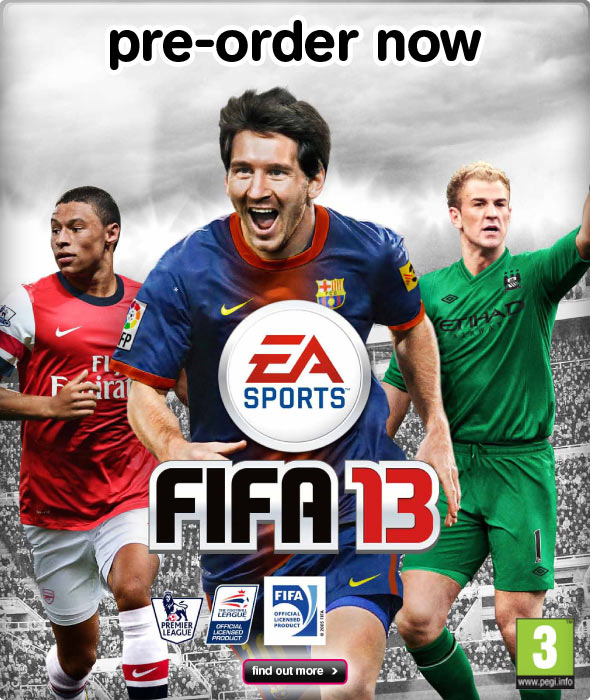 Forget the Barclays Premier League, the Champions League and the F.A. Cup. The most sought after award that a premiership player can achieve is earning his place in history as one of the EA FIFA 13 UK Cover Stars.
This years FIFA 13 UK Cover Stars accompanying Barcelona's Lionel Messi are Joe Hart and Alex Oxlade-Chamberlain.
Joe Hart has firmly cemented himself as England's number 1 and Oxlade-Chamberlain is one of the most exciting prospects in English football since Wayne Rooney got snapped up by Sir Alex Ferguson.
Players on Past UK FIFA Covers
Previous players to have graced the UK cover of the FIFA series include:
FIFA 12: Wayne Rooney and Jack Wilshere
FIFA 11: Wayne Rooney and Kaka
FIFA 10: Wayne Rooney (again), Frank Lampard and Theo Walcott
FIFA 09: Wayne Rooney (yawn) and Ronaldinho
FIFA 08: Wayne Rooney and Ronaldinho (again…)
FIFA 07: Wayne Rooney and Ronaldinho (although striking a slightly different pose to FIFA 09 and FIFA 08)
FIFA 06: (Have a guess………….. Wayne Rooney and Ronaldinho)
FIFA 05:  Patrick Vieira, Fernando Morientes and Andriy Shevchenko
FIFA 04: Thiery Henry, Alessandro Del Piero and Ronaldinho
FIFA 03: Edgar Davids, Ryan Giggs and Roberto Carlos
FIFA 02: Thiery Henry
FIFA 2001: Paul Scholes (who looked about 12)
FIFA 2000: Sol Campbell
FIFA 1999: Dennis Bergkamp
FIFA: Road To World Cup 1998: David Bekham
FIFA 1997: David Ginola
FIFA 1996: Ronald De Boer & Jason Macateer
FIFA 1995 to FIFA 2012 Covers Video
So did EA get it right? Which FIFA 13 UK Cover Stars would you have chosen?
Founder of UltimateFIFA.com, Evertonian *groan*, entrepreneur. I'm a Chartered Member of the Chartered Institute for Securities and Investment which I put to good use in the Ultimate Team market. ;)