Yesterday, at E3 in Los Angeles, in front of thousands of exclusive hungry game fans and journalists, EA took to the stage and and gave their presentation on all of the virtual goodness that they're bringing our way in the not so distant future.
Amongst impressive promos for Battlefield 3, Medal of Honour, Sim City, Madden 2013 came a fast paced run through of the new FIFA 13 Gameplay features and big plans for FIFA 13 EA SPORTS Football Club and a FIFA 13 Ultimate Team app for iPhone.
(The FIFA 13 EA presentation is above)
The FIFA 13 presentation, much to the distress of the Manchester United fans in my party, opened with Sergio Aguero's dramatic last minute winner that clinched the Barclays Premier League for Manchester City and the astonishing fact that that match was replayed more than 5 million times as a live challenge on FIFA!
"Those 90 minutes of drama in Manchester spawned more than 100 million minutes of FIFA 12 that day."
These colossal numbers went on to emphasise that the FIFA series is more than just a video game, it's Football's Social Network – connective tissue for the world sport.
FIFA 13 – Football's Social Network
FIFA 13 looks to take EA SPORTS Football Club (EAS FC) to the next level.
"A service as big, social and connected as anything ever done in video games – the heartbeat of FIFA"
EAS FC provides you with a single FIFA identity that will travel with you through the years and through all FIFA titles whether it be FIFA 12, FIFA Street, EURO 2012 or indeed FIFA 13.
Initially 4 major FIFA 13 features were announced in EA SPORTS E3 presentation;
All returning FIFA 12 players will carry over their level and XP with them into FIFA 13.
Returning FIFA players will receive a special bonus in the all new Football Club Catalogue.
In FIFA 13 you'll be earning currency with everything you do in the game which you can use to get exclusive items such as kits, special celebrations, boots and hundreds more items.
FIFA 13 on iPad, iPhone and Android will all be connected to football club.
There's 11 million people currently in EA SPORTS Football Club and that number keeps growing.
All New FIFA 13 iPhone App
Next up was the big announcement that EA SPORTS will be releasing a new iPhone App with the launch of FIFA 13.
Initially it will provide you access to your FIFA identity and friends.
Most excitingly though, it will double as an Ultimate Team iPhone App and provide you with instant access to live auctions and many more Ultimate Team features on the go.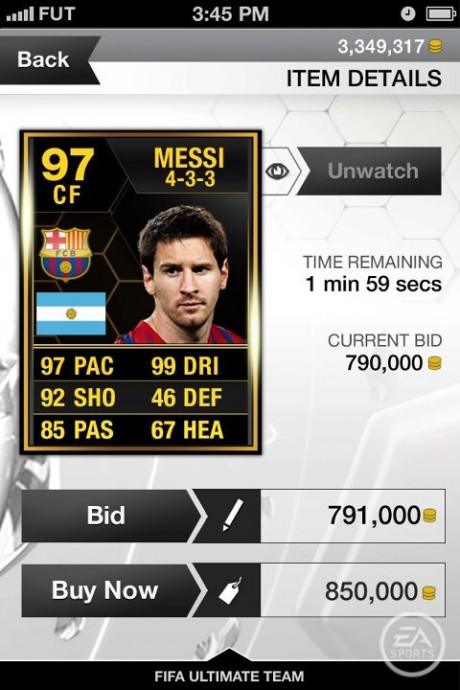 FIFA 13 Gameplay Features
"If Football Club is the heartbeat of FIFA then gameplay is our soul"
The most innovation across the entire pitch in any FIFA title in history.
The new gameplay features, inspired by Lionel Messi, include;
New attacking intelligence with more fluid build up play and AI attackers thinking two plays ahead.
First Touch Control, which eliminates the perfect first touch creating battles for possession and attacking and defending opportunities right across the pitch.
The 2nd generation Impact Engine which removes scripted animations and creates endless possibilities and expands physical play (push-pull) which creates battles on and off the ball, right across the pitch.
Tactical Free Kicks introducing much more freedom in set piece taking which will be sure to spark your creativity.
The EA SPORTS FIFA 13 E3 presentation finished with the incredibly intrepid statement that:
"FIFA 13 is the crowning achievement in the 20 year history of our storied franchise"
Have we heard it all before of will FIFA 13 really take football gaming to the next level? Let us know what you think in the comments below.
Also from E3 came FIFA 13 Kinect Features and the world premier of the FIFA 13 Gameplay Trailer.
FIFA 13 iPhone App and EA SPORTS Football Club Screenshots
Thanks to FIFAGamersBlog for the screenshots.