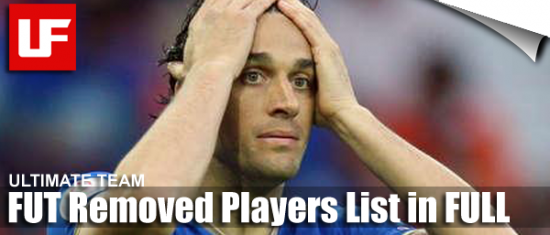 Following the bout of Ultimate Team Transfers a number of players transferred out of leagues licenced by EA SPORTS' Ultimate Team in FIFA 12 and therefore face the chop from Ultimate Team packs.
Notable losses are top finisher Luca Toni and 5 Star Brasilver skiller Marlos Romero Bonfim.
The following is the FULL list of Ultimate Team removed players and will surely spark an increase in price as these players become more scarce (relatively speaking).
You can view the full list of Ultimate Team Upgraded Players here.
Ultimate Team Players Removed from packs:
Ki Hyeon Seol: Previously From Ulsan Hyundai FC
Gi Kim: Previously From Pohang Steelers
Mato Neretljak: Previously From Suwon Samsung Bluewings
Thiago Quirino da Silva: Previously From Daegu FC
Adriano Neves Pereira: Previously From Pohang Steelers
Hyung Sang Lee: Previously From Daegu FC
Hyen Yang: Previously From Busan I'Park
Krunoslav Lovrek: Previously From Jeonbuk Hyundai Motors
Joo Hwan Kim: Previously From Daegu FC
Jung Sik Park: Previously From Daegu FC
Gil Hoon Lee: Previously From Busan I'Park
Ki Yeom: Previously From Suwon Samsung Bluewings
Ki Jong Bae: Previously From Jeju United FC
Fábio Júnior Nascimento Santana: Previously From Incheon United FC
Won Han: Previously From Daegu FC
Timur Kapadze: Previously From Incheon United FC
Jun Ki Lee: Previously From Chunnam Dragons
Antônio Rogério Silva Oliveira: Previously From Chunnam Dragons
Young Woo Kim: Previously From Jeonbuk Hyundai Motors
Young Hoo Kim: Previously From Gangwon FC
Jun U Kang: Previously From Jeju United FC
In Seob Shin: Previously From Busan I'Park
Kyo Bin Kim: Previously From Chunnam Dragons
Jin Kyu Kang: Previously From Chunnam Dragons
Chi Joon Lee: Previously From Seongnam Ilhwa Chunma
Jung * Ha: Previously From Gangwon FC
Jae Man Han: Previously From Jeju United FC
Sung Ho Choo: Previously From Busan I'Park
Eun Seong Koh: Previously From GwangJu FC
Seong Min Kim: Previously From GwangJu FC
Sang Jun Jo: Previously From GwangJu FC
Andrew Erik Feitosa: Previously From GyeongNam FC
Kyung Mo Shin: Previously From Suwon Samsung Bluewings
Ji Hwan Kim: Previously From Busan I'Park
Beom Seok Cho: Previously From Incheon United FC
Jung Min Yang: Previously From Gangwon FC
Do Yeon Kim: Previously From Daejeon Citizen
Sang Hoon Jeon: Previously From Daejeon Citizen
Andwelé Slory: Previously From Adelaide United
Róbson Alves da Silva: Previously From Gold Coast United
Alessandro Amantino Mancini: Previously From Atlético Mineiro
Jonathan Estrada: Previously From Avaí
Fabiano Pereira: Previously From Avaí
Cláudio Roberto Da Silva: Previously From Avaí
Rivaldo Vítor Borba Ferreira: Previously From São Paulo
Ronaldo Simões Angelim: Previously From Flamengo
Antonio Marcos da Silva Filho: Previously From Cruzeiro
Diego Salgado Costa de Menezes: Previously From Ceará
José Kléberson Pereira: Previously From Atlético Paranaense
Rodrigo Baldasso da Costa: Previously From Internacional
Thiago Neves Augusto: Previously From Flamengo
José Edmilson Gomes de Moraes: Previously From Ceará
Fabricio Manini: Previously From Ceará
Washington Luiz Mascaranhas Silva: Previously From Ceará
Rivaldo Barbosa de Souza: Previously From Palmeiras
Marcos Roberto Silveira Reis: Previously From Palmeiras
Marcio Ferreira: Previously From Vasco da Gama
César Augusto Pereira Marques: Previously From Vasco da Gama
Marlos Romero Bonfim: Previously From São Paulo
Michel Miguel da Silva: Previously From Ceará
Leandro Silva Wanderley: Previously From Atlético Mineiro
Fransérgio Rodrigues Barbosa: Previously From Atlético Paranaense
Rafael Marques: Previously From Grêmio
Diogo Silvestre Bittencourt: Previously From São Paulo
Carlos Pereira Berto Junior: Previously From São Paulo
Georgie Welcome: Previously From Atlas
Francisco Palencia: Previously From U.N.A.M.
Manuel Pérez: Previously From Monarcas Morelia
Rafael Medina: Previously From Estudiantes Tecos
Juan Carlos Silva: Previously From Pachuca
José Joaquín Martínez: Previously From América
Luis Enrique Robles: Previously From Atlas
Ramón Partida: Previously From Estudiantes Tecos
Vicente Sánchez: Previously From América
Sergio Arias: Previously From Guadalajara
Carlos Bueno: Previously From Querétaro
Diego Jiménez: Previously From Monarcas Morelia
Hugo Droguett: Previously From Cruz Azul
Eliandro dos Santos Gonzaga: Previously From Cruzeiro
Francisco Javier Peral Perianes: Previously From Olympiacos CFP
Sergey Ponomarenko: Previously From Krylya Sovetov Samara
Pavel Novitskiy: Previously From Krylya Sovetov Samara
Hannes Sigurðsson: Previously From Spartak Nalchik
Bogdan Mili?: Previously From Spartak Nalchik
Matt Thornhill: Previously From Hibernian
Dan Murray: Previously From Shamrock Rovers
José Luis dos Santos : Previously From Bahia
Rohan Ricketts: Previously From Shamrock Rovers
Stephen Maher: Previously From Dundalk FC
Junior Agogo: Previously From Hibernian
Ibra Kébé: Previously From Anzhi Makhachkala
Jônatas Domingos: Previously From Figueirense
Jong Hyun Lee: Previously From Incheon United FC
Stephen Bradley: Previously From *. Patrick's Athletic
Andreas Dahlén: Previously From FSV Frankfurt
Edcarlos Conceição Santos: Previously From Grêmio
Thiemo-Jerome Kialka: Previously From 1. FC Köln
Paul Marshall: Previously From Rochdale
Tamás Priskin: Previously From Ipswich Town
Gustavo Franchin Schiavolin: Previously From Botafogo
Aidan Price: Previously From Bohemian FC
Liam Burns: Previously From Bohemian FC
Ollie Cahill: Previously From Bohemian FC
Roberto Lopes: Previously From Bohemian FC
Aidan Downes: Previously From Bohemian FC
Thiago Humberto Gomes: Previously From Internacional
Dammyano Grootfaam: Previously From NEC
Javier Reina: Previously From Cruzeiro
Filippo Boniperti: Previously From Juventus
Paolo Dametto: Previously From Cagliari
Pedro Ken Morimoto Moreira: Previously From Cruzeiro
Francisco Javier Yeste Navarro: Previously From Olympiacos CFP
Alberto Comazzi: Previously From Swindon Town
Dennis Cagara: Previously From Lyngby BK
Gary Kelly: Previously From Galway United
Mihkel Aksalu: Previously From Sheffield United
Ekhi Senar Rekondo: Previously From Osasuna B
Jorge Galán Anaut: Previously From CA Osasuna
Pedro Mosquera Parada: Previously From Getafe CF
Carlos Tomás Ferrer: Previously From Villarreal B
Hasan Kabze: Previously From Montpellier SC
Andrius Skerla: Previously From Jagiellonia Bia?ystok
Hermes Neves Soares: Previously From Jagiellonia Bia?ystok
Craig Beattie: Previously From Swansea City
Thomas Butler: Previously From Swansea City
Mariano Andújar: Previously From Catania
Ablaï Baldé: Previously From LB Châteauroux
Jumar José da Costa Júnior: Previously From Vasco da Gama
Dimitrios Papadopoulos: Previously From RC Celta de Vigo
Joseba del Olmo García: Previously From Hércules CF
Cristian Hidalgo González: Previously From Hércules CF
Francisco Pérez Rufete: Previously From Hércules CF
Aatif Chahechouhe: Previously From AS Nancy
Fred Benson: Previously From Lechia Gda?sk
Yuki Abe: Previously From Leicester City
Ricardo Pozzi Rodrigues: Previously From Bahia
Genaro Snijders: Previously From Vitesse
Gerard O'Callaghan: Previously From U.C.D.
Michael Ball: Previously From Leicester City
Domenico Giampá: Previously From Modena
Anthony Murphy: Previously From Patrick's Athletic
Sergey Omelyanchuk: Previously From Terek Grozny
Vagif Javadov: Previously From FC Volga Nizhniy Novgorod
Laionel Silva Ramalho: Previously From Gil Vicente FC
Antonio José López Martínez: Previously From Levante UD
Kris Stadsgaard: Previously From Málaga CF
Rory Kelly: Previously From Derry City
Lauro Júnior Batista da Cruz: Previously From Internacional
Ilson Pereira Junior: Previously From Internacional
Robbie Creevy: Previously From U.C.D.
Kieran Charnock: Previously From Morecambe
Emmanuel Ekpo: Previously From Columbus Crew
Stéphane Auvray: Previously From New York Red Bulls
Chris Birchall: Previously From Los Angeles Galaxy
Frankie Hejduk: Previously From Los Angeles Galaxy
Jovan Kirovski: Previously From Los Angeles Galaxy
Chris Leitch: Previously From Los Angeles Galaxy
Dasan Robinson: Previously From Los Angeles Galaxy
Gaël Genevier: Previously From Siena
Moussa Sow: Previously From LOSC Lille
Alexandre Oukidja: Previously From LOSC Lille
Niccolò Giannetti: Previously From Siena
Gabriele Paonessa: Previously From Parma
Mike Banner: Previously From Chicago Fire
Yamith Cuesta: Previously From Chicago Fire
Marko Mari?: Previously From Chicago Fire
Josip Mikulic: Previously From Chicago Fire
Danny Earls: Previously From Colorado Rapids
Ross LaBauex: Previously From Colorado Rapids
Danleigh Borman: Previously From New England Revolution
Coria: Previously From New England Revolution
Nate Jaqua: Previously From New England Revolution
Rajko Leki?: Previously From New England Revolution
Monsef Zerka: Previously From New England Revolution
Nelson González: Previously From Real Salt Lake
Rauwshan McKenzie: Previously From Real Salt Lake
Blake Wagner: Previously From Real Salt Lake
Victoriano Rivas Álvaro: Previously From Levante UD
Andy Iro: Previously From Toronto FC
Peri Marosevic: Previously From Toronto FC
Mikael Yourassowsky: Previously From Toronto FC
Luca Toni: Previously From Juventus
Luis Morán Sánchez: Previously From Real Sporting de Gijón
Faryd Mondragón: Previously From Philadelphia Union
Martin Rowlands: Previously From Queens Park Rangers
Aliaksandr Hleb: Previously From FC Barcelona
Christian Bickel: Previously From SC Freiburg
Martin Hansen: Previously From Liverpool
Pablo Pintos: Previously From Getafe CF
David Meza Colli: Previously From Cesena
Luca Moscatiello: Previously From Cesena
Andrea Adamo: Previously From Palermo
Filippo Savi: Previously From Parma
Luca Di Laura: Previously From Cagliari
Emerse Faé: Previously From OGC Nice
Fernándo José da Silva Freitas Meira: Previously From Real Zaragoza