As FIFA announce FIFA Street cover star Lionel Messi as winner of the Ballon D'or 2011, EA SPORTS announce the improved ratings of the goalkeeper and defenders from this year's Ultimate Team of the Year for FIFA 12.
(You can find May's Blue FIFA 12 TOTY – Most Consistent But Never IF and you can now check out the Team Of The Year English League)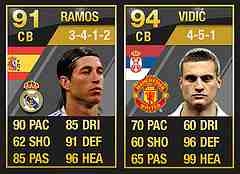 These are this years must have In Form players and if you're lucky enough to find one in a pack you can expect them to fetch mega bucks on the transfer market.
The Ultimate Team of the Year is being released in stages so we're going to have to wait for the midfielders and attackers statistics and with Robin Van Persie and Neymar both having great years we're really keen to see who makes EA SPORTS' TOTY substitute list.
We will update this post as soon as the midfielder and attacker's In Form ratings are released.
The Ultimate Team of the Year goalkeeper and defenders are available in packs on console or through the Ultimate Team Web App NOW until Saturday 14th January at 6pm GMT.
Good Luck!!!
TOTY 2011 Goalkeeper
Iker Casillas (Real Madrid) 89 > 93
TOTY 2011 Defenders
Dani Alves (Barcelona) 86 > 91
Sergio Ramos (Real Madrid) 85 > 91
Gerard Pique (Barcelona) 88 > 93
Nemanja Vidic (Manchester United) 89 > 94
TOTY 2011 Midfielders
Andres Iniesta (Barcelona) 91 > 96
Xavi Hernandez (Barcelona) 92 > 97
Xabi Alonso (Real Madrid) 86 > 91
Check out the TOTY Midfielders FULL Hidden In Game stats.
TOTY 2011 Attackers
Cristiano Ronaldo (Real Madrid) 92 > 96
Wayne Rooney (Manchester United) 90> 95
Lionel Messi (Barcelona) 94 > 98
Check out the TOTY Attackers FULL Hidden In Game stats.

TOTY 2011 Substitutes
It's been confirmed that there'll be no substitutes in this year's Team of the Year which is a shame.  It's always nice to get a few wild cards thrown in.  I haven't ruled out an IF Heskey before the Summer though!
Previous team's of the year include the English Leagues (Barclays Premiership) TOTY, Most Consistent But Never In Form TOTY and the Northern European TOTY.
Do you agree with the 2011 Ultimate Team of the Week?  Who would have made your team?
[EDIT: TOTY Defenders are in packs now until 6pm GMT today (11th Jan) then the midfielders are out.  Make sure you check back for their stats!]
[EDIT 2: TOTY Midfielders are in packs now!]
[EDIT 3: TOTY Attackers will hit packs at 6pm GMT tonight! (13th Jan)]
[EDIT 4: TOTY Attackers are in packs NOW until Saturday 14th Jan 6pm GMT]