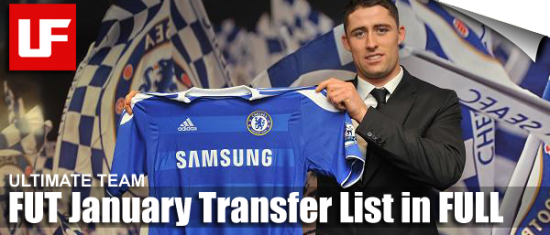 The end January transfer window marks the shake up of the players in our Ultimate Team packs as EA SPORTS perform their FIFA 12 Ultimate Team January Transfers.  You can check out our FULL list down below.
Despite the vast number of transfers this transfer window seemed to lack the excitement of transfer windows gone by and high profile moves were few and far between.  (Remember the drama on the last day 12 months ago –  Torres to Chelsea for £50m and Carroll to Liverpool for £35m!!)
With the MLS in their off season the Barclays Premiership gets a boost with the return of Landon Donavon to Everton, Robbie Keane to Aston Villa and of course, Thierry Henry to Arsenal.
The surprise of the transfers is the omission of Paul Scholes from the list.  I'm sure that not only nostalgic Manchester United fans but most football fans in general would agree that he'd be a great addition to the roster.
The transferred players are in packs now with the players card with their previous clubs now only available in the market.
You can also see our FULL list of players removed from Ultimate Team and also our FULL list of Ultimate Team Player Ratings Upgrades.
The Full Ultimate Team January Transfer List
(Use CTRL and F to search)
Tuesday 17 Jan – Transfers
Landon Donovan: From Los Angeles Galaxy to Everton
José Antonio Reyes Calderón: From Atlético de Madrid to Sevilla FC
Thierry Henry: From New York Red Bulls to Arsenal
Maxwell Scherer Cabelino Andrade: From FC Barcelona to Paris Saint-Germain
Chinedu Obasi: From 1899 Hoffenheim to FC Schalke 04
Robbie Keane: Los Angeles Galaxy to Aston Villa
Ludovic Obraniak: From LOSC Lille to Girondins de Bordeaux
Aliaksandr Hleb: VfL Wolfsburg to FC Barcelona
Hanno Balitsch: From Bayer 04 Leverkusen to FC Nürnberg
Gylfi Sigurðsson: From 1899 Hoffenheim to Swansea City
Yohan Mollo: From Granada CF to AS Nancy
Gaël Kakuta: From Bolton Wanderers to Dijon Football
Thomas Kahlenberg: From VfL Wolfsburg to Évian Thonon Gaillard FC
Moustapha Bayal Sall: From AS Saint-Etienne to AS Nancy
Jan Morávek: From FC Schalke 04 to FC Augsburg
Federico Macheda: From Manchester United to Queens Park Rangers
Carlos Reina Aranda: From Levante UD to Real Zaragoza
Emmanuel Frimpong: From Arsenal to Wolverhampton Wanderers
Patrick van Aanholt: From Wigan Athletic to Vitesse Arnhem
Nicolai Jørgensen: From Bayer 04 Leverkusen to FC Kaiserslautern
Joshua King: From Borussia M'gladbach to Hull City
Tolga Cigerci: From VfL Wolfsburg to Borussia M'gladbach
Friday 20 Jan – Transfers
Marco Borriello: From Roma to Juventus
Alberto Gilardino: From Fiorentina to Genoa
Giuseppe Mascara: From Napoli to Novara
Leandro Rinaudo: From Napoli to Novara
Andrea Caracciolo: From Genoa to Novara
Gelson Fernandes: From Leicester City to Udinese
Matteo Rubin: From Torino to Bologna
Daniele Dessena: From Sampdoria to Cagliari
João Soares da Mota Neto: From Pohang Steelers to Ceará
Jung Woo Kim: From Seongnam Ilhwa Chunma to Jeonbuk Hyundai Motors
Jae Sung Kim: From Pohang Steelers to Sangju Sangmu Phoenix FC
Kléber Giacomace de Souza Freitas: From Palmeiras to Grêmio
Rodrigo de Souza Cardoso: From Bahia to Corinthians
Lincoln Cássio de Souza Soares: From Avaí to Coritiba
Pedro Ken Morimoto Moreira: From Avaí to Cruzeiro
Renan Henrique Oliveira Vieira: From Atlético Mineiro to Coritiba
Fabrício de Souza: From Cruzeiro to São Paulo
Thiago Humberto Gomes: From Ceará to Internacional
Danilo Luiz da Silva: From Santos to FC Porto
Maicon Thiago Pereira de Souza: From Figueirense to São Paulo
Dagoberto Pelentier: From São Paulo to Internacional
Adilson Warken: From Grêmio to Terek Grozny
Charles Basílio da Silva: From Cruzeiro to Lokomotiv Moskva
André Luiz Tavares: From Internacional to Botafogo
Leonardo David de Moura: From Coritiba to Grêmio
Damian Escudero: From Grêmio to Boca Juniors
Rodolfo Dantas Bispo: From Grêmio to Lokomotiv Moskva
Cleber Santana Loureiro: From Atlético Paranaense to São Paulo
Willian Thiego de Jesus: From Bahia to Grêmio
Diogo Luis Santo: From Santos to Olympiacos CFP
Alberto Rafael da Silva: From Atlético Goianiense to Fluminense
Rodrigo Batista da Cruz: From Atlético Paranaense to Fluminense
Élton Rodriguez Brandão: From Vasco da Gama to Corinthians
Carlos Alberto Gomes de Jesus: From Bahia to Vasco da Gama
Jean Raphael Vanderlei Moreira: From São Paulo to Fluminense
Evaeverson Lemos da Silva: From Grêmio to Olympique de Marseille
Daniel da Silva Carvalho: From Atlético Mineiro to Palmeiras
Manoel Morais Amorim: From Corinthians to Bahia
Marcos Aurélio de Oliveira Lima: From Coritiba to Internacional
Moisés Muñoz: From Atlante to América
Christian Bermúdez: From Atlante to América
Armando Navarrete: From América to Atlante
Christian Valdez: From Jaguares de Chiapas to Monarcas Morelia
Ángel Reyna: From América to Monterrey
Gabriel Pereyra: From Puebla to Estudiantes Tecos
Danilo Veron Bairros: From Tigres U.A.N.L. to Atlético Mineiro
Darron Gibson: From Manchester United to Everton
Albert Meyong Zé: From SC Braga to Vitória Setúbal
Dušan Djuri?: From FC Zürich to Valenciennes FC
Carlos Idriss Kameni: From RCD Espanyol to Málaga CF
William Salles de Lima Souza: From Avaí to Atlético Goianiense
Emiliano Viviano: From Inter to Palermo
Kjetil Wæhler: From Aalborg BK to IFK Göteborg
Elias Ribeiro de Oliveira: From Figueirense to Atlético Goianiense
Davide Biondini: From Cagliari to Genoa
Adam Matuschyk: From 1. FC Köln to Fortuna Düsseldorf
Rafael Marques : From Free Agent to Atlético Mineiro
Patrick van Aanholt: From Chelsea to Vitesse
Gary Cahill: Bolton Wanderers to Chelsea
Iago Falqué Silva: From Tottenham Hotspur to Southampton
Pavel Golyshev: From Tom Tomsk to FC Krasnodar
José Roberto de Oliveira: From Internacional to Bahia
Sebastian Freis: From 1. FC Köln to SC Freiburg
Danny Holla: From FC Groningen to VVV-Venlo
Josh McEachran: From Chelsea to Swansea City
Alexander Merkel: From Genoa to Milan
Papiss Demba Cissé: From SC Freiburg to Newcastle United
Monday 23 Jan – Transfers
Jo Kuffour: From Bristol Rovers to Gillingham
Mike Jones: From Bury to Sheffield Wednesday
Danny Haynes: From Barnsley to Charlton Athletic
Micha? Zieli?ski: From Korona Kielce to Górnik Zabrze
B?a?ej Telichowski: From Free Agents to Górnik Zabrze
Richard Naylor: From Free Agents to Rotherham United
Anthony Flood: From Bohemian FC to Southend United
Luigi Giorgi: From Novara to Siena
Marc Crosas Luque: From FC Volga Nizhniy Novgorod to Santos Laguna
Philipp Heerwagen: From VfL Bochum to FC *. Pauli
Samuel Firmino de Jesus: From Free Agents to SC Braga
Simon Francis: From Charlton Athletic to Bournemouth
Héctor Ladero Rivas: From CD Numancia to RC Celta de Vigo
Peter Ramage: From Crystal Palace to Queens Park Rangers
Derek Foran: From Sligo Rovers to Dundalk FC
Karl Moore: From Shamrock Rovers to Bohemian FC
Derek Pender: From Patrick's Athletic to Bohemian FC
Daryl Kavanagh: From Patrick's Athletic to Shamrock Rovers
Colin Hawkins: From Dundalk FC to Shamrock Rovers
Lauri Dalla Valle: From Dundee United to Fulham
Derek Prendergast: From Bray Wanderers to Drogheda United
Rémi Mareval: From SV Zulte-Waregem to AA Gent
Gonzalo Castellani: From Villarreal B to Villarreal CF
James Holland: From AZ to Austria Wien
Hermann Hreiðarsson: From Portsmouth to Coventry City
Jordan Garcia Calvete: From Anderlecht to De Graafschap
Benjamin Morel: From Free Agents to Clermont Foot
David Ball: From Rochdale to Peterborough United
Jung Rae Lee: From GyeongNam FC to GwangJu FC
Marcello Gazzola: From Ascoli to Sassuolo
Daniel Pudil: From Granada CF to Cesena
Ilijan Micanski: From 1. FC Kaiserslautern to FSV Frankfurt
Jon Knudsen: From Stabæk Fotball to Fredrikstad FK
Héctor Rodas Ramírez: From Levante UD to Elche CF
Pim Balkestein: From Rochdale to Brentford
Keith Ward: From Dundalk FC to Bohemian FC
Ritchie De Laet: From Norwich City to Manchester United
Jae Woong Han: From Daejeon Citizen to Chunnam Dragons
Kyung Ho Chung: From Gangwon FC to Daejeon Citizen
Eun Jung Kim: From Jeju United FC to Gangwon FC
Hyo Sung Bae: From Incheon United FC to Gangwon FC
Jin Ryong Kim: From Gangwon FC to Pohang Steelers
Jin Ho Lee: From Ulsan Hyundai FC to Daegu FC
Seung Hwan Bang: From FC Seoul to Busan I'Park
Jae Ho Jeon: From Incheon United FC to Busan I'Park
Ji Hoon Baek: From Suwon Samsung Bluewings to Sangju Sangmu Phoenix FC
Tae Yoon Kim: From Seongnam Ilhwa Chunma to Incheon United FC
Min Hyuk Kang: From Jeju United FC to GyeongNam FC
Geun Chol Kim: From Busan I'Park to Chunnam Dragons
Kyung Ho Jeong: From Chunnam Dragons to Jeju United FC
Sung Ho Park: From Daejeon Citizen to Pohang Steelers
Hyo Jin Yeo: From FC Seoul to Busan I'Park
Myung Jung Kim: From Chunnam Dragons to Gangwon FC
Javier Reina: From Chunnam Dragons to Cruzeiro
Hyun Seo: From Gangwon FC to Jeju United FC
Hyung Il Kim: From Pohang Steelers to Sangju Sangmu Phoenix FC
Yoo Gul Song: From Incheon United FC to Gangwon FC
Ho Jun Kim: From Jeju United FC to Sangju Sangmu Phoenix FC
Tae Min Park: From Busan I'Park to Incheon United FC
Hee Do Park: From Busan I'Park to FC Seoul
Byeong JuPark: From GwangJu FC to Jeju United FC
Ho JunYou: From Busan I'Park to GyeongNam FC
Soon Hyung Kwon: From Gangwon FC to Jeju United FC
Kwang Sun Kwak: From Gangwon FC to Suwon Samsung Bluewings
Ho Young Song: From Seongnam Ilhwa Chunma to Jeju United FC
Young SinKim: From Jeju United FC to Sangju Sangmu Phoenix FC
Sang Wun Han: From Busan I'Park to Seongnam Ilhwa Chunma
Dae Jong Bang: From Chunnam Dragons to Sangju Sangmu Phoenix FC
Jae Cheol Jo: From Seongnam Ilhwa Chunma to GyeongNam FC
Do Yeon Hwang: From Chunnam Dragons to Daejeon Citizen
Hyun Ho Lee: From Jeju United FC to Seongnam Ilhwa Chunma
Bit Ga Ram Yoon: From GyeongNam FC to Seongnam Ilhwa Chunma
Kyoung Youl Lee: From GyeongNam FC to Busan I'Park
Hyun Jin Yong: From Seongnam Ilhwa Chunma to Sangju Sangmu Phoenix FC
Matt Simon: From Central Coast Mariners to Chunnam Dragons
Dirceu Wiggers de Oliveira Filho: From Avaí to Coritiba
Éverton Cardoso da Silva: From Botafogo to Suwon Samsung Bluewings
Thiago Carleto Alves: From América Mineiro to São Paulo
Ghilherme de Aguiar Camacho: From Bahia to Flamengo
Jéferson Rodrigues Gonçalves: From Vasco da Gama to Bahia
Thiago Carleto Alves: From São Paulo to Fluminense
Edgar Castillo: From América to Xoloitzcuintles de Tijuana
William Paredes: From Monterrey to San Luis
Giancarlo Maldonado: From Atlante to Atlas
Alejandro: From Cruz Azul to Estudiantes Tecos
Daniel Arreola: From Atlas to Pachuca
Arturo Ledesma: From Guadalajara to Pachuca
Herculez Gomez: From Estudiantes Tecos to Santos Laguna
Oscar Razo: From Jaguares de Chiapas to Monarcas Morelia
Luis Miguel Noriega: From Monarcas Morelia to Jaguares de Chiapas
Isaac Romo: From Puebla to Querétaro
Jorge Zamogilny: From Estudiantes Tecos to Atlas
Sergio Santana: From Monterrey to Atlas
Alfredo González Tahuilán: From Atlas to Xoloitzcuintles de Tijuana
Melvin Brown: From Estudiantes Tecos to Cruz Azul
Niell: From Querétaro to Figueirense
Andrés Mendoza: From Free Agents to Atlante
Friday 27 Jan – Transfers
Kévin Anin: From FC Sochaux to OGC Nice
Giuseppe Sculli: From Lazio to Genoa
Maicon dos Santos Corrêa: From Free Agents to D.C. United
Djamel Mesbah: From Lecce to Milan
Rodney Strasser: From Lecce to Milan
Massimo Donati: From Bari to Palermo
Fausto Rossi: From Vicenza to Juventus
Frederik Sørensen: From Juventus to Bologna
Guglielmo Stendardo: From Lazio to Atalanta
Ben Marshall: From Sheffield Wednesday to Stoke City
Max Ehmer: From Yeovil Town to Queens Park Rangers
Nolan Roux: From Stade Brestois to LOSC Lille
Danny Drinkwater: From Barnsley to Leicester City
Anthony Modeste: From Girondins de Bordeaux to Blackburn Rovers
Jacob Peterson: From Free Agents to Sporting KC
Paulo Afonso Santos Junior: From AS Saint-Etienne to Real Betis Balompié
Antonio Galdeano Benítez: From Málaga CF to Real Zaragoza
Danny Cruz: From Houston Dynamo to D.C. United
Lee Cook: From Leyton Orient to Queens Park Rangers
Stefano Okaka Chuka: From Roma to Parma
Pedro Roberto Silva Botelho: From Rayo Vallecano to Levante UD
Felipe Patavino Saad: From Évian Thonon Gaillard FC to AC Ajaccio
Scott Wootton: From Peterborough United to Manchester United
Adama Touré: From FC Lorient to Real Sporting de Gijón
Leonardo Miglionico: From Livorno to Lecce
Jonathan Howson: From Leeds United to Norwich City
Mevlüt Erdinç: From Paris Saint-Germain to Stade Rennais
Amauri Carvalho De Oliveira: From Juventus to Fiorentina
Martín Cáceres: From Sevilla FC to Juventus
Senah Mango: From AS Monaco to Olympique de Marseille
Diego da Silva Costa: From Atlético de Madrid to Rayo Vallecano
Saphir Taïder: From Juventus to Bologna
Monday 30 Jan – Transfers
Fransérgio Rodrigues Barbosa: From Free Agents to Internacional
William Artur Conceição dos Santos: From Paços de Ferreira to Vitória Guimarães
Carlo Pinsoglio: From Juventus to Vicenza
Riccardo Meggiorini: From Novara to Torino
José Eduardo de Araújo: From Parma to Empoli
Héctor Font Romero: From RC Recreativo to FC Cartagena
Kim Ju Young: From GyeongNam FC to FC Seoul
Martin Bergvold: From FC København to Lyngby BK
Jií Bílek: From 1. FC Kaiserslautern to Zagbie Lubin
Pontus Wernbloom: From AZ to CSKA Moskva
Lee Croft: From Derby County to Johnstone
Gilvan Gomes Vieira: From SD Huesca to Hércules CF
Fabian Delph: From Aston Villa to Leeds United
Andreas Johansson: From VfL Bochum to IFK Norrköping
Julián Omar Ramos Suárez: From UD Almería to SD Huesca
Pablo Ledesma: From Catania to Boca Juniors
Gabriele Angella: From Udinese to Reggina
Serge Gakpé: From FC Nantes to Standard Liège
Vujadin Savi?: From Girondins de Bordeaux to Dynamo Dresden
Jonathan Soriano Casas: From FC Barcelona B to Red Bull Salzburg
Andreas Wolf: From Werder Bremen to AS Monaco
Paulo Cesar Elias: From Atlético Paranaense to Atlético Goianiense
Francesco Benussi: From Palermo to Torino
Grzegorz Sandomierski: From RC Genk to Jagiellonia Biaystok
George Leandro Abreu de Lima: From Avaí to Daegu FC
Michael Tonge: From Stoke City to Barnsley
Tom Soares: From Stoke City to Hibernian
Eder Citadin Martins: From Cesena to Sampdoria
Denis Kolodin: From Dinamo Moskva to FC Rostov
Ruslan Nakhushev: From Tom Tomsk to Lokomotiv Moskva
Rodrigo Pereira Possebon: From Santos to Vicenza
Vágner Silva de Souza: From CSKA Moskva to Flamengo
Igor Lebedenko: From Rubin Kazan to Terek Grozny
Evgeniy Balyaykin: From Tom Tomsk to Rubin Kazan
Jesús Dátolo: From RCD Espanyol to Internacional
Friday 3 Feb – Transfers
Manuele Blasi: From Parma to Lecce
Stefano Ferrario: From Lecce to Parma
Mauricio Pinilla: From Palermo to Cagliari
Tim Ream: From New York Red Bulls to Bolton Wanderers
Nedum Onuoha: From Manchester City to Queens Park Rangers
Guillaume Loriot: From Valenciennes FC to US Boulogne
Haris Seferovic: From Fiorentina to Lecce
Simone Bentivoglio: From Chievo Verona to Padova
Felix Bastians: From SC Freiburg to Hertha BSC
Mauro Cetto: From Palermo to LOSC Lille
Milan Milanovi: From Siena to Palermo
Jason Roberts: From Blackburn Rovers to Reading
Federico Gerardi: From Udinese to Ascoli
Lamine Gassama: From Olympique Lyonnais to FC Lorient
Marc Hornschuh: From Borussia Dortmund to FC Ingolstadt 04
Alex Rodrigo Dias da Costa: From Chelsea to Paris Saint-Germain
Adam Nemec: From 1. FC Kaiserslautern to FC Ingolstadt 04
Maxi López: From Catania to Milan
Emiliano Armenteros: From Sevilla FC to Rayo Vallecano
Mame Biram Diouf: From Manchester United to Hannover 96
Cristian Pasquato: From Lecce to Juventus
Roman Bedná: From West Bromwich Albion to Blackpool
Diniyar Bilyaletdinov: From Everton to Spartak Moskva
Alan Smith: From Newcastle United to Milton Keynes Dons
Fabien Robert: From FC Lorient to Doncaster Rovers
Cristian Pasquato: From Juventus to Torino
Arnaldo Edi Lopes da Silva: From Málaga CF to Académica Coimbra
Raúl Bobadilla: From Borussia M'gladbach to BSC Young Boys
Giacomo Beretta: From Genoa to Juve Stabia
Sam Vokes: From Wolverhampton Wanderers to Brighton & Hove Albion
Fausto Rossi: From Juventus to Brescia
Philippe Coutinho Correia: From Inter to RCD Espanyol
Rubén Olivera: From Lecce to Fiorentina
Alexander Kacaniklic: From Fulham to Watford
John Bostock: From Tottenham Hotspur to Sheffield Wednesday
Lukas Rupp: From Borussia M'gladbach to SC Paderborn
Gil Vermouth: From 1. FC Kaiserslautern to De Graafschap
Adlène Guédioura: From Wolverhampton Wanderers to Nottingham Forest
Jordan Mustoe: From Wigan Athletic to Barnet
Sebastián Dubarbier: From FC Lorient to Córdoba CF
Marco Motta: From Juventus to Catania
Efraín Juárez: From Real Zaragoza to Celtic
McDonald Mariga: From Inter to Parma
Felice Natalino: From Inter to Crotone
Gennaro Delvecchio: From Catania to Lecce
Srdjan Laki: From VfL Wolfsburg to 1899 Hoffenheim
Arturo Alvarez: From Chivas USA to Paços de Ferreira
Simone Padoin: From Atalanta to Juventus
Alex Pinardi: From Novara to Vicenza
Andy Keogh: From Wolverhampton Wanderers to Millwall
Vincenzo Iaquinta: From Juventus to Cesena
Nikola Gulan: From Fiorentina to Chievo Verona
Maximilian Nicu: From SC Freiburg to TSV 1860 München
Matthew Connolly: From Queens Park Rangers to Reading
Michele Pazienza: From Juventus to Udinese
Ishak Belfodil: From Olympique Lyonnais to Bologna
Georges Mandjeck: From Stade Rennais to AJ Auxerre
Luca Di Matteo: From Palermo to Lecce
Sulley Muntari: From Inter to Milan
Wayne Bridge: From Manchester City to Sunderland
Gianni Munari: From Fiorentina to Sampdoria
Ben Marshall: From Stoke City to Leicester City
Martin Amedick: From 1. FC Kaiserslautern to Eintracht Frankfurt
Vedran Corluka: From Tottenham Hotspur to Bayer 04 Leverkusen
Ryo Miyaichi: From Arsenal to Bolton Wanderers
Djibril Cissé: From Lazio to Queens Park Rangers
Jonathan Brison: From AS Nancy to AS Saint-Etienne
Sebastien Le Toux: From Philadelphia Union to Vancouver Whitecaps
Marcos Gullón Ferrera: From Villarreal CF to Racing de Santander
Michelangelo Albertazzi: From Getafe CF to Milan
Pavel Pogrebnyak: From VfB Stuttgart to Fulham
Marc Mateu Sanjuán: From Levante UD to Real Zaragoza
Damien Le Tallec: From Borussia Dortmund to FC Nantes
Mohamed Zidan: From Borussia Dortmund to 1. FSV Mainz 05
Issam Jemââ: From AJ Auxerre to Stade Brestois
Fodé Koita: From Montpellier SC to Racing Club de Lens
Ja Cheol Koo: From VfL Wolfsburg to FC Augsburg
Abdelkader Ghezzal: From Cesena to Bari
Thiago Motta: From Inter to Paris Saint-Germain
Erjon Bogdani: From Cesena to Siena
Juan Pablo Carrizo: From Lazio to Catania
Pablo Álvarez: From Catania to Real Zaragoza
Luis Pedro Cavanda: From Lazio to Bari
Dario Dainelli: From Genoa to Chievo Verona
Graziano Pellè: From Parma to Sampdoria
Sotirios Kyrgiakos: From VfL Wolfsburg to Sunderland
Luis Óscar González: From Olympique de Marseille to FC Porto
Mario Santana: From Napoli to Cesena
Antonio Candreva: From Cesena to Lazio
Simone Del Nero: From Lazio to Cesena
Milan Lalkovi: From Chelsea to ADO Den Haag
Fabio Caserta: From Atalanta to Juve Stabia
Adrián Colunga Pérez: From Getafe CF to Real Sporting de Gijón
Joel Robles Blázquez: From Atlético de Madrid to Rayo Vallecano
Bradley Orr: From Queens Park Rangers to Blackburn Rovers
Gonzalo Jara Reyes: From West Bromwich Albion to Brighton & Hove Albion
Joe Mattock: From West Bromwich Albion to Brighton & Hove Albion
Jerónimo Figueroa Cabrera: From Real Betis Balompié to UD Las Palmas
Danny Higginbotham: From Stoke City to Nottingham Forest
Scott Wootton: From Manchester United to Nottingham Forest
Keith Andrews: From Blackburn Rovers to West Bromwich Albion
Louis Saha: From Everton to Tottenham Hotspur
David Pizarro: From Roma to Manchester City
Bobby Zamora: From Fulham to Queens Park Rangers
Sébastien Bassong: From Tottenham Hotspur to Wolverhampton Wanderers
Michelangelo Albertazzi: From Milan to Varese
Jeffrey Sarpong: From Real Sociedad to NAC Breda
Alexandros Tziolis: From Racing de Santander to AS Monaco
Oliver Norwood: From Manchester United to Coventry City
Simone Sini: From Roma to Livorno
Roman Pavlyuchenko: From Tottenham Hotspur to Lokomotiv Moskva
Khouma Babacar: From Fiorentina to Racing de Santander
Ahmed Apimah Barusso: From Roma to Nocerina
Steven Pienaar: From Tottenham Hotspur to Everton
Ryan Nelsen: From Blackburn Rovers to Tottenham Hotspur
Akihiro Ienaga: From RCD Mallorca to Ulsan Hyundai FC