Last week I posted a quite controversial piece detailing 6 ways to dramatically improve your chances of winning Ultimate Team matches. Some people would call some of these tactics cheap, others would even call it cheating and I can't disagree.
So, are these Ultimate Team cheats or are they just clever tactics employed by the more savvy Ultimate Team players amongst us?
In this post I'm going to discuss some of the "cheap" Ultimate Team tactics and Ultimate Team cheats, address the ethics of them and present measures that can be put in place in future editions of FUT to level the playing field for the good guys that play the game fairly.
Ultimate Team Cheats and Exploits
Using an All Bronze Bench
What it does:
Putting all Bronze players as substitutes lowers your teams star rating meaning you'll match up against lower quality teams that have put genuine potential substitutes on their bench.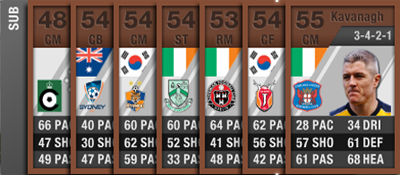 Is it an Ultimate Team Cheat?
No. It's not in keeping with how the game's intended to be played so it could be considered bad sportsmanship but it's effectively a tactical decision that's available to everyone.
You've just got to decide if having options available to change your tactics and replace tired players is worth matching up against potentially stronger teams.
If you never use your substitutes though it's a no brainer.
What can be done?
Not a lot with the current way that Ultimate Team games match up. At the moment Ultimate Team tries to match your team up with a team of a similar star rating.
If your star rating takes your whole team including substitutes into account then using a bronze bench will lower your team's star rating.
If your star rating only includes your starting line up then people will just put 3 bronze players in the starting line up and then substitute 3 gold players in as soon as the match starts. (See my next point…)
The only way round this would be to rethink the factors involved in deciding who you match up against. Maybe factor win/loss ratios into the weighting.
Swapping a Bad Player for a Good Player Straight from Kick Off
What it does:
To combat people backing out once they see your team's statistics, people have resorted to deceptively fudging the figures in an attempt to get the upper hand on the pitch.
For example, if you put a Bronze goalkeeper up front in your starting line up you will drastically reduce your attack rating and team chemistry leading your opponent to believe your team is weaker than it actually is when they see your stats in the match up screen.
Then once in game they substitute the bronze players them with top gold or In Form players.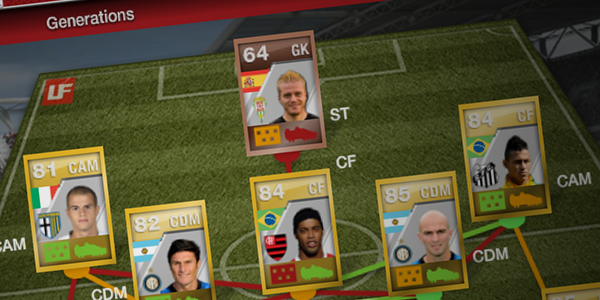 Is it an Ultimate Team Cheat?
It's another exploit. It's misleading and deceiving. It also makes you look like a &*#% and will attract a barrage of abuse from your opponent.
On the other hand though, your doing it to combat people who back out at the matching up screen (leading me to my next point) who get what they deserve…
What can be done?
It comes back to the stats only taking into account the starting line up. Maybe taking into account the full stats for squad would make it a bit more realistic.
The only way to combat it fully though would be to remove the statistics and team chemistry from the matching up screen altogether.
Backing out in the Matching Up Screen
What it does:
In a single player match you can see your opponents defence, midfield and attack ratings and Ultimate Team chemistry before you get into a game.
This gives players a chance to back out if they don't like what they see.
Players can be selective of who they choose to play, only playing teams when they think they have a distinct advantage.
Is it an Ultimate Team Cheat?
In my opinion, yes! It's effectively a form of boosting.
The ability to back out at this stage gives people the ability to engineer unreal Win / Loss statistics by choosing only to play poor teams.
Worst of all it means that we all have to sit around for hours trying to find a game because no-one wants to play us.
You should play whoever's in front of you. If you play against good teams it will make you a better player.
What can be done?
Remove the opponent's statistics and team chemistry details from the matching up screen like in Ultimate Team tournament matches.
You should only find out details that could influence your decision to play after it's too late to back out.
Price Fixing
What it does:
People (or often groups of people) buy up a large number of the same Ultimate Team player on the cheap making that player rare in the market. They then flood the market with these players at an inflated price and rake in the coins.
Because they're the only people now selling this player they can fix the price of the player in the market.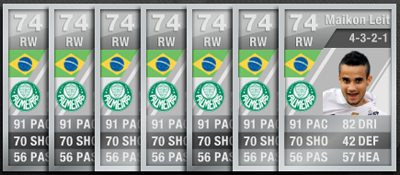 Is it an Ultimate Team Cheat?
No, it's enterprising. Ultimate Team Price Fixing does produce an awful lot of coins if you get it right but it also requires a lot of time and research and carries with it inherent risks.
It is frustrating however if you want to buy a certain player and Delboy FC is selling every single one of them at an extortionate price.
The bad thing is that reduces (and sometimes even abolishes) competition in the market which means that there's no need for anyone to lower their prices to win sales.
The buyer ends up paying over the odds.
Ultimate Team has created its own capitalist economy where profits and competition are encouraged so why shouldn't Ultimate Team entrepreneurs capitalise on their hard earned ventures?
The problem with this is that the rich get richer and and the poor get poorer.
Unlike our real economy, Ultimate Team doesn't have it's own Competition Commission to make sure people don't monopolise markets and to keep prices competitive for the buyer.
What can be done:
Limit the number of the same player that one person can have in his trade pile.
By capping the number of the same players on peoples Trade list you ensure that there'll always be a number of different sellers in the market competing for sales and keeping prices low (creating Ultimate Team's own Competition Commission).
Conclusion
People are always going to find exploits with games. Especially one as competitive as FIFA and one where real money is potentially on the line.
So the question remains, are they cheats or are they just tactics? What do you reckon?
Founder of UltimateFIFA.com, Evertonian *groan*, entrepreneur. I'm a Chartered Member of the Chartered Institute for Securities and Investment which I put to good use in the Ultimate Team market. ;)