Days after announcing that Euro 2012 will be released as DLC for FIFA 12, EA SPORTS have released their first Euro 2012 trailer.
"The Pride Of A Nation Is In The Power Of One"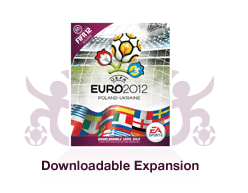 The UEFA EURO 2012 trailer sets the scene displaying all the passion and prestige of the tournament and the tagline "All For One" forewarns that that only you have the power to bring Europe's biggest prize home.
No details yet – and no mention of Expedition Mode, the game mode that will let you customise your team from your favourite players and pit them against other European Nations.
We can expect much more to come as the campaign begins to gather momentum.
"All For One"
The FIFA 12 UEFA EURO 2012 downloadable content will cost £15.99 (1,800 MS Points or 2,500 FIFA Points on PC) and will be available to download from 24th April 2012.
There will be a trial available from the same date featuring Spain and Germany for those that will still need convincing.
Are you sold on the EURO 2012 DLC yet?
Share this post: