With only one day to go before release we round up EA SPORTS' UEFA EURO 2012 DLC.
You'll get to take your team to the top prize in European football as EA recreate Europe's biggest tournament in Poland and Ukraine and more…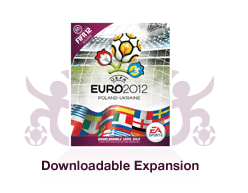 After rumours that there wasn't going to be a EURO 2012 game due to licensing technicalities EA SPORTS were quick to lay doubts to rest when they announced that they'd be the only producer of official EURO 2012 game content.
"Electronic Arts announced today that EA SPORTS will celebrate UEFA EURO 2012™ with the only officially licensed videogame of the 2012 European Football Championship, which begins June 8 in Poland and Ukraine."
In a move that looks to pave the way for future content releases, UEFA EURO 2012 will be released as downloadable content and you'll need a copy of FIFA 12 in order to play it.
EA has been a bit slow on the uptake with introducing DLC to its FIFA titles compared to its other titles. FIFASoccerBlog's Dave Bryant gave us his take on whether we should expect a lot more FIFA DLC in the future in this great article.
The announcement was closely followed by some stunning EURO 2012 screenshots and the official trailer with the tagline "All For One".
"The Pride Of A Nation Is In The Power Of One"
What DO We Get?
UEFA EURO 2012 will be available as an expansion pack to FIFA 12 on PlayStation 3, Xbox 360 and PC.
It will include all 53 UEFA member national teams
and all eight official UEFA EURO 2012 stadiums in the tournament.
You will be able to compete in Coke Zero Challenges to win XP.
10 New Achievements to unlock – 7 Gold and 3 Silver.
Updated players ratings to reflect their National form.
New snazzy official kits and boots.
Expedition Mode – a great new mode not unlike FIFA Street's World Tour. Expedition Mode can be seen in this video:
What DON'T We Get?
Qualifiers – It was a controvercial but concious decision to leave out the qualifiers from the EURO 2012 DLC as talked about by EA's Lead producer Sebastian Enrique. Disappointing from a hardcore gamer's perspective but let's hope it pays off.
Gameplay Improvements
Visual Improvements
Heskey in the England Squad!
How Much Does the UEFA EURO 2012 DLC Cost?
The EA SPORTS UEFA EURO 2012 DLC is available from 24th April and will cost £15.99 (1,800 MS Points or 2,500 FIFA Points on PC).
EA SPORTS Season Ticket holders get 20% off but no early access this time I'm afraid.
UEFA EURO 2012 Expansion Pack Preview Videos
Gamesradar released a couple of UEFA EURO 2012 preview videos, the first of which shows off the 8 stunning new stadia from Poland and Ukraine that will be included in the DLC.
In Gamesradar's second preview video we get treated to some gameplay action as Sterling McGarvey demonstrates how to play EURO 2012 on schoolgirl difficulty.
Hands On Preview
Roving YouTuber Curtis Morton managed to get some EURO 2012 game time at the EA Studios this week and this is his EURO 2012 DLC hands on preview video.
In the preview Curtis talks about the different game modes he encountered and more including:
Kick Off
The Euros
Coke Zero Challenges
Head to Head
Expedition Mode
A big thanks to EA Community Manager Rob Hodson for going above and beyond the call of duty.
Are You Going To Download FIFA 12 UEFA EURO 2012 DLC?
So the question remains… Will you be getting the EURO 2012 DLC?
Would you have preferred a full game release or do you think the DLC is a good idea?
Would you like to see more FIFA DLC in the future?
Let us know…