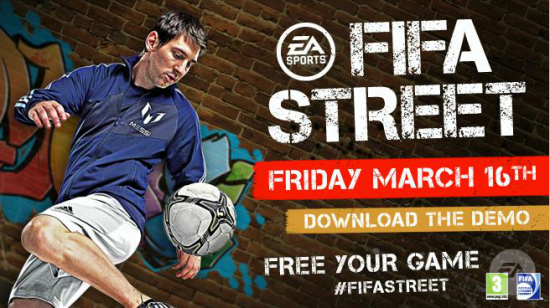 If you own an Xbox 360 you can download the FIFA Street Demo today! (as long as you can connect to Xbox LIVE). Unfortunately PS3 owners will have to wait a day extra due to the PLAYSTATION Store.
FIFA Street is billed as
"the most authentic street football game ever made!"
And you can finally try out the groundbreaking new Street Ball Control for yourself as the demo will be available to download from the Xbox LIVE marketplace between 8am and 10am GMT but will be rolled out as per usual and from the PLAYSTATION Store tomorrow.
Make sure you learn the basics controls and how to Panna and Airbeat by watching the FIFA Street School tutorials.
The FIFA Street Demo Details
Match Type: 5-a-side match
Stadium: The iconic Amsterdam Square Stadium
Teams:

Manchester City
AC Milan
a team of real-life street football stars
an adidas™ all-star team featuring Barcelona and Argentina superstar Lionel Messi plus 12 of the most skillful superstars in the world
In a great move to add value to the demo players will be able to start their World Tour which they can carry on to the actual game.
FIFA 12 players who download the demo will receive 2,000 experience points (XP) for their EA SPORTS Football Club profile.
Pre-order FIFA Street now on Amazon.com
.
[EDIT: The FIFA Street demo is out on the PS3 today!  It's definitely worth the wait.]