For one weekend only, the 99 rated Lionel Messi will be the highest rated player to appear in FIFA Ultimate Team.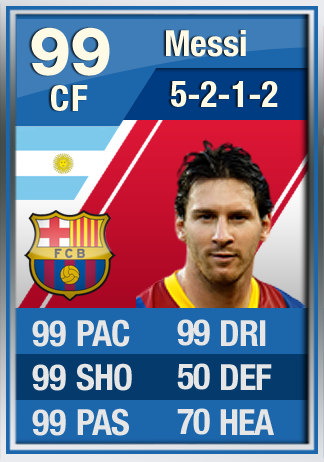 To celebrate Lionel Messi's incredible 73-goal season with FC Barcelona, FIFA 12 Ultimate Team is releasing a special Messi player item this weekend for a limited time.
From Friday June 1st 7pm BST to Sunday June 3rd 11:59pm BST, Ultimate Team players will have a chance to get this 99-rated special in-form player.
To mark this historic season, EA SPORTS is also making a $250,000 donation to the Leo Messi Foundation to support social, educational and health care related initiatives for children around the world.
We reckon EA are trolling us with the sweat 5-2-2-1 formation though!
Lionel Messi –

"My foundation's passion is helping children at risk around the word and bringing opportunity to those who need it most. EA SPORTS shares this passion."
Check out the official website for more information about the amazing work of the Leo Messi Foundation.