Following on from part one of my Ultimate Team Guide, I thought it was the perfect time to continue our adventure on Ultimate Team.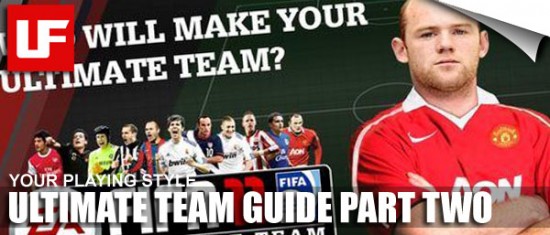 You should already have your low maintenance side complete, now it's all about maximising the coins per game to get the more high maintenance side.  What I mean by this is getting the most for your coins.  For example, with your bronze side, buy bronze packs for contracts.
You will get 2-3 contracts per pack rather than playing 150 coins per one.  If you want to splash out on bronze contracts, buy a Bronze Jumbo pack!  The 1500 coins is basically 2 games worth and with the consumables and sometimes the expensive players inside, you can get your money back as well as keeping the squad fully fit and fully functional.
I'm sure you all want a higher quality side to play against the big boys and in this part 2; I will try and show you how to achieve that.  Once you hit about 15k, will not take as long as you think!  You're good to go.  If you want to get the 15K faster, work the market with prices.  I'm saving a market guide for a separate thing altogether, what I mean by work the market is the simple sentence:
Buy Low – Sell High.
The only market tip I will give in part two is stick to the 4-1-2-1-2 or 4-4-2 formations.  These are highly popular and sell really well.  I normally go for the EPL (Premier League) and stick my search as:
As you probably know, the discard prices for rare gold players is from 600 coins onwards gaining 8 coins each rating increase.  With this, many people will stick to buying a player for 600 coins.  Bidding 650, never go over 700, will get the player and then stick him up for 850-900 coins will gain a steady stream of profit over time.
If you're about to go offline and it's in the popular formation, stick the card up for 12 hours. Put the BIN (Buy It Now) for slightly more, depending on the player.  The formation and the fact it's up for 12 hours mean the buyer will not usually have the patience to wait for the normal price, meaning you get a few more hundred coins, which gets you ever closer to the magic 15k.
Why is 15k enough? This gets you a more than satisfactory quality and can be very competitive online! Starting with an EPL team, I will give you some great players than can be brought from around the 650-950 range, depending on formation.
Formation is key as certain players (you and me) play in a different way.  I like the 4-2-2-2 formation as the CDM's can cover the loose ground as well as bring the play makers into play, the CAM's.  But for the Premier League, I'd go 4-3-2-1.  The main reason for this is to really ignite the attacking threats.
Here is the team I would go for:
GK:  Upgraded Ben Foster
RWB:  Rafael/ Glen Johnson
CB:  Gallas/ Agger
CB:  Upgraded Koscielny
LWB:  Gael Clichy
CM:  Diaby
CDM:  Fellaini/Hargreaves
CAM:  Joe Cole
LF:  Adam Johnson/ Obertan
RF:  Luis Suarez/ Ben Arfa
ST:  Andy Carroll/Mario Balotelli
I'm sure you're wondering "there are no RWB's in a 4-3-2-1…"  Don't worry buying RWB players saves money and the quality is still there.
The chemistry will be around 90-100 depending on if you buy them with the right formation.  With them all linking up, some more than others and bringing in a manager (regardless of formation) could put the chemistry up to 100.
If you've got any questions so far please leave them in the comments and I will answer as soon as I can.
The team you see links up really well, I personally don't like Carroll due to his 2 star skill moves option but Balotelli is the complete forward and links up with Johnson.
You can go down the French route with Gallas etc but Agger links up with Joe Cole and Johnson which again increases chemistry. The way to play with this team is to use the height of the big man up top.
You will at times have to play quite narrow with no natural wingers but when getting the chance, especially on the counter attack, Suarez and Johnson will come to life.
Ben Arfa and Obertan are two of the three 5 star skillers in the EPL, which suites my style.  If you want to splash slightly more cash, the midfield is the weak point.  Sticking with the French theme, maybe adapt the line up like this:
Lloris
Sagna
Gallas
Koscienly
Clichy
Diaby
Cabaye
Viera (Nasri when you've got around 4-5k)
N'Zogbia/Malouda/Obertan
Ben Arfa
Saha ( Anelka is around 2k)
If you want to divulge into more Ligue 1 French players, they are slightly cheaper but I feel that this squad is a great cheap side and will allow you to compete at a much higher level online.