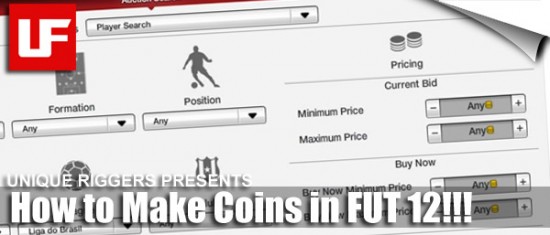 Follow the FIFA 12 Ultimate Team Tips in this series by Unique Riggers and you'll learn a host of different techniques on how to make coins.
In this fantastic series your going to learn loads of different ways to make coins in FIFA 12 Ultimate Team.  You'll find that some will work better for you than others.
The trick is to try them out and find out which ones make you the most coins or which tips you're most comfortable with.  Once you've found a technique that works for you, just wash, rinse and repeat.
The more coins you have the easier it is to make more so the sooner you get cracking the sooner you can build that awesome Ultimate Team that will be the envy of all your friends!
In this episode Unique Riggers talks us through the following techniques:
Selling Sliver Players
Price Fixing
Buying Gold and Silver Shiny Development cards
Buying Gold Players Cheap
The 59th Minute Technique
If this isn't enough you can click here for 6 more tips to make coins in FIFA 12 Ultimate Team!

FIFA 12 Ultimate Team Tips
Selling Silver Players
Don't discard silver players as they may go for more than you think.  Many silver players will sell for over 10,000 coins if you're lucky.  Let's take some Brazilian silver players for example (ones that I show in the video), they can sell for 20,000 coins and sometimes more.
A lot of people look to buy silver players because they make silver teams and want the best silver players in the game.
Price Fixing
This doesn't always work but it does work every now and then.  To do this you buy up loads of one player then sell at an inflated price.  Hopefully people will buy your cards once you put them up for sale and if they do you can make a massive profit.  This technique works best if you can find other Ultimate Team players to collaborate with.
Buying Gold and Silver Shiny Development Cards
Contract cards can sell for a lot.  So if you buy them for under their value you can sell them for more.  For example, on one day they may be selling for 750 coins, and you see some up for 300 buy now.  Buy them straight away and sell them for 750.
But always check each day how much they are selling for as there price changes a lot.  This is the same for all development cards and works best with squad fitness cards but always check their prices at the start of the day as they change a lot.
Buying Gold Players Cheap
Buy Gold players for 300 coins as long as there overall is 76+ then you can discard them and make a small profit or try and sell them for more.
59th Minute Technique
When searching for players, go all the way along to the 59th minute and keep flicking around the pages, by doing this every now and then you may get lucky and pick up a bargain.  I saw an inform Lionel Messi go for 15k buy now on the 59th minute!!!