The Evolution of FIFA
The first football game I ever played was FIFA 98 and I got bloody well addicted.  I was only 10 years old at the time but me and my friends dedicated a lot of nights playing that game, hammering hour after hour out of our respective Sega Mega Drive consoles.
We couldn't get our heads around the realism, the graphics and of course – the indoor 5-a-side feature with the bright green ball (shown below).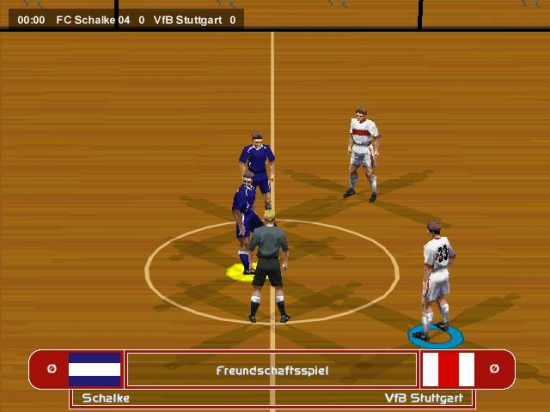 Yes, I know it looks horrific now, but this truly was amazing at the time (to a 10 year old at least).
FIFA 02 – Lifeless and Stale
The years passed and I tried a few different football games on varying consoles but I was drawn back to FIFA on the Playstation 2 with the 2002 instalment.
As you can see below it was a big step up in terms of realism, but to be honest – it felt flat, lifeless and stale. I didn't get the same buzz of excitement when I first tried out the FIFA series and this saddened me greatly.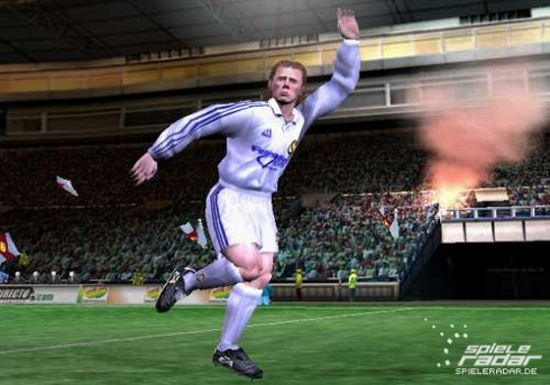 FIFA 03 / 04 – Lacked WOW Factor
Nevertheless I persevered – I stayed loyal to FIFA and bought the 2003 and 2004 editions on my newly purchased Xbox.  However, they felt like a very similar games to the one I'd just played.  Yes, they were on a new console and the graphics were better – but they still didn't have that WOW factor I was hoping for.

FIFA 05 – Online Experience
It was with FIFA 2005 when my entire gaming experience took a quantum leap forward.  I bought the game as always yet this time when I went to part with my hard earned pennies – I was confronted with a new edition to buy.
This one came with a headset and a full 1 year subscription with Xbox Live for an extra bit of cash.  I pondered on this and decided to jump head first into the whole online gaming scene.  So, FIFA game in hand along with my membership for Live and a headset, I went home pretty excited to say the least.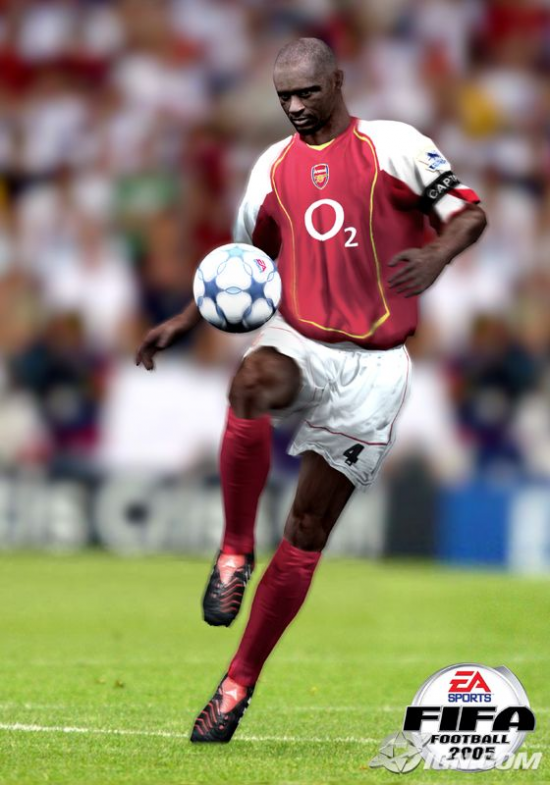 After what felt like an eternity of setting up my Xbox and messing around with my then amazing (awful in hindsight) internet connection – I was ready to go.  I signed myself up with my original gamertag – thedancingfox (don't ask) – and booted up FIFA.
Now, you must understand, this was the first online game I'd ever played (I'd previously tried to play Tom Clancy's Rainbow 6: Rogue Spear on my PC with dialup so needless to say it failed miserably) which means I was inevitably blown away.
Talking to people, playing with (almost) seamless connections, online leader boards and rankings etc – this was what the 10 year old in me had been waiting for.
FIFA 09 – 10v10!
The following year I bought my Xbox 360 and again gaming took a giant step forward.  As the years rolled on I saw significant improvements in both the ongoing FIFA titles as well as the Xbox Live experience in general.  Then, when FIFA 09 hit the shelves with its Online Clubs feature – my world was once again rocked.
The introduction of a 10v10 was the stuff dreams were made of.  Playing as your favourite players with your friends against other gamers all over the world – surely it didn't get much better than this?
Well – not exactly.  With innovation came problems, most notably; glitches.  The Dream Team glitch hit the online scene and plagued Clubs no end with people running teams with Messi, Kaka, Ronaldo etc all tearing up the average Joe and his pals.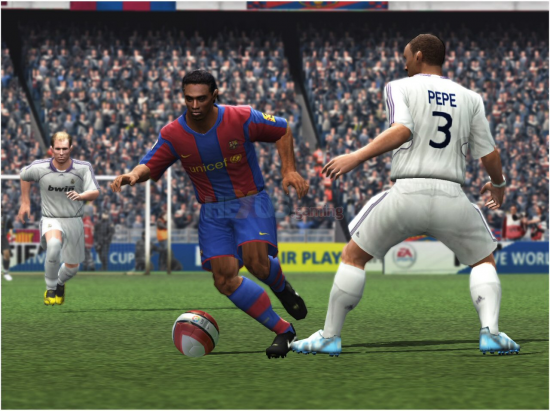 Everyone prayed (well, I did) that these glitches would be sorted out for FIFA 10 and eagerly anticipated its arrival.  When it hit the shelves and I tenderly placed it in what seemed like my hundredth Xbox 360 console – I wasn't disappointed.
With FIFA 10 came the introduction of the Virtual Pro (VP).  The VP was an extenuation of yourself – it became your identity for not only playing through the single player side of the game, but also online for Clubs.
Having lists of Accomplishments to complete in order to increase your stats was incredible – I was compelled to keep playing to get that extra headed goal, to play that deft lobbed pass or make that last tackle to make those Accomplishments pop up and say I'd increased my VP.
FIFA 10 Pro Clubs
It was on Fifa 10 I began to take Clubs more seriously and sought out other like-minded players, hoping to find a serious and dedicated team – which is when I stumbled onto the EA Fifa 10 Club Forums.
Now, after negotiating what seemed like the Wild West of the Clubs scene – I settled into a team and found a love of defence – which is where I still play to do this day.  The problem with finding this community however, was the fact I now found out about several other glitches that was now plaguing this instalment – the 100% Pro Glitch to name but one.  To me – this seemed pointless.
Why anyone would take away the sense of fulfilment of getting your VP as high as possible through hard work, learning the game and playing for fun – I just couldn't understand.  This was just the icing on the cake of problems, with the Crossbar Glitch and so forth; they collectively put a slight blemish on what was an incredible game and online experience.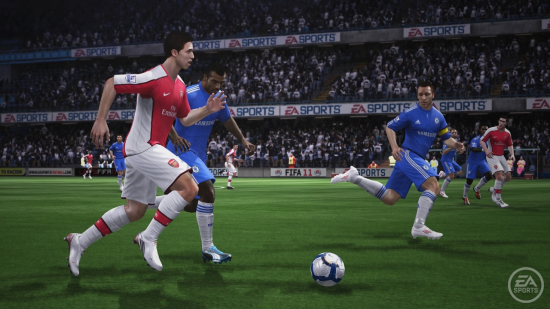 For me – FIFA 10 was the most enjoyable, revolutionary and complete football game to date.  This left with me dilemma – how can they improve this for next year?
FIFA 11 – Goalkeepers, Servers, Glitches
FIFA 11 came and Clubs again saw the introduction of new features, most notably full 11v11 with the choice of now controlling the goalkeeper.  This added a whole new dimension to the games, almost eradicating the days of a 9-0 victory.
Any team with a half decent goalkeeper could keep a clean sheet with ease.  This made for more realistic score-lines – but also some superhuman displays of acrobatics from the physics engine for goalkeepers.
As a defender, this never bothered me – I liked the fact I could communicate with the goalkeeper and knew there was now a safe pair of hands behind me (instead of a 5"2 AI donkey).  Club games become more intense, any opportunity to score had to be taken as they were few and far between and this led to the emergence of some great football being played.
However, it hasn't all been fun, games and improvements.  Server issues have decimated the Clubs experience and deterred many from playing until the release of Fifa 12.  New glitches are coming out daily which again threaten to further damage the communities on which Clubs was founded.  This has got many, like myself, looking to Fifa 12 with trepidation.
I have complete faith that EA will resolve the issues that have blighted what has been overall a decent game this year.  The problem is that FIFA 11 could have been remarkable had the problems been sorted earlier or prevented altogether which is the most gut-wrenching thing of all.
FIFA 12 – High Hopes
FIFA 12 is due to hit stores in a little over two months and it promises to be more revolutionary than ever with its Player Impact Engine, Tactical Defending and Precision Dribbling – not to mention a recently released look at an overhauled Manager Mode.  We're due to find out some information on the Clubs feature for FIFA 12 so stay tuned – I know I will be!