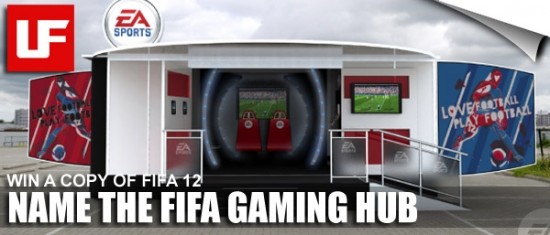 Feeling a bit creative and fancy a free copy of FIFA 12?  Enter EASPORTS' latest competition and come up with a name for their new FIFA 12 gaming hub!
EA will be travelling the country on matchday offering fans the chance to play each other and a whole host of FIFA 12 activities and challenges to enhance your day.
To enter you need to be on Twitter so you can tweet your entry to @EASPORTSFIFA using the hashtag # FIFA12hubcomp.
Competition is for UK residents only and it closes on Friday 19th August at 14:00 BST.
I'm looking forward to seeing some of the things your crazy minds come up with! 😀
[Edit: We now know that the FIFA 12 gaming hub will be at Pride Park on Tuesday 27th September thanks to Derby County Partnering EA so it you're local get down there for your chance to play FIFA 12 early…]
Here are the official details from the EA Website (you can find all the terms and conditions here too):
"This coming English football season, EASPORTS is proud to announce that a special FIFA 12 gaming hub will be travelling the length and breadth of the country visiting various clubs on match days.

The trailer is fitted out with consoles, iPad units and dugout style seating.  And it will give you, the fans, a chance to play pre-match and test out your skills on FIFA 12.

You can get in the mood for match day by beating your team's opponent and predicting the results.  We'll have heaps of fun activities going on including giveaways and FIFA 12 challenges.

Now here's the even more exciting bit, we want you to come up with a name for the gaming hub and to sweeten the deal, we'll throw in a copy of FIFA 12 for the winner!

Please note that the competition is open only to residents of the UK.  Entries will be judged by the EA SPORTS editorial team and must be no longer than 3 words.

We want a short, succinct name that communicates this is a dedicated FIFA 12 gaming experience.

Get your entries in via Twitter, just tweet '#FIFA12hubcomp (then your entry) @EASPORTSFIFA' and we'll send you a message on Twitter if you're the winner! (Artwork displayed at top of article is not final). FIFA 12 gaming hub name competition."